5 Facts To Know About Queens of the Stone Age's New Album 'Villains'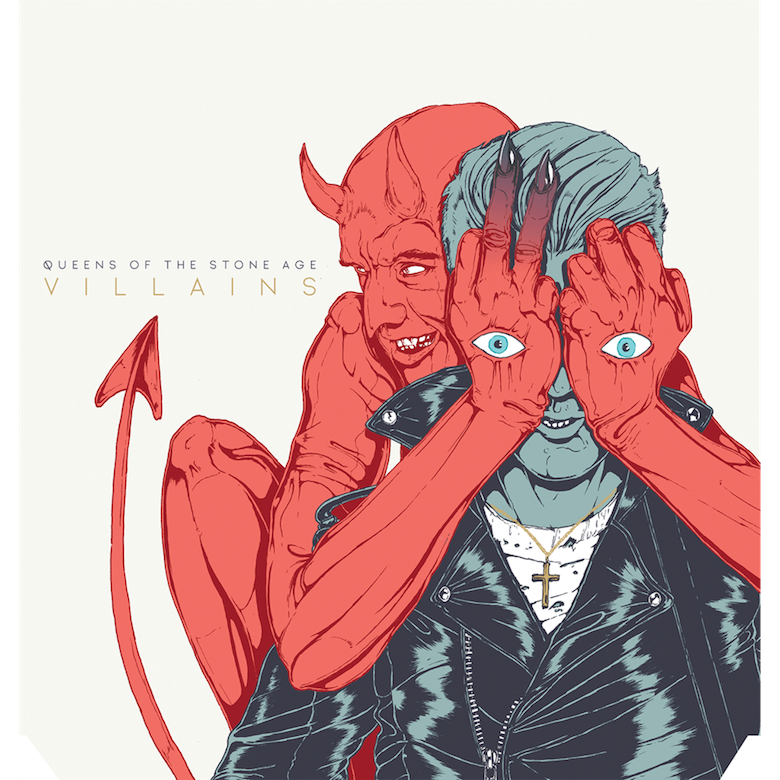 Queens of the Stone Age have finally returned with a new album. Josh Homme and crew released their seventh studio album, titled Villains, on August 25h via Matador Records, which is the followup to 2013's ...Like Clockwork.
The release of Villains is preceded by its first two singles "The Way You Used to Do" and "The Evil has Landed." And unlike the band's previous albums, their newest album features no guest appearances from other artists.
In an interview with Rolling Stone, longtime Queens of the Stone Age member Troy Van Leeuwen said of Villains, "There's a lot of depth and midtempo songs on the last record, and we are a rock & roll band. Peppering this record with some upbeat stuff was good for balance. That's a result of self-awareness. When you have a song like [Clockwork's] 'The Vampyre of Time and Memory,' you listen to it, like, 'Holy s**t, why are you so depressed? You have the best job in the world and you're surrounded by people who love you and you get to do this so shut the f*** up.'"
Check out what else you should know about Villains:
1. The album was produced by Mark Ronson.
Mark Ronson is well-known for having worked with artists like Bruno Mars, but this year, teamed up with Queens of the Stone Age to produce Villains. In an interview with Billboard, Mark calls QOTSA his "favorite rock band of this era." He said, "It's odd to produce a band you grew up on. [But] as a fan, you know what a fan wants to hear."
Josh was actually inspired to work with Ronson after hearing his work with Lady Gaga. He told Billboard, "I got to watch him immerse himself in Lady Gaga's world. He's a good communicator who's not afraid to say [something] you don't like in a way that's not being a d***."
2. "The Way You Used to Do" was inspired by a few music icons.
According to Rolling Stone, he album's lead single "The Way You Used to Do," was actually inspired by a few rock icons including ZZ Top, Cab Calloway, Shirley Bassey and the Misfits. In fact, Josh Homme revealed he had been listening to a lot of Calloway recently (and Dean Martin) because "it's impossible to be grumpy while you listen to 'Minnie the Moocher' or 'Mambo Italiano.'"
LIkewise, Van Leeuwen adds, "There's a swing to it. It's like Calloway on speed."
3. And "Fortress" was reportedly written for Josh Homme's 11-year-old daughter Camille.
Rolling Stone reports that "Fortress" was written for Josh's daughter. And in another interview with the publication, he says of the song and writing about personal subjects on the album:
"When you're younger, I think you are encouraged or you encourage yourself to hide behind a mask. As the years have gone on, that mask has worn away. I've lost any reason to hide. I have a vast disinterest in hiding anything when it comes to writing music. The more vulnerable and honest it is, the better I feel about it. And what else am I gonna write about? Queens has always been a place that's free of the politics and rigmarole of the day. We're more like an arcade or an ice-cream parlor where you don't talk politics. There needs to be escape. I'd rather talk about one of the only things that matters – that can be family and what you're passionate about."
4. The Villains cover art was designed by the same artist who designed the cover for the band's previous album.
Graphic artist Boneface designed both the Villains album cover art, as well as the band's artwork for their 2013 album ...Like Clockwork.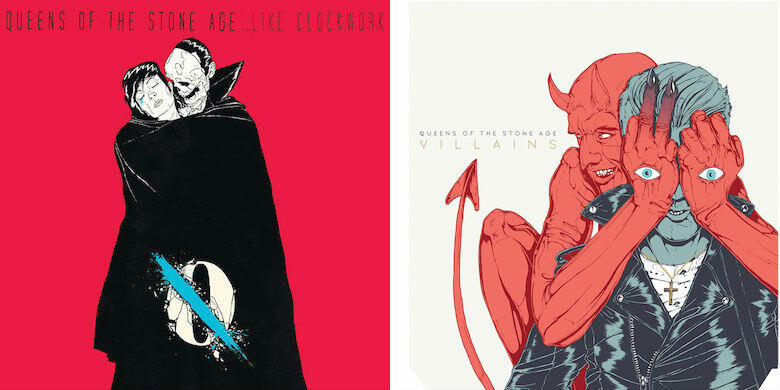 5. Some of the songs on Villains have to do with longevity, a subject that is likely inspired by Josh Homme becoming a "now-ist."
The horrific terror attack during an Eagles of Death Metal concert, Josh's other band, took place in Paris in 2015. While he wasn't at the show, he was deeply affected by what happened. He told Rolling Stone, "It affected the way I did everything. It reinforced that you shouldn't wait to do something or you'll f***ing regret it. Move now. If you have a beef with someone, squash it. If you want to do something, do it."
Fans will find that this idea of living in the now translates into lyrics throughout the album, and helped inspire the band to create music more uplifting compared to their previous record.
Chat About 5 Facts To Know About Queens of the Stone Age's New Album 'Villains'