Here's What Weezer & Beck Are Listening To | iHeartRadio Playlists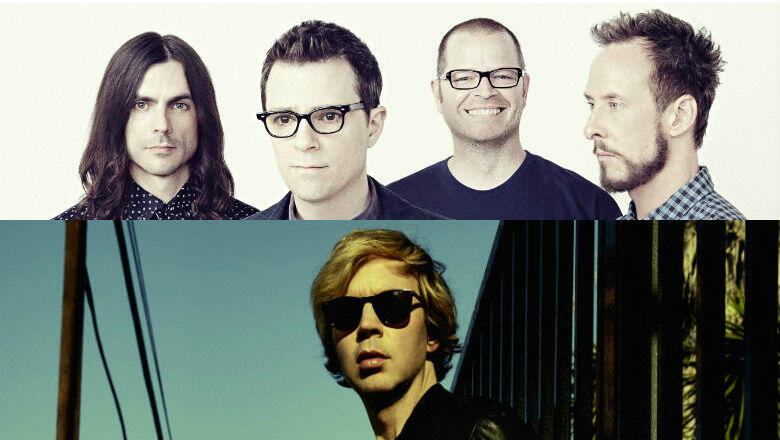 This year brought brand new albums from both Beck (Colors) and Weezer (Pacific Daydream), and while fans can listen to their new music, they can also listen to what songs the bands are listening to. Beck and Weezer have each curated their own playlists on iHeartRadio for fans to listen to -- which you can listen to for FREE during iHeartRadio's All Access Free Preview Weekend.
On October 27th through October 29th, iHeartRadio is handing over the keys to music fans to experience ALL that the iHeartRadio app has to offer during All Access FREE preview weekend. In other words, experience all the perks of All Access on iHeartRadio at no additional cost. Search for and play your favorite songs and albums on demand, create, control and curate playlists, get access to artist curated playlists, enjoy unlimited skips, and access offline listening. Simply open up the app, and experience iHeartRadio All Access now!
Weezer's Playlist on iHeartRadio
So what's on Weezer's playlist? The band included a couple of their songs like "Beach Boys" (from their new album Pacific Daydream) and "Happy Hour," but fans can also listen to other artists like The Beach Boys, Blondie, UB40, Shaggy, and more. Check out what's on Weezer's playlist by clicking HERE.
Travie McCoy featuring Bruno Mars - "Billionaire"
Weezer - "Beach Boys"
The Beach Boys - "You Still Believe In me (Digitall Remastered 96)
Bob Marley & the Wallers - "Buffalo Soldier
The Ronettes - "Be My Baby"
Steal Pulse - "Roller Skates"
Shaggy - "Boombastic"
Weezer - "Happy Hour"
Brian Wilson - "Love And Mercy"
The Crystals - "Then He Kissed Me"
Blondie - "The Tide Is High"
UB40 - "Red Red Wine"
10cc - "Dreadlock Holiday"
The Clash - "(White Man) in Hammersmith Palais"
Beck's Playlist on iHeartRadio
On Beck's playlist, fans will hear several tracks from his new album Colors like "Up All Night" and "Wow," as well as artists including Kraftwerk, Neil Young, Stevie Wonder, David Bowie, Scott Walker, The Velvet Underground, and more. Check out what's on Beck's playlist by clicking HERE.
Beck - "Up All Night"
Stars of the Lid - "A Meaningful Moment Through a Meaning(less) Process"
Kraftwerk - "Europe Endless (2009 Remastered Version)"
Laurie Anderson - "Let X=X"
Neil Young - "Transformer Man"
Tobacco - "Yum Yum Cult"
Beck - "Colors"
Stevie Wonder - "Golden Lady"
David Bowie - "Lady Grinning Soul (2013 Remastered Version)"
Joni Mitchell - "Cold Blue Steel And Sweet Fire"
David Crosby - "Music Is Love"
Stephen Malkmus & The Jicks - "No One Is (As I Are Be)"
Milton Nascimento - "San Vicente (Ao Vivo)"
Devendra Banhart - "Now That I Know"
Jeff Buckley - "So Real"
Laura Marling - "Pray For Me"
Belle & Sebastian - "The Stars Of Track And Field"
Enmo Morricone - "De Copalamo (From 'La Cugina')"
Beck - "Square One"
Scott Walker - "Montague Terrace (In Blue)"
Scott Walker - "30 Century Man"
Wilco - "Radio Cure"
The Velvet Underground - "Jesus"
Big Star - "Kanga Roo (Fry Rough Mix)"
Zola Jesus - "Night"
Inc. - "the place"
Bear in Heaven - "Lovesick Teenagers"
Cocteau Twins - "Cherry-coloured Funk"
Beck - "Wow"
Faust - "Piano Piece"
Chat About Here's What Weezer & Beck Are Listening To | iHeartRadio Playlists