Dave Mustaine Delayed Spinal Surgery to Play Big Four Show
By Andrew Magnotta
December 5, 2017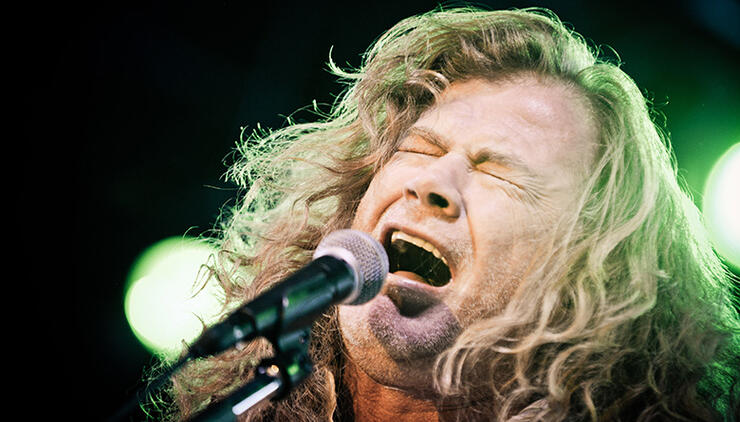 Megadeth main man Dave Mustaine canceled his band's appearance at the 2011 "Big Four" of thrash show at Yankee Stadium days before the legendary event to have surgery on his neck.
Mustaine tells "The Jasta Show" podcast with Hatebreed frontman Jamey Jasta that he was preparing for surgery when he heard through his own manager that Metallica's longtime co-manager Peter Mensch referred to him a "p---y" for trying to cancel to have surgery.
But Spite for Metallica has gotten Mustaine pretty far in the music industry, so he told his doctors to inject him with painkillers, bandage him up and get him on a plane to New York.
"I figured, nobody else knows about this except for [Mensch]," Mustaine said. "And who's the real p---y now?"
Mustaine says he arrived at Yankee Stadium in a neck brace and was brought to the stage in a golf cart. He says his crew took extra steps to make sure he didn't do any further damage to his spine.
"I had tape all over the stage that said, 'Don't headbang,'" Mustaine said. "I would have died if I headbanged that night because I was in an emergency surgery room two days before."
The Grammy-winning guitarist, vocalist and songwriter also confirmed that his stenosis was indeed caused by "years of headbanging."
He points out that many other heavy metal musicians have experienced similar thrash-related issues, including two frontmen with whom he shared the stage that night, Metallica's James Hetfield and Slayer's Tom Araya.
Photo: Getty Images
Chat About Dave Mustaine Delayed Spinal Surgery to Play Big Four Show