Robert Plant Says He Can't Imagine Recording With Jimmy Page Again
By Andrew Magnotta
January 23, 2018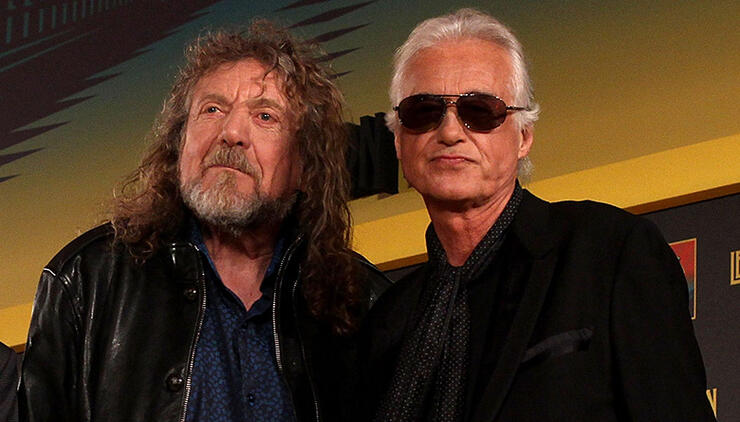 Former Led Zeppelin frontman Robert Plant is no stranger to shooting down rumors of a reunion with his old bandmates.
He's so good at shooting down such rumors, in fact, that when he was recently asked if he could see himself recording with Zeppelin guitarist Jimmy Page ever again, Plant responded that he couldn't even imagine it.
"I have no idea," he told 91.9 WFPK Louisville. "It's not even within my countenance to imagine it, really."
Plant clarified that, contrary to what many indignant Zeppelin fans might say, he cares deeply about his work with the band that earned him bonafide rock god status.
But the singer repeated what he's said countless times over the years, that Zeppelin was in his past and he wouldn't want to "do it a disservice" by resurrecting it 50 years later when it won't be as good.
In more candid interviews, Plant has admitted that at his age he can't Zeppelin songs the way he used to.
In December, the singer told Classic Rock magazine that the incessant rumors about Zeppelin getting back together "...shows you that people have nothing else to write about, obviously. And that's kind of sad."
Plant has been consistently touring and releasing new music in the decades since Led Zeppelin retired in 1980. While the rock world's Led Zeppelin fixation and appreciation might be flattering to Plant, he's frustrated on behalf of newer artists.
The attention Zeppelin gets, although the band hasn't done anything as a unit since 2007, comes at the expense of great, new, relevant artists, he says.
"All these magazines and internet platforms should be supporting new music and help new musicians to find an audience, instead of dwelling on the old crap all the time. It's like there is nothing new and exciting out there any more, when in fact there is. So stop living in the past. Open your ears and your eyes. It's not that difficult, is it?"
Robert Plant released a new album, Carry Fire, in October. His upcoming U.S. tour is mostly sold out, but you can get more information here.
Photo: Getty Images
Chat About Robert Plant Says He Can't Imagine Recording With Jimmy Page Again