Sting Responds to Claims That Bruno Mars Ripped Off 'Roxanne'
By Emily Lee
January 24, 2018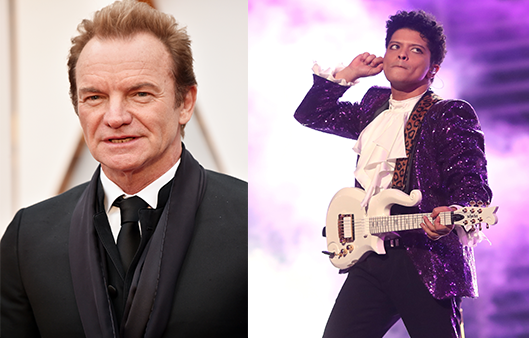 Shaggy and Sting stopped by the 103.5 KTU studios today to talk about their surprising new collaboration. During their interview with Cubby and Carolina in the Morning, the two icons spoke about what pop music they're loving these days. Shaggy opened up about his fondness for Justin Timberlake, saying he thinks he's "doing some great music, and moving the mark [forward]."
During their conversation, Sting responded to the claims that Bruno Mars ripped off his song "Roxanne" with "Locked Out of Heaven." While many people feel the two songs are extremely similar, Sting said "it doesn't sound like that to me." He went on to say that "Bruno says [The Police] were an influence, but I don't really hear it. I didn't reach for my phone and call my lawyer. I was flattered that people think that." Sting even went on to say that he "loves Bruno. I think he's brilliant."
Sting isn't the only one who loves Bruno, either. Shaggy jumped on the band wagon, telling a story of the time he took his daughter to see the "Finesse" singer at the Barclays Center. "I was a couple rows from the front," Shaggy said of his experience. "I watched my daughter going nuts."
The only logical thing after this love fest is for Bruno Mars to join Shaggy and Sting on their next collaboration. They can be called "Staggy Mars" or "Shruno Sting." Okay, we can decide on the name later, but the point is: we need this trio to happen ASAP.
Chat About Sting Responds to Claims That Bruno Mars Ripped Off 'Roxanne'