Tool Singer Promises New Album Will Be Complete in 5 - 6 Years
By Andrew Magnotta
January 31, 2018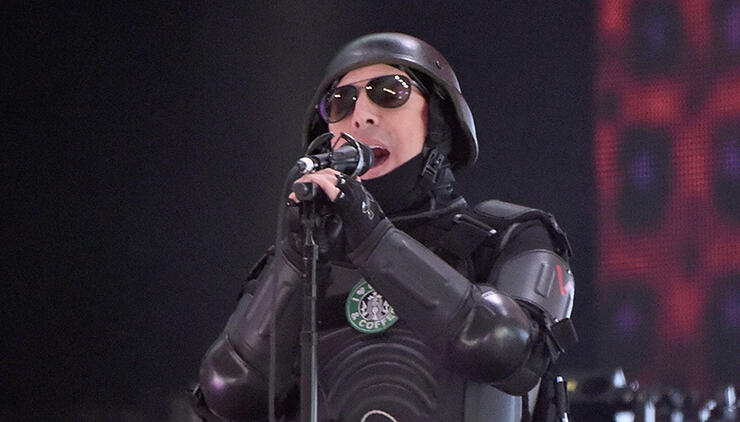 Tool singer Maynard James Keenan said his parts for the upcoming Tool album will only take "half" as long as the music did.
The music for the album took over a decade to complete, as Keenan sardonically reminded Twitter on Tuesday.
"TOOL took over 11 years to complete the tracks, to write the lyrics I will only take half of that," Keenan wrote in the since-deleted Tweet, preserved via PRP.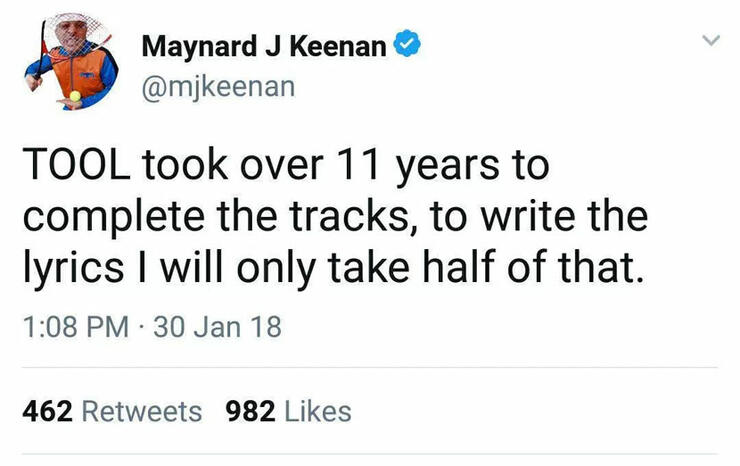 But he's probably joking, though...We really hope he's joking.
...He's GOTTA be joking...right!?
For much of this January, Maynard James Keenan has supposedly been in the studio with either A Perfect Circle or Tool. He has also been apparently passing some of the time by downplaying speculation on Twitter about when his two bands' new music will be released.
Keenan has a general contemptuous attitude towards social media. His back-and-forths with fans on Twitter and Instagram are generally curt, so it's not hard to read the Tweet with the dripping sarcasm of which he is known.
The idea that this was a joke, is consistent with Keenan's sense of humor.
But then why would he delete the Tweet?
There are few theories here:
For one, no one likes seeing their mentions blowing up. Keenan's probably blew up big-time after this one, just as they do every time his Tool bandmates make a declaration about the status of the album—or when they invite friends to hear the instrumentals. (On Monday members of the Polish metal band Behemoth revealed they had heard the instrumentals for the album. In December, Rage Against the Machine guitarist Tom Morello thanked the band for giving him a sneak peak.)
The other possible reason for the deletion is that someone in Tool's camp—a bandmate, a publicist, a manager—was upset by it. After all, the band has been working hard on the album, rewriting and revising the songs, trying to make a worthy follow-up to 2006's 10,000 Days. It's not hard to imagine a bandmate being a little perturbed at the suggestion Keenan would further delay the release of the new music just because he can.
Tool drummer Danny Carey and guitarist Adam Jones have both proclaimed publicly in recent weeks that the new Tool album will be released in 2018. Jones even said Keenan was furiously writing vocals for the record.
While Keenan hasn't explicitly shot down the idea the new Tool would be out in 2018, he's made it abundantly clear that he'll take as much time as he needs to complete his parts, whether that's a matter of weeks, months or years, no one outside Tool can say.
Keenan has promised that a new A Perfect Circle album would be out this year.
Photo: Getty Images
Chat About Tool Singer Promises New Album Will Be Complete in 5 - 6 Years