Neal Schon Feud a 'Bump in the Road' for Jonathan Cain
By Andrew Magnotta
February 16, 2018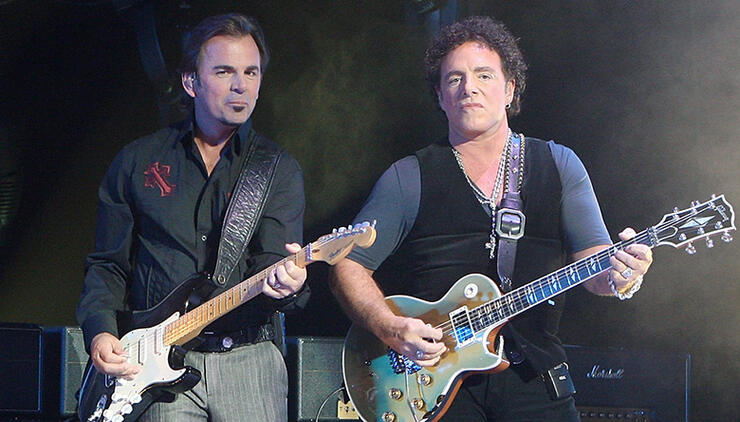 Jonathan Cain says his feud last year with Journey bandmate Neal Schon was difficult, but nothing that jeopardized the future of one of the top-grossing bands in rock and roll history.
Cain has been in Journey since 1980; he says any long relationship is bound to have its rough patches.
Schon launched several social media tirades against his longtime keyboardist and collaborator last summer. The guitarist accused Cain of polarizing Journey's fanbase with politics and religion. Schon even threatened to go solo following an "unsanctioned" visit to the White House by Cain, bassist Ross Valory and frontman Arnel Pineda in August.
"For me, it was a historical chance to go, and it wasn't political," Cain told Rolling Stone in a new interview centered around his upcoming memoir, Don't Stop Believin', available May 1. "I'm a history buff and was dying to see where all this history took place. I know Arnel wanted to meet the Filipino lady [Cristeta Comerford] that has worked as a chef there for 20-something years. And Neal and I weren't on speaking terms during that time. He was bashing me, so I didn't think he would want to come. That's all."
Schon called the White House debacle a "breaking point" for the band, saying Journey had been invited multiple times to visit the White House, under several Presidents, and never accepted the invitation because of the political impression it could leave.
Cain's wife, Paula White, is "spiritual adviser" to Donald Trump.
"It was just an offer to take a tour. It wasn't an endorsement. Not at all," Cain continued. "And Ross decided to come and see the building that Eisenhower bowled in. I was like, 'A bowling alley? How cool!' We got to see the loft where they make the cookies. The kitchen was so tiny. We saw all the little nooks and crannies, and were like, 'Oh, my gosh, this is amazing.'"
The keyboardist then dismissed the feud as "just something that happened," chalking up the disagreement to predictable "bumps in the road" after a 38-year relationship.
"When you read my book, you'll see the mountains and the struggles that we had to overcome together," Cain said. "…Neal and I brought this thing, along with the rest of the guys, back to where it belonged. I'll always be grateful for that. We're brothers. I'm proud of that."
Schon revealed in January while doing press for Journey's upcoming tour with Def Leppard, that while he's cooled down after last summer he still has a rocky relationship with his bandmates.
Get more information about Cain's book here.
Photo: Getty Images
Chat About Neal Schon Feud a 'Bump in the Road' for Jonathan Cain