Robert Plant Says "A Cork Will Pop" on Led Zeppelin 50th Anniversary
By Andrew Magnotta
February 22, 2018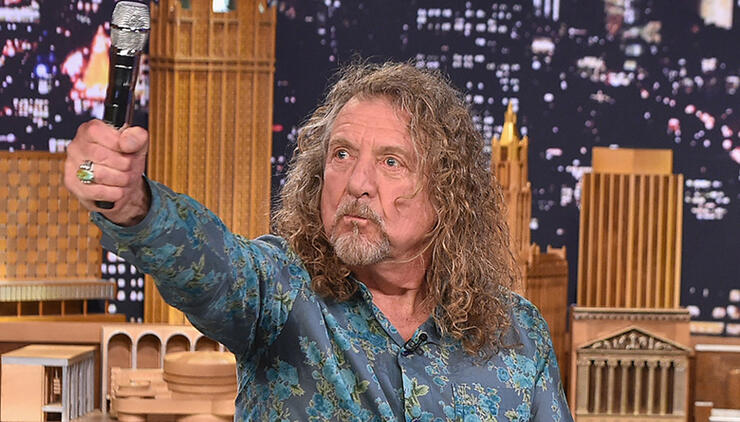 Robert Plant says "somewhere" there will be a celebration for Led Zeppelin's 50th anniversary this year.
The iconic frontman says at some point he will get together with surviving Led Zeppelin guitarist Jimmy Page and bassist/keyboardist John Paul Jones to reminisce, particularly about late-drummer John Bonham.
"And not only will it be 50 years, but it'll be, next year, 38 years since John passed away," Plant told The Current. "And the great thing about Led Zeppelin was that we didn't chronicle ourselves; we just kind of went from town to town and sang songs and played guitars and stuff and then went about our lives."
Whether Plant, Page and Jones' get-together will be recorded for posterity or not is unclear.
Along with a new book, Led Zeppelin By Led Zeppelin coming in October, the landmark anniversary will be celebrated with a never-before-heard Zeppelin live album Page has spear-headed.
While Plant admits he's interested in seeing what the book of photos and illustrations will contain, he doesn't seem to be making any big plans.
"But there will be a celebration, I'm sure, somewhere," he said. "A cork will pop!"
Since Led Zeppelin disbanded following the death of Bonham, Plant has gone about his career, releasing eleven solo albums, including his most recent solo LP, Carry Fire.
"You just grow and you absorb," Plant told Q104.3 New York's "Out of the Box" with Jonathan Clarke regarding his prolific career with Led Zeppelin and after it. "If you want to, you can get lost in music, especially now; the information highways are what they are with YouTube and stuff like that. It's remarkable what you can find."
Listen to that interview below.
Plant has long hand-waved rumors of another onstage Led Zeppelin reunion.
Last fall, the singer said the press's obsession with Zeppelin nearly 40 years after it disbanded was a disservice to new artists.
"It's like there is nothing new and exciting out there any more, when in fact there is," he told Classic Rock Magazine. "So stop living in the past. Open your ears and your eyes. It's not that difficult, is it?"
In January, Plant told one radio station he couldn't imagine recording with Page again.
Plant has tour dates on his itinerary through August. Check them out here.
Thumbnail Photo: Getty Images
Chat About Robert Plant Says "A Cork Will Pop" on Led Zeppelin 50th Anniversary