Paul Stanley Explains KISS 'End of the Road' Trademark Application
By Andrew Magnotta
March 19, 2018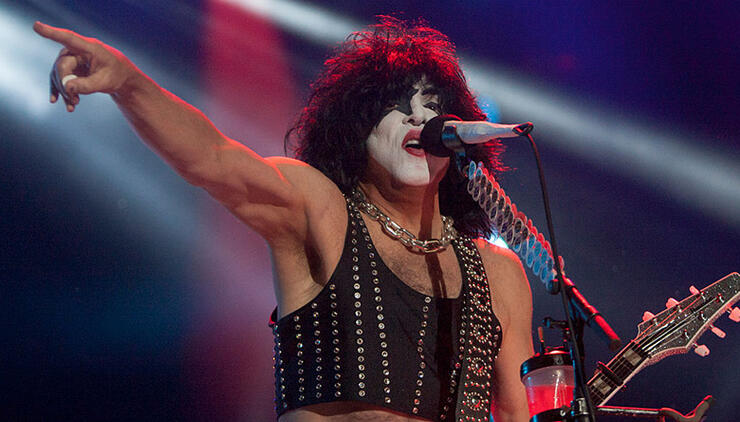 KISS frontman Paul Stanley says media outlets weren't far off base when they concluded that KISS was thinking retirement when the band applied to trademark the phrase 'The End of the Road' last month.
Stanley clarifies that KISS is just looking ahead with the trademark and has no plans to call it a career just yet.
"It's not the first trademark that's been filed," the singer told reporter Michael Cavancini in a new interview. "I thought it was a terrific name, and I was surprised nobody had used it before. I wanted to make sure that when we used it, and there will be a time that we do, I imagine — I wanted to be sure that we own it and it's ours."
Stanley says the band has run into conflicts before with phrases trademarked by other acts. He says the band wants to make sure it's legally in the clear when it says goodbye.
"When we wanted to go out and do the Hottest Show On Earth tour, Ringling Bros. came to us and said, 'You can't do that,' he recalled. "It set off a light and bell for me. We've always had slogans or sayings that are synonymous with us, and this was another. Everything does end, in one form or another. When it's my time, I want to go out in style, and I want to go out guns blazing. So, when I came up with this idea, I thought let's make sure we tie this up."
KISS famously embarked on a farewell tour in 2000, but really only wound up taking a year off. The band was back on tour with Aerosmith by 2003.
Frontman Stanley said at the time the farewell tour was to "put KISS out of its misery." He was referring to years of infighting and lawsuits around the band.
Bassist Gene Simmons said the reason KISS never followed through with retirement was because the fans didn't want them to go.
"We'll do it for a few more years, and then when we think it's time to go, we'll go," Simmons told Glasgow Live earlier this winter. "And we'll do it the right way: with a big party."
Since 2002, KISS's lineup has consisted on Simmons, Stanley, guitarist Tommy Thayer and drummer Eric Singer.
Fans have been holding out hope that when the band does retire it would reunite with founding members Ace Frehley, who has reestablished his friendships with Simmons and Stanley in recent years, and Peter Criss who retired from performing last summer.
While Frehley has been optimistic about his chances of rejoining KISS, Simmons and Stanley have been less enthusiastic with Stanley ruling it out completely and Simmons suggesting that such a reunion would only be practical for a "one-off."
Last month, Stanley suggested that KISS might never truly end, even after he's gone.
Stanley suggested to Billboard that he could see KISS continuing without any original members.
"We've built something that's so iconic, and I think it transcends any of the members," Stanley said. "So I can certainly see me not being there, seriously. There was a time where people said it had to be the four of us, and those people are already 50 percent wrong. So I'm betting [another absence] could be overcome, too."
Photo: Getty Image
Chat About Paul Stanley Explains KISS 'End of the Road' Trademark Application