KISS Could Be Planning Farewell With New Patent Application
By Andrew Magnotta
February 20, 2018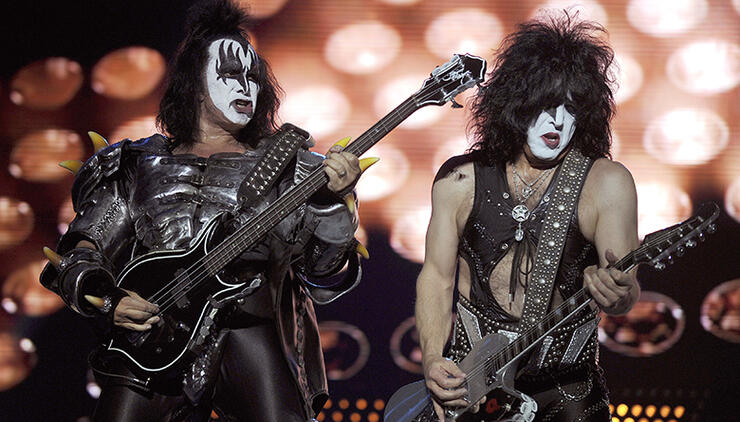 KISS has reportedly applied for a patent on the phrase "The End of the Road," and the news has fans wondering whether the band is plotting another farewell tour.
If granted, the patent will protect the phrase "The End of the Road" within the entertainment world for "live performances by a musical band."
That designation suggests "The End of the Road" would refer to either a concert or a tour. And as much as KISS bassist Gene Simmons likes to patent things he has nothing to do with, considering KISS' renowned and raging capitalism, the best way for the band to profit off patenting "The End of the Road" would be to use it.
KISS embarked on a farewell tour in 2000, but was back on the road with Aerosmith within three years.
Frontman Paul Stanley said at the time the tour was to "put KISS out of its misery." He was referring to years of infighting and lawsuits.
Simmons said the reason KISS never followed through with retirement was because the fans didn't want them to go.
But it's 18 years later, and things have changed in camp KISS.
For one: Stanley and Simmons are the only remaining original members still in the band. Since 2003, they have been joined onstage by guitarist Tommy Thayer and drummer Eric Singer, both of whom don Ace Frehley and Peter Criss costumes respectively.
Also, many fellow classic rock acts have retired or are embarking on farewell tours.
Black Sabbath officially retired last year. Ozzy Osbourne, Elton John and Paul Simon are about to begin their farewell tours.
Even Slayer is calling it a career after this next tour.
Simmons and Stanley have been asked a lot about retirement in recent the years. And both have said they don't plan on continuing into their 70s.
Simmons said last year that the band has "a few more years," telling Glasgow Live, "We're the hardest-working band in show business. I wear over forty pounds of studs and armor and all that stuff, seven-inch platform heels, spit fire and have to fly through the air and do all that stuff."
Stanley has said that the band might never end, but that KISS could continue without him.
"We've built something that's so iconic, and I think it transcends any of the members," Stanley told Billboard recently. "So I can certainly see me not being there, seriously. There was a time where people said it had to be the four of us, and those people are already 50 percent wrong. So I'm betting [another absence] could be overcome, too."
Furthermore, Stanley and Simmons have reconnected with Frehley over the years, collaborating with him on various projects.
While Stanley has ruled out a Frehley reunion, Simmons sees potential in the idea.
Frehley, last year, put the odds of a reunion at 50-50.
Photo: Getty Images
Chat About KISS Could Be Planning Farewell With New Patent Application