Angus Young Reportedly Writing New AC/DC Album With Axl Rose
By Andrew Magnotta
March 21, 2018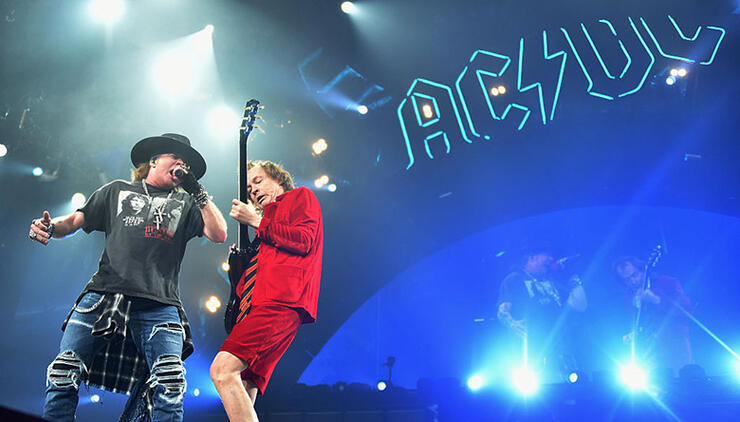 AC/DC's sole remaining founding member, Angus Young, is reportedly determined to continue the band with Guns N' Roses frontman Axl Rose.
According to Rose Tattoo frontman Angry Anderson, who is a friend of Young's, the guitarist is hard at work writing music for the new record. Anderson told Rockpit in a new interview that Young confirmed to him during a conversation that Axl is part of the overhauled AC/DC lineup.
"I said to him 'What are you going to do?' and he said 'Mate, I'm writing a new album,'" Anderson told Rockpit. "I asked him who was in the band and he said 'Axl.' Brian's not there, Phil's not there, Cliff's not there, sadly, Malcolm's not there."
Anderson's revelation is consistent with other statements about Axl Rose's future with the band made by those close to it.
If and when Rose's status in the band is finally clarified, it will have been one of the worst kept secrets in rock and roll.
Still, Anderson's recollection of the conversation will come across as melancholy to most fans of the band. The sheer fact that Angus listed Axl as being in the band, and then who's not in the band anymore is telling of how difficult the last few years have been.
Longtime bassist Cliff Williams retired after AC/DC's Rock or Bust World Tour, which concluded with Rose fronting the group.
Rose only joined the band after longtime frontman Brian Johnson was forced to step back due to severe hearing loss.
On-again-off-again drummer Phil Rudd left the band in 2014 due to a litany of legal and personal issues.
Angus' brother Malcolm Young died in November, about seven years after retiring due to early-onset dementia.
While many fans have been critical of AC/DC continuing without classic members, Anderson argued on behalf of his fellow Aussie.
"Yes, it's sad that the original lineup aren't there anymore, but it's the songs," he added. "People who have supported them all the way through their career, they want to hear the songs."
Indeed, due to Rose's infamous antics with Guns N' Roses in the '90s, he doesn't have the best reputation in the business. But by all accounts, the singer has been punctual and a complete team player with AC/DC and with the 3/5ths reunited version of GNR.
And if we're being honest, Rose has done a faithful job performing songs live that were originally recorded with either original frontman Bon Scott or Johnson. Young has offered nothing but positive feedback regarding his partnership with Rose.
Anderson isn't the only rocker to speak out on behalf of Young and Rose. Alice Cooper has sung Rose's praises. Even Stone Temple Pilots' bassist Robert DeLeo recently emphasized the importance of keeping alive the music of classic bands like AC/DC.
Photo: Getty Images
Chat About Angus Young Reportedly Writing New AC/DC Album With Axl Rose