Glenn Tipton Rejoins Judas Priest Onstage Amidst Parkinson's Battle
By Sam Valorose
March 21, 2018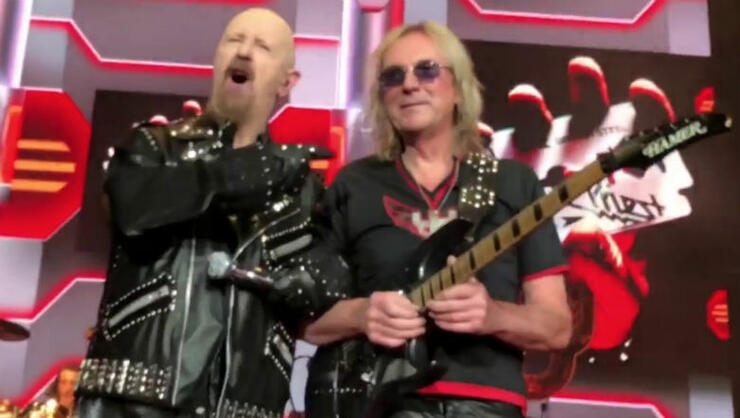 Judas Priest was joined by guitarist Glenn Tipton onstage Tuesday night (March 20th) at the Prudential Center in Newark, NJ to help the metal legends perform three classics, "Metal Gods", "Breaking The Law" and "Living After Midnight," during their three-song encore. Tipton was met with a well-deserved thunderous applause as he took the stage in Newark and fans captured videos and photos of his appearance during the show.
Tipton retired from touring due to his battle with Parkinson's disease, saying, "I am not leaving the band — it's simply that my role has changed." He took part in the band's signing session with the rest of Judas Priest at Sony Square NYC in New York City.
The guitarist had been diagnosed with early onset stages of Parkison's Disease ten years ago. He is known for complex solos and unique guitar playing and has been a member of since 1974. Judas Priest producer and guitarist Andy Sneap has filled in for Tipton on stage.
Parkinson's disease is a neurodegenerative disorder, which leads to progressive deterioration of motor function.
"I want everyone to know that it's vital that the Judas Priest tour go ahead and that I am not leaving the band — it's simply that my role has changed," Tipton said in a statement. "I don't rule out the chance to go on stage as and when I feel able to blast out some Priest! So at some point in the not-too-distant future, I'm really looking forward to seeing all of our wonderful metal maniacs once again."
Check out fan footage of the show below:
Judas Priest broke their own records with the release of their 11th studio album Firepower, that gave them their highest debut on the charts, landing at #5 on the Billboard 200. This is their 18th album and was released back on March 9th, beating out 2014's Redeemer Of Souls, which peaked at #6, 2008's Nostradamus landed at #11 and 2005's Angel Of Retribution debuted at #13.
Chat About Glenn Tipton Rejoins Judas Priest Onstage Amidst Parkinson's Battle