Metallica 'And Justice For All' Reissue Might Include Alternate Versions
By Andrew Magnotta
March 27, 2018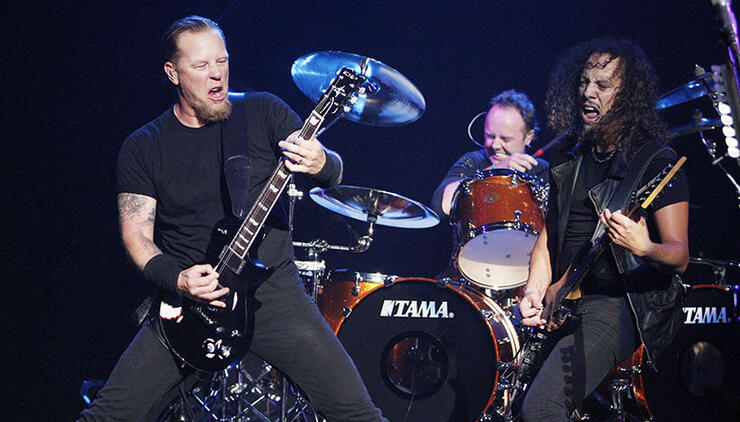 Metallica will release the 30th anniversary reissue of its 1988 ...And Justice for All album next fall.
The remastered album and box set will be the latest in an effort by the band to re-release its classic albums with upgraded audio quality.
...And Justice for All has been the most highly-anticipated Metallica reissue with fans wondering whether the band will deign to increase the presence of Jason Newsted's bass guitar in the mix.
Producer Flemming Rasmussen, who worked with the band on 1984's Ride the Lightning and 1986's Master of Puppets in addition to ...And Justice for All, tells Rock Talk with Mitch Lafon that he's been working on material that will go in the box set for the reissue.
Rasmussen says he believes the album is going to be remastered in the same spirit as it was mastered initially.
"But there might be alternative versions on there," he added, before clarifying that he's not been asked to remix the famously near-bass-less album, the band's first following the death of bassist Cliff Burton.
Many fans have their fingers crossed that they'll be able to hear Newsted's parts more clearly in updated or alternate versions of the songs.
"I'm pretty sure nobody asked [engineers] Steve Thompson and Michael Barbiero to [remix it] either," Rasmussen continued. "I think they're gonna go with the remastering thing; whether they're gonna stick more bass in there—I have no idea. But let's see when it comes out."
Rasmussen then went on to corroborate one of Thompson's more recent claims about the status of the album's master tapes: there were so many edits that it might be impossible to properly remix the album.
"I edited it so much that I'm pretty sure they're all gonna fall apart if you start playing them now," Rasmussen said. "You'd probably need to re-tape them together again. Whether or not somebody transferred that to digital, I have no idea."
From what Rasmussen can tell, the box set will include vinyl copies of the record with "loads of CDs, rough mixes," as well as demos and a big book of photos and stories from the recording process and ensuing tour.
Thompson has repeatedly said that drummer Lars Ulrich was the reason for the unconventional sound of the album. He claimed that he even tried to quit the project after Ulrich wouldn't reconsider his demands about reducing the bass guitar and pushing the drums more forward in the mix.
Thompson and Toby Wright, who engineered the ...And Justice for All recording sessions, both say Newsted's bass parts were brilliant.
"I'd like to remix it and I'll show you exactly what was laid down on tape and then the world will be stunned, I think," Wright told the Talk Toomey podcast last year. "Keep in mind I would love to remix it. Lars, if you're hearing me, I'd love to remix it."
Metallica is about to begin the second leg of its WorldWired Tour. Get the tour dates here.
Photo: Getty Images