John Fogerty Says Warning From Bob Dylan Got Him Playing CCR Songs Again
By Andrew Magnotta
March 30, 2018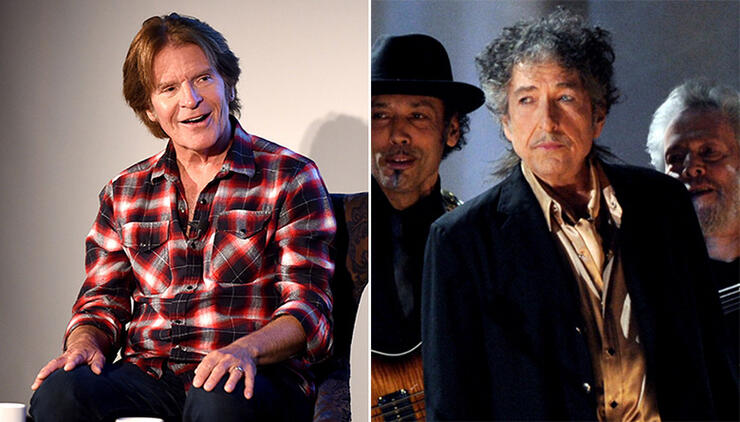 John Fogerty is one of America's most prized singer/songwriters and one of classic rock's greatest guitarists of all-time.
So when Fogerty got beyond Creedence Clearwater Revival's messy breakup in 1972, he struck out to make a name for himself, refusing to rely on the tried and true material of his old band. In fact, Fogerty shunned the CCR catalog for about 25 years until Bob Dylan of all people convinced him to reconsider.
In a new interview with Uncut, Fogerty credited Dylan with opening his mind during a meeting the two had in the '90s.
Ironically, Dylan himself has a reputation for neglecting his classic songs during live shows or playing wildly different versions of them.
Fogerty said Dylan warned him that the general public might forget he had anything to do with a song like "Proud Mary" unless he started performing it again.
A hit for CCR in 1969, "Proud Mary" was back on the charts in 1971 when it was released as a single by Ike and Tina Turner. The song became a signature tune for Tina Turner, who released it multiple times on live albums and compilations over the years.
"Dylan's words were very provocative, and he certainly put the bee in my bonnet, you could say," Fogerty said.
He added that he "must have been a troubled person" upon leaving CCR. And that, despite an impressive catalog of hit solo albums, turning his back on CCR for so long probably hurt his career.
"Thankfully, I look back and think, 'Well, I guess I'm a man of convictions, but I'm sure glad I'm over that!'" he concluded.
Not only did Fogerty reintroduce CCR material into his live shows, he's also making sure the world knows who wrote "Proud Mary."
Last December, Fogerty publicly objected to a Taraji P. Henson film about an assassin appropriating the song for its title.
"My songs are special to me. Precious," Fogerty wrote in a statement decrying the use of his song to market a violent movie. "So it irks me when people seek to capitalize on the popularity of my music and the good will it has earned with the public for their own financial gain. Over the years, I have often found myself directly opposed to these uses. This movie has nothing to do with me or my song. They simply picked the title and wrote a completely fictitious story around it."
Nowadays, Fogerty's live setlist draws heavily from his CCR legacy. The singer is energized about music is heading back on tour this summer for a co-headlining jaunt with ZZ Top.
He and ZZ Top guitarist Billy Gibbons have assured the public that they will come out for guest spots during one-another's sets on the Blues and Bayou Tour.
They even wrote a song together prior to announcing the tour.
Get all the tour dates here.
Photo: Getty Images