Ex-NFL Cheerleader Claims Team Executive Told Her She Had 'Dirty Face'
By Bill Galluccio
April 4, 2018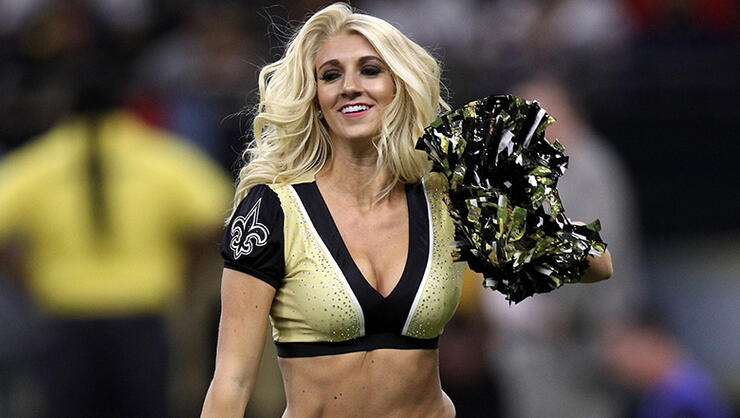 A former New Orleans Saints cheerleader who recently filed a discrimination lawsuit against the NFL is telling her side of the story. Bailey Davis described her treatment by Saints officials in an article for Cosmopolitan. Davis said she was fired after she posted a lingerie photo of herself on Instagram. After posting the photo, she received a text message from her coach telling her she used "very poor judgment to post a picture like that."
After sending the text message, her coach told her mother, who was working as the choreographer for the cheerleading squad, that she must resign or she would be fired. Davis refused to quit and demanded a meeting with human resources and leadership from the cheerleading team.
She said that she was humiliated by a Saints executive in the meeting over her Instagram photo. He told her she had a "dirty face" and kept repeating that "perception is reality."
The meeting was humiliating. A Saints executive said the photo made me look guilty of hanging out with the players; he said that I had a "dirty face" and that he'd never let his granddaughters post something like that. "Perception is reality, perception is reality," he kept repeating. What perception? That I'm trash, I guess. That I wanted attention from the players.
After being terminated, Davis consulted with an employment lawyer and discovered that the team does not hold the players to the same rules as the cheerleaders. They have strict rules that ban fraternizing with the players. They cannot even eat at the same restaurant as players and are banned from interacting with them on social media. But, the players face no punishment if they try to chat up the cheerleaders, and are allowed to follow the cheerleaders on their personal social media accounts.
If the Saints want to keep their no fraternization rules, then it must be on the football players, too. The cheerleaders shouldn't have to protect themselves like that. Our jobs shouldn't be at stake because we say something other than "hello" to a male colleague.
Photo: Getty Images
Chat About Ex-NFL Cheerleader Claims Team Executive Told Her She Had 'Dirty Face'