Vote for the John Lennon Songwriting Contest Winners
By Andrew Magnotta
April 9, 2018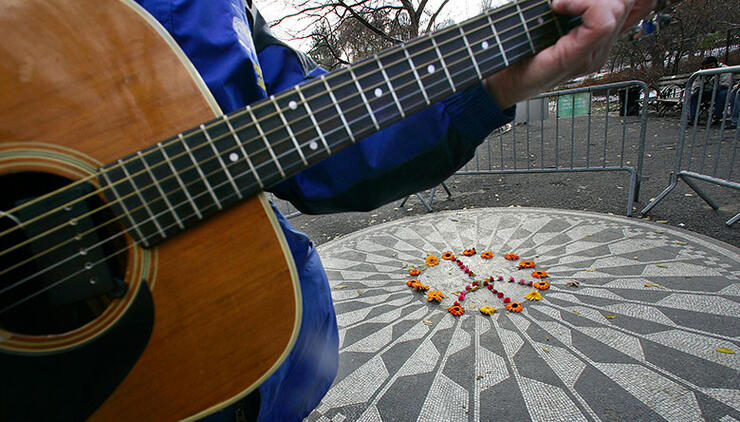 The 2017 John Lennon Songwriting Contest has whittled a field of artists from all over the world down to 24 finalists in 12 genre categories.
Judges for this year's contest include music industry veterans like Parliament Funkadelic's George Clinton, Red Hot Chili Peppers bassist Flea, 311 frontman Nick Hexum, Jim Steinman and you!
The contest is now accepting fan votes to help choose the 12 Lennon Award Winners (one for each genre). From the 12 winners, one songwriter will be awarded a check for $20,000 and "Song of the Year" honors.
The Lennon Award finalists in the Rock category include Birmingham, Alabama's The Old Paints for their raw, slide-guitar-powered "Girl" and Roseland, New Jersey's Gregg Sgarlata with his song polished yet soulful "Block The Sun."
You can listen all the finalists' songs and vote on your favorites here.
"When I think of John Lennon I think of absolute integrity in music," Flea said of Lennon and the spirit of the Songwriting Contest.
Application fees for the contest help support the John Lennon Education Tour Bus, a state-of-the-art mobile audio and film recording and production facility.
"This bus travels around the country and it goes getting music students and kids in here recording music and really giving them a sense of purpose and something beautiful to do," Flea added.
The John Lennon Educational Tour Bus visits schools, as well as music and technology conferences and events. It partners with communities and local media to raise awareness for music and arts education and it provides for kids hands-on experience in arts and digital media.
You can enjoy any of the bus's projects on its YouTube channel here.
Thumbnail Photo: Getty Images
Chat About Vote for the John Lennon Songwriting Contest Winners