Carrie Underwood Gives An Update On Injury: My Face Has Been Healing Nicely
By Hayden Brooks
April 10, 2018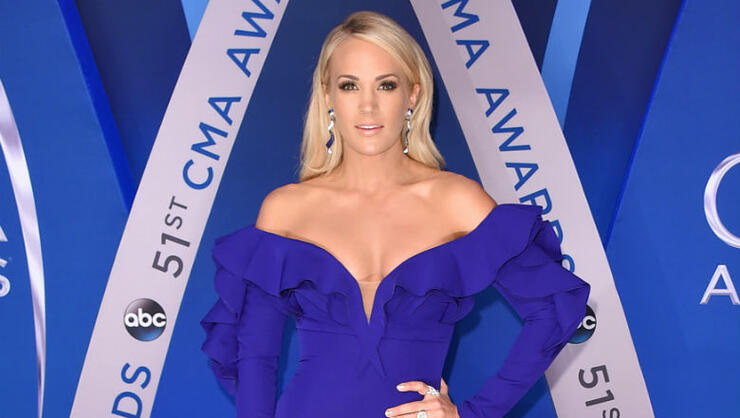 After mostly staying out of the public limelight in recent months, Carrie Underwood has touched base with fans in a new letter via her official website and it dives into details about her face injury and new music.
On Tuesday (April 10), the American Idol champ took to her platform to offer fans an update on her face injury, which resulted in over 40 stitches to her face. "First off, physically, I'm doing pretty darn good these days! My wrist is almost back to normal, about 90% there…and the docs say that last 10% will come in time," she kicked off the lengthy letter. "And my face has been healing pretty nicely as well. I definitely feel more like myself than I have in a while."
It prompted Underwood to take on some "forced relaxation" and spend a lot of time with her husband Mike Fisher and son Isaiah. "Sometimes I think things happen in order to make us slow down. It also means I've been home to support my favorite hockey player coming out of retirement!" she continued. Elsewhere in the letter, Underwood offered up an update on her next era in music, admitting that she's been writing and recording a lot of new "fulfilling and empowering" tunes with a writer/producer David Garcia. "We hit it off in a big way and I'm excited to say that we are co-producing my album together. I've always been lucky to have a voice in the writing and recording process, but this is the first time I am this involved in the production of my music," she admitted. "It's been challenging and incredibly rewarding to be involved in every aspect from start to finish. David has been an amazing teacher and partner, and I'm so proud of what we have created."
Underwood will give fans the first taste of her new music with the release of the LP's first single, "Cry Pretty," which she co-wrote with Hillary Lindsey, Liz Rose, and Lori McKenna last year. At the end of the letter, she explained that the title of the song "refers to when emotions take over and you just can't hold them back." While the song officially drops on Wednesday (April 11) at 6 AM ET, she'll debut it live on Sunday's 53rd Academy of Country Music Awards at 8 PM ET on CBS.
Chat About Carrie Underwood Gives An Update On Injury: My Face Has Been Healing Nicely