Dave Mustaine: It's Unfair That the Future of Big Four Is Up to Lars Ulrich
By Andrew Magnotta
April 10, 2018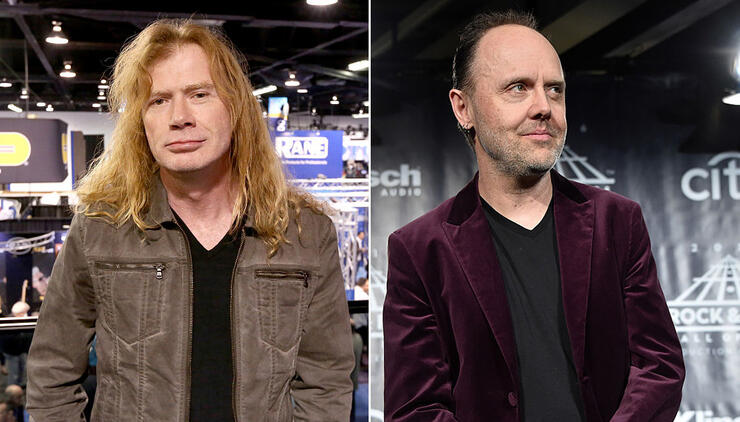 Megadeth mainman Dave Mustaine says that whether or not the Big Four of Thrash share a stage again is up to Metallica drummer Lars Ulrich...and that's too bad.
Mustaine has said previously that he hopes the four groundbreaking heavy metal bands can do another show all together, like they did in 2010. But with Slayer on a farewell tour with retirement on the horizon, time is running out to make the dream a reality.
"Everybody on the planet knows that's up to Lars Ulrich because Lars runs Metallica and they are the onces that are in control of this, which doesn't seem fair since the moniker suggests that we're equal," Mustaine told William Glanz of SoundExchange.
He continued saying that Megadeth, Anthrax and Slayer would probably do whatever they could to make another Big Four show happen. But he's not so sure the Big Four distinction is important to Metallica.
"...[My] guys are dedicated enough to the metal community that if there was a Big Four show... we would do it," Mustaine continued, "even if there was a prior commitment, because I think everybody would understand these are momentous concerts."
Mustaine compared previous Big Four shows to Woodstock for metal fans.
It's possible the tech-metal innovator Mustaine wants to do another Big Four show because he didn't much enjoy the first one.
Mustaine said in December that he delayed neck surgery to get to the famous Big Four at Yankee Stadium show. He recalled the severe pain he was in and the health risk he took on in order to perform.
"I had tape all over the stage that said, 'Don't headbang,'" Mustaine told Jamey Jasta on The Jasta Show podcast in December. "I would have died if I headbanged that night because I was in an emergency surgery room two days before."
The most important thing to him is to celebrate Slayer before the band is gone, Mustaine says.
"It's been a long time, and if [Metallica doesn't] do it I would love to do something with Slayer just out of deference, out of respect for them as people, what they stand for and what they've done for our community," he said. "There will never be another Slayer."
Mustaine and Ulrich have been at-odds for the better part of the last 35 years. Mustaine has said that one of the most important moments for his alcoholism recovery was reconnecting with Ulrich and getting closure on his dismissal from Metallica back in the early-'80s.
Photo: Getty Images
Chat About Dave Mustaine: It's Unfair That the Future of Big Four Is Up to Lars Ulrich