How Metallica Returned To Glory With Death Magnetic
By Sam Valorose
April 11, 2018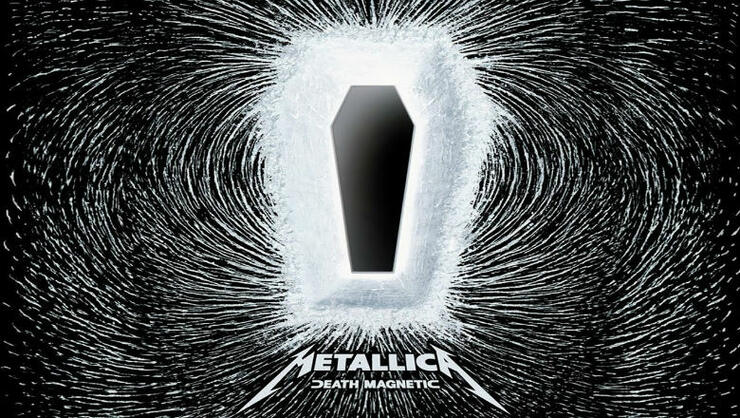 10 years ago, Metallica's long road to redemption paid off and they reclaimed their throne as the kings of heavy metal with the release of their ninth studio album, Death Magnetic. After a series of albums aimed at expanding their sound were considered overall failures to both fans and critics, including 2003's massive disappointment St. Anger, the California thrash legends went back to the drawing board to recapture the essence of what made them so great in the first place. Embracing their roots, Death Magnetic was a giant leap in the right direction and while not perfect, it set them on course to release the monumental ...Hardwired To Self-Destruct in 2016.
iHeartRadio is celebrating legendary albums turning 10 years old this week, and to commemorate Death Magnetic's 10th-anniversary, Full Metal Jackie is spinning more Metallica on her iHeartRadio station. Listen here.

Metallica had a seemingly perfect record throughout the '80s and set the blueprint for heavy metal with their first four records. The riffs got bigger, the drums got faster, and the execution more precise as the band released the attitude-fueled Kill 'em All, the epic Ride The Lightning and Master of Puppets, and the prog-infused ...And Justice For All. They took a huge gamble with their 1991 self-titled album. Opting for more commercial ballads instead of the headbang-inducing D-beat thrash of their prior releases, they allowed the songs to breathe. Metallica abandoned their hordes of adoring, pockmarked metalheads for millions of new mainstream fans, cementing their place as the biggest band in the world.
Five years later is when the downward spiral began. Cutting their hair and getting a complete makeover, Metallica entered the hard rock hall of shame with the releases of Load and ReLoad. The Southern rock-inspired songs held their thrash roots at arm's length, chugging along at half speed. The public opinion on the band was at an all-time low when their legal against Napster made the multi-millionaires seem more and more out of touch with their blue-collar image and fanbase of yesteryears. To make matters worse, the documentary Some Kind of Monster pulled the curtain back a little too far, making the rock stars seem like immature, egotistical children. It all culminated with the release of 2003's St. Anger, a misfire on all accounts. What had intended to recapture their aggressive garage-space youth ending up being a bizarrely mixed, forced, and lazily written mess.
While the band could have continued to tour off their first five albums, Metallica felt the need to redeem themselves for their "lost decade." Producer Bob Rock was out of the picture and producer Rick Rubin was given the task to reclaim their glory. He challenged the band to write the unwritten half of Master of Puppets, a seemingly impossible task that the group faced head-on. The songs on Death Magnetic broke out of their typical structures and aimed for more ambitious, longer tracks that featured numerous tempo changes. And guitar solos were back! Kirk Hammett's blistering guitar work was all over Death Magnetic, a proper return after the bare-bones St. Anger.
With new bassist Robert Trujillo onboard, they combined their older, aggressive attitude with what they learned from branching out into other rock genres in the past 10 years, creating a refined yet raw experience. What could have felt like a mid-life crisis desperately trying to recapture their youth, instead proved that Metallica was a master at their craft.
The album was both a commercial and critical success. It marked their fifth consecutive commercial album to hit number one on the US Billboard 200 and made them the only band to do so. Rolling Stone said in their review, "St. Anger was a misguided attempt to recapture the band's mojo by sounding 'raw' — but Death Magnetic manages to sound huge, polished and tough." It was included on the 50 Best Albums list for 2008 in TIME, Revolver, Rolling Stone, Kerrang! and more.
Death Magnetic served as a precursor 2016's incredible ...Hardwired To Self-Destruct, setting the band on the track for rock n' roll redemption. On "Broken, Beat, and Scared," the band chants in unison, "What don't kill ya, make ya more strong" - a true testament to Metallica's glorious return to heavy metal greatness after years of missteps and mistakes.