Gene Simmons Reunites With Vinnie Vincent at Vault Event in Nashville
By Andrew Magnotta
April 18, 2018
Reclusive former KISS guitarist Vinnie Vincent kept his promise to reunite with his former bassist Gene Simmons this past weekend at one of Simmons' Vault events in Nashville, TN.
Simmons has been touring the country for the past several months taking part in private meet-and-greets with some of his biggest fans, hand-delivering his new career-spanning box set.
The tour has brought about reunions with original KISS members Peter Criss and Ace Frehley, but Vincent's participation came as a pleasant surprise to KISS fans.
You can watch Vincent and Simmons reminisce in the fan-filmed video above.
Vincent has been something of a white whale in the world of KISS. The guitarist recorded uncredited on several KISS albums as a sub for Frehley in the late-'70s or early-'80s before joining the band in 1982 following Frehley's official departure.
Vincent co-wrote and performed on KISS's 1983 Lick It Up album and famously wore the unique Ankh Warrior makeup live until the band ditched its face-painted stage getup to promote the Lick It Up album.
After leaving KISS in 1984 over a contract dispute, Vincent launched his own band, the Vinnie Vincent Invasion, which released two albums.
In 1992, KISS brought Vincent back to the studio to help them write for 1992's Revenge album. Since the last '90s, Vincent stayed out of the public eye, except for a flurry of lawsuits against KISS over unpaid royalties.
"I spent 20 years in hell," he told Eddie Trunk in January after resurfacing at the Atlanta KISS Expo. "The broad strokes...they could have been not so broad; they could have been quickly and really amicably, could have eliminated 20 years of pain."
But the guitarist seems to be in a positive space now. He says he reconnected with Simmons and there's no lingering bad blood. Following the January expo, Vincent appeared at an event in Orlando earlier this month and then of course with Simmons this past weekend.
Vincent says he plays guitar and writes music every day and he's ready to consider recording and performing live again "if the fans want me back."
Photo: Getty Images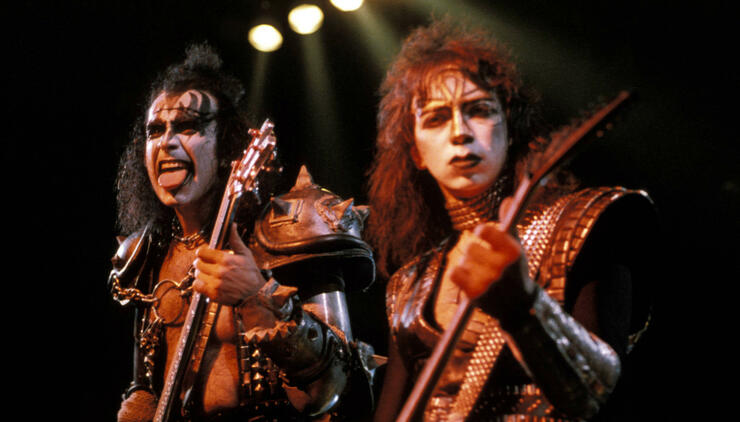 Chat About Gene Simmons Reunites With Vinnie Vincent at Vault Event in Nashville