Ariana Grande Unleashes 'No Tears Left To Cry' Snippet & Cover Art
By James Dinh
April 19, 2018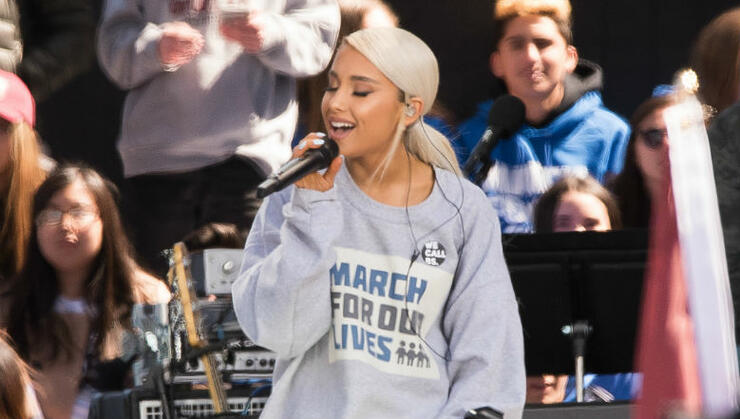 Ariana Grande's next era in music is just hours away as her new single, "No Tears Left To Cry," drops on Friday (April 20) and the pop star has unveiled some yeasers to hold fans over until its release.
Not only did Ari drop a pair of photos (one being the single cover art) via Twitter on Thursday, but the 24-year-old singer also shared a heavenly snippet of the track. First up, the cover art for the single features Ari's profile and a rainbow light cast across her face. The bottom of the artwork includes the title of the song in an upside-down text format — a consistent theme in the track's rollout. As for the snippet of "No Tears Left to Cry," Grande's vocals are heard distorted to the masses, but it sounds like the cut will include plenty of coo-ing and silky soft vocals from the star.
TMZ previously reported that the singer's new album was complete and much more "personal" than her previous efforts as she was involved in penning every single track on the project. Max Martin and Pharrell are among the titans that worked with Grande on the new LP. Songwriting is a new venture for the pop star but the final product seemed to be impressive, at least that's based on the feedback she received during a wrap meeting with Republic Records execs and her manager, Scooter Braun.
If that wasn't enough, it looks like Grande might have a duet with Dua Lipa on the horizon after a short snippet of a song called "Bad to You" leaked onto the blogosphere just a few weeks ago. In the meantime, prepare yourself because "No Tears Left to Cry" will be here in a matter of hours!
Chat About Ariana Grande Unleashes 'No Tears Left To Cry' Snippet & Cover Art