Ariana Grande Shares "No Tears Left To Cry" & Music Video
By Nicole Mastrogiannis
April 19, 2018
Ariana Grande has officially returned with her brand new single "No Tears Left To Cry." After teasing fans with the track title and cover art earlier this week, the full song has finally arrived, and is the very first taste of Grande's highly anticipated upcoming fourth studio album.
"No Tears Left To Cry" was produced by Max Martin and Swedish songwriter ILYA (who worked on much of Grande's Dangerous Woman album), and was co-written by Ari, Max, ILYA, and Savan Kotecha. Throughout the upbeat song, Ariana sings uplifting lyrics, especially in the chorus. "Right now I'm in a state of mind/ I wanna be in like all the time/ Ain't got no tears left to cry/ So I'm pickin' it up, pickin' it up/I'm lovin', I'm livin', I'm pickin' it up," she sings.
Coinciding with the song release is the official "No Tears Left To Cry" music video, which was directed by Grammy Award-winning director Dave Meyers (who has directed music videos for stars like Katy Perry, Rihanna, P!NK and more). In the visual, Ariana is in a futuristic setting as she is singing the song.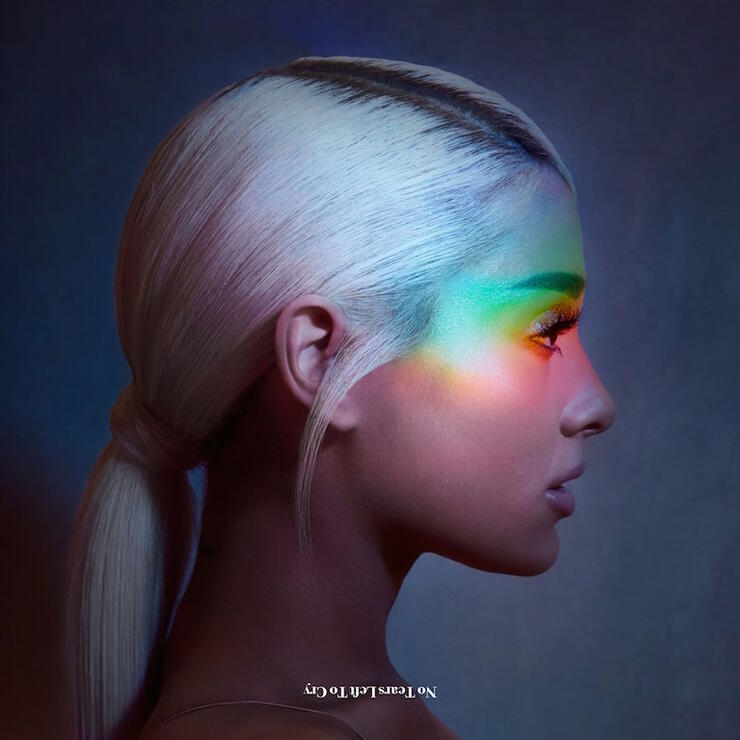 In an Instagram post, Ariana wrote a heartfelt note to all of their fans, thanking them for their support. She wrote:
"thank you from the bottom of my heart. i have no idea where to start or what to say. i'm unimaginably grateful for your love, warmth and kindness. i hope this song brings you light and comfort but also makes you wanna dance and live ya best life! i am so excited for this new chapter with you all. thank you for this beautiful start."
"No Tears Left To Cry" is Ariana's first new music since the horrible attack at her "Dangerous Woman Tour" stop in Manchester last May. After her tour concluded, the star has been quiet, taking time out of the spotlight, but also taking time in the studio as she is preparing to release her Dangerous Woman (2016) followup. No release date has been set yet for her fourth album.
Ariana began teasing "No Tears Left To Cry" on social media by sharing the song's title, which appears upside down. She then slowly rolled out the album art, which showcases her new platinum blonde hair, as the pop star's side profile is prominently displayed with a rainbow glow around her eyes.
After the "No Tears Left To Cry" release, Arianators took to social media to share their feelings on the new song. Take a look a the best reactions below.
Chat About Ariana Grande Shares "No Tears Left To Cry" & Music Video