Carrie Underwood Posts A New Selfie Revealing Her Face Scars
By James Dinh
April 23, 2018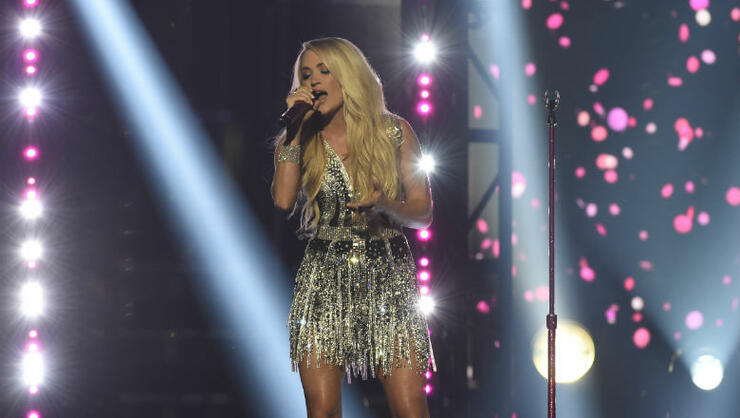 Carrie Underwood has shared another makeup-filled selfie following her severe fall in November 2017 that required more than 40 stitches to her face, but this time the photo showcases her scars from the accident.
Over the weekend, the American Idol alum took to Instagram to cheer on her husband/NHL player, Mike Fisher, during his game with the Nashville Predators. After much buzz around the surgery, folks have been clamoring for evidence from the fall and it's becoming visibly clear that the star has suffered from scars on her lip and chin. "Ready to cheer on the boys tonight! Especially that #12! I hear he's alright! @mfisher1212 @predsnhl #LetsGoPreds," Underwood captioned the snapshot.
Just a few weeks ago, the 35-year-old singer took to her website to offer fans an update on her face injury. "First off, physically, I'm doing pretty darn good these days! My wrist is almost back to normal, about 90% there…and the docs say that last 10% will come in time," she kicked off the lengthy letter. "And my face has been healing pretty nicely as well. I definitely feel more like myself than I have in a while."
It prompted Underwood to take on some "forced relaxation" and spend a lot of time with her husband Mike Fisher and son Isaiah. "Sometimes I think things happen in order to make us slow down. It also means I've been home to support my favorite hockey player coming out of retirement!" she continued. Elsewhere in the letter, Underwood offered up an update on her next era in music, admitting that she's been writing and recording a lot of new "fulfilling and empowering" tunes with a writer/producer David Garcia. "We hit it off in a big way and I'm excited to say that we are co-producing my album together. I've always been lucky to have a voice in the writing and recording process, but this is the first time I am this involved in the production of my music," she admitted. "It's been challenging and incredibly rewarding to be involved in every aspect from start to finish. David has been an amazing teacher and partner, and I'm so proud of what we have created."
Expect even more from Underwood in the coming months as her new single, "Cry Pretty," is making the rounds ahead of the September release of the accompanying LP of the same name.
Chat About Carrie Underwood Posts A New Selfie Revealing Her Face Scars