Keith Urban Debuts "Graffiti U," Gets Candid During Album Release Party
By Sierra Marquina
April 26, 2018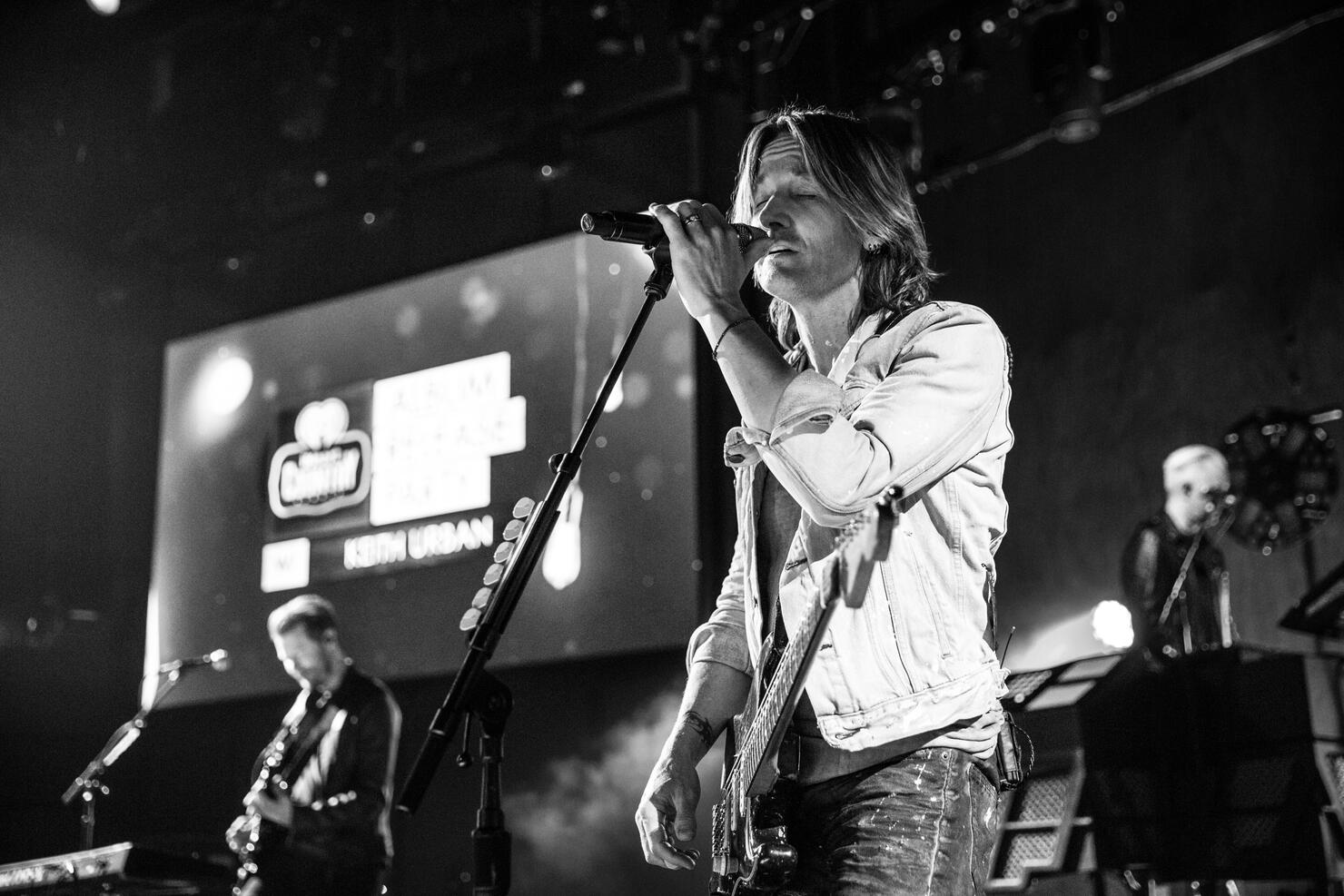 Keith Urban celebrated the release of his ninth studio album, Graffiti U, at the iHeartRadio Theater in Los Angeles, California, on Wednesday, April 25. The intimate iHeartCountry Album Release Party hosted by Bobby Bones offered fans and those who tuned in via the livestream a deep dive into the Grammy winner's highly anticipated new record.
"This is the best club in LA right here," Keith exclaimed before kicking off the concert with an exclusive performance of lead track "Female."
The four-time Grammy winner, who explained to Bobby Bones that the name of the album represents the "blank canvas" during the recording process, released "Female" off Graffiti U back in November 2017.
"I heard that song the day after it was written and we recorded it that week and I think it came out like a week after," he recalled. "I wanted it out there. It felt right. As a father of young girls and also a husband [and as a son]."
Watch Keith Urban perform "Coming Home," "Same Heart," and "Never Coming Down" during his iHeartCountry Album Release Party below.
Before throwing it back with a performance of 2004's "Days Go By," Keith added that he wants Graffiti U to represent a "feeling" more than anything else.
"It's an energy," he added. "I hope the record makes everyone feel the way I felt when I was making it … I've had a blast making the [album] … it's a very summer record. It's up and built to be performed live."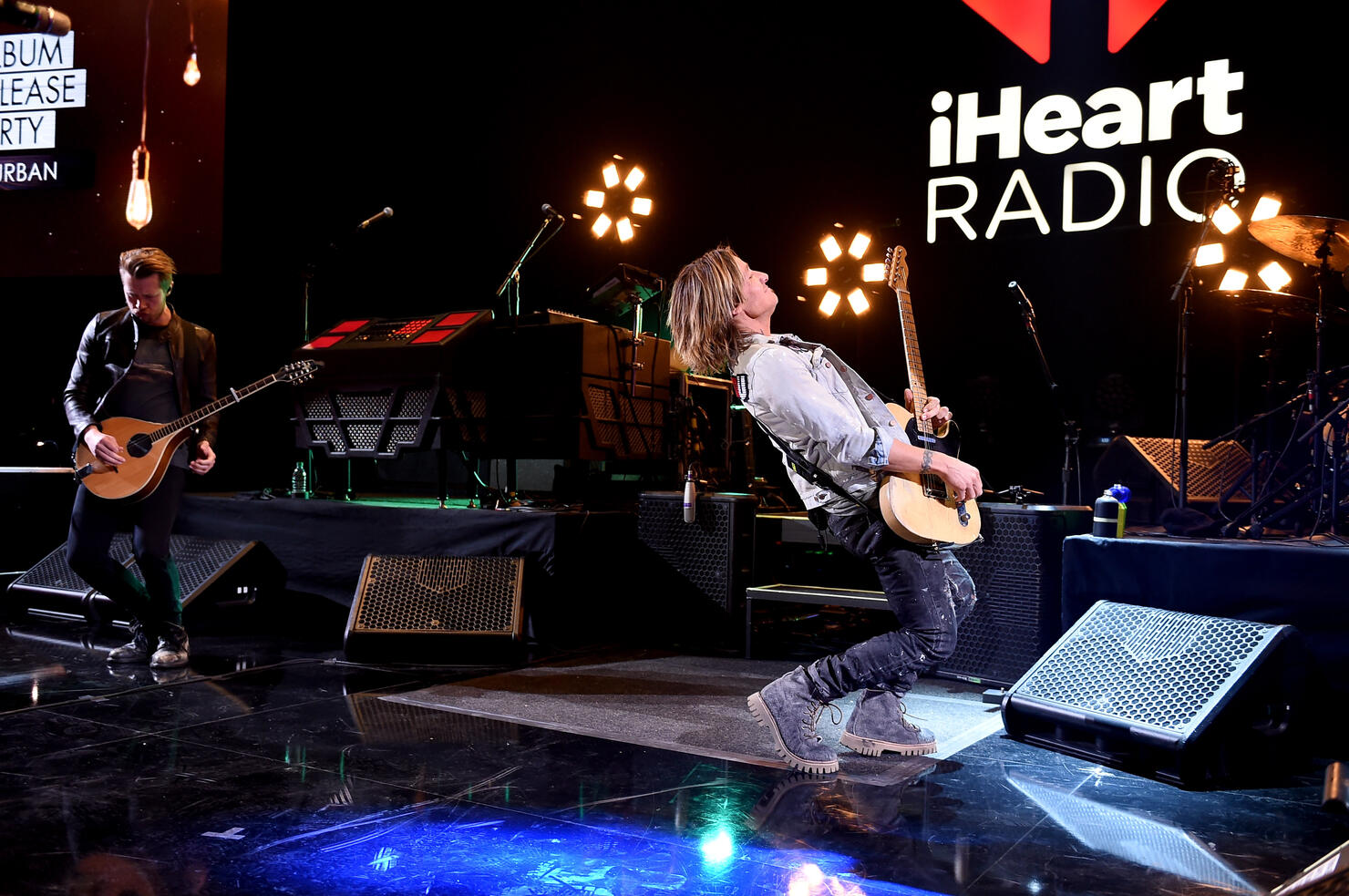 Keith later performed "Blue Ain't Your Color," "Coming Home" featuring Julia Michaels and "Wasted Time." The country crooner paired up with Michaels after being referred to the "Worst In Me" singer by a mutual friend.
While Michaels wasn't there in person, she joined Keith onstage virtually via a life-size screen.
"I became an instant fan when I heard the song called "Issues" and then I got her EP and loved every song — the writing, the singing — everything," Keith told Bobby Bones of collaborating with the Grammy-nominated songstress. "The first song we wrote was actually 'Gemini,' which you'll hear on the album, and then we wrote 'Coming Home.'"
After belting out crowd favorite "Wasted Time," Keith debuted a plethora of new tracks including reggae-inspired hit "My Wave" which Keith shared was inspired by a conversation he had with wife Nicole Kidman's 2011 Trespass costar Ben Mendelsohn. At the time, Mendelsohn told Keith not to let people get in his way and to "watch out for these shine blockers."
"The idea about 'My Wave' is about living life on your own terms and not letting the negativity and trolls ruin your day," he added. "It became a very personal life-living song."
Keith then debuted "Love The Way It Hurts (So Good)" and "Same Heart" before bringing another life-size collaborator — this time of Carrie Underwood — onstage to perform 2016's "Fighter."
The crooner ended the bash by performing a powerful rendition of Graffiti U's "Never Coming Down."
"This is about being at a concert," Keith concluded of the bass-heavy track. "Period."
Graffiti U drops Friday, April 27. After headlining Stagecoach this weekend in Indio, California, Keith will be performing during the 2018 iHeartCountry Festival in Austin, Texas, on May 5 alongside a superstar lineup including, Luke Bryan, Dustin Lynch, Cole Swindell, Maren Morris, Sugarland, Luke Combs, Billy Currington, Dan + Shay, Jon Pardi and Brett Young.
iHeartCountry Album Release Party With Keith Urban Set List:
1. "Female"
2. "Days Go By"
3. "Blue Ain't Your Color"
4. "Coming Home" feat. Julia Michaels
5. "Wasted Time"
6. "My Wave"
7. "Love The Way It Hurts (So Good)"
8. "Same Heart"
9. "Fighter" feat. Carrie Underwood
10. "Never Coming Down"
Photos: Wes and Alex for iHeartRadio