Kylie Jenner Shows Off Post-Baby Body And 3-Month Old Stormi
By Dave Basner
May 2, 2018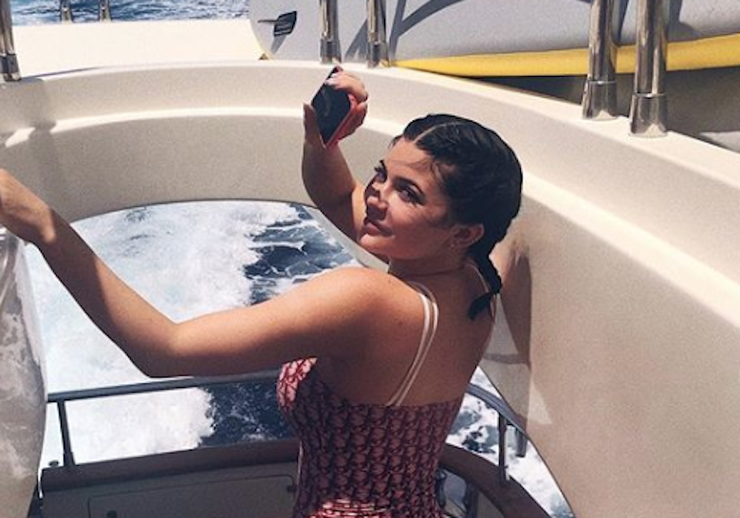 It's never easy for a new mom to take off baby weight and get back to her original figure but Kylie Jenner, who just three months ago gave birth to her daughter Stormi, sure is making it look simple. She's in Turks and Caicos vacationing with boyfriend Travis Scott and posted photos of herself on a yacht in the Caribbean. Dressed in a pink one-piece Christian Dior bathing suit, the 20-year-old is pictured glancing over her shoulder, holding her phone with the blue sea behind her, and looking amazing. She captioned the shot MIA.
That wasn't the only photo Kylie put up though. She also posted a couple rare shots of her and Travis together, as well as one of little Stormi.
Meanwhile, Kylie spoke about motherhood in the Evening Standard in an interview with her sister Kim. When asked if being a mom is hard Kylie said it's the "opposite," explaining:
"I feel like it's just been so amazing, and so much fun. I'm learning so much more about myself and life, and it's been such a great experience. I actually enjoy changing diapers. It's really satisfying. To make her clean again. Of course there's hard times and stuff… even in the beginning, just not sleeping, the nights, like, baby blues… and all the ups and downs. Everyone says you change completely when you become a mom, but I really feel the same, just better. So I don't know what really has completely changed my world, besides her, of course. But I feel like it's only gotten better."
Keep up to date with all the pics Kylie posts here.
Chat About Kylie Jenner Shows Off Post-Baby Body And 3-Month Old Stormi