Shinedown Captures Fans' 'ATTENTION ATTENTION' During Album Release Party
By Taylor Fields
May 3, 2018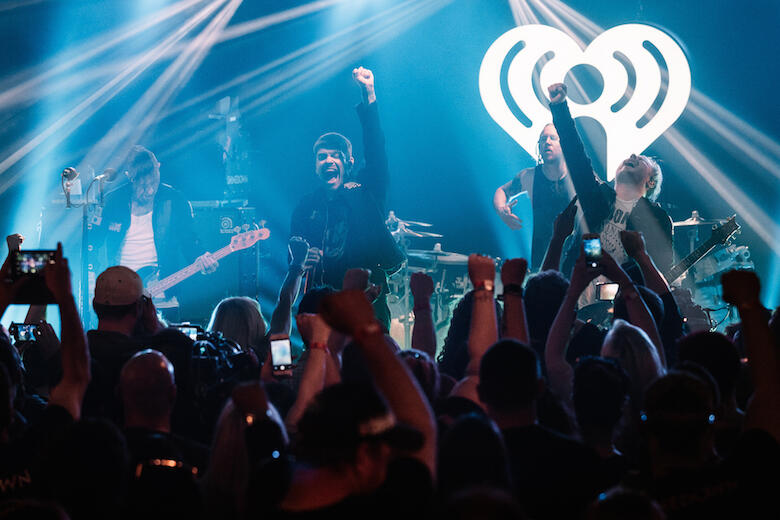 Shinedown captured the attention of their fans during an intimate show in New York City as they celebrated the release of their new album ATTENTION ATTENTION. The band rocked the stage as they not only performed music from the new record, but also fan favorites from previous albums at their iHeartRadio Album Release Party.
ATTENTION ATTENTION follows Shinedown's 2015 album Threat to Survival, and includes 14 new songs, like its lead single "DEVIL," which was the very first song they performed during the show. Shinedown frontman Brent Smith told the audience of the song:
"I think that ATTENTION ATTENTION is a story album, and this is the beginning of the story. The whole album, ATTENTION ATTENTION, it takes place inside of a room, and this is the beginning for this individual that's getting ready to go on, not only a physical and a personal journey, but quite a psychological journey. I think in the overview of the entire record, "DEVIL" was the only way to begin this story. And it's intense, it is. It's meant to be intense. But we figured the best way to start with the first single for the record would also be the beginning of the story."
Shinedown also performed a few more songs from ATTENTION ATTENTION, including "Kill Your Conscience" and "The Human Radio." In their set, the band included tracks from their last album Threat to Survival like "Cut the Cord" and "The State of My Head," as well as songs from their 2012 album Amaryllis including "I'll Follow You" and "Enemy," which they closed the show with. In fact, right before performing "Enemy," Brent went down into his crowd of fans and instructed them to jump as he sang the song from the stage.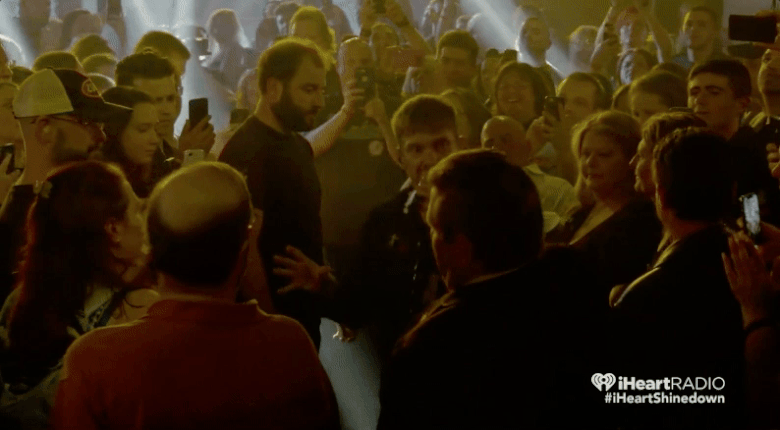 During the show, the guys also talked about what it was like to put their new album together. When asked about the concept of ATTENTION ATTENTION, Brent explained that a lot to do with the band's Eric Bass. He said:
"A lot of it had to do with this man [Eric Bass] right here, because he produced the record and he mixed it. He took it upon himself on a tour that we were finishing up in 2016. We were doing an arena tour with another band, and every show day he went in, and he would just find a room, and he took a smaller pro tools rig out for that tour, and he just wrote a composition everyday. Before he knew it, he had 22 pieces. And in the beginning of 2017, January of last year, I started to listen to what he had and the unique thing was, was there were no lyrics or melodies just yet, some melodies, but nothing that I'd come up with right out of the gate. But that's what sparked the idea to do a conceptual piece. But, ATTENTION ATTENTION isn't necessarily The Wall by Pink Floyd or The Who's Tommy, or if you go even further, Queensrÿche's Operation: Mindcrime; those are great records. What we didn't wanna do on this is we didn't want to label it. We didn't want to be specific about certain places and certain events. We wanted the listeners to put themselves inside of the album. We felt like that was more organic, and it also creates a stronger bond with the listener and the relationship with the album."
Fans of Shinedown know how heavy their lyrical content can be, and it continues on in ATTENTION ATTENTION, which is described by the band as a very personal album. Brent explained of the lyrics and what inspired them:
"These three gentlemen, Zach, Eric and Barry, they've never judged me in regards to the lyrical side of this band, they've always been there to support me. And sometimes, where I will go can be considered pretty heavy, but I don't know how to do it any other way. And with this album, I think if you take it from our perspective, and this is just us, it's really in a lot of ways, the last four and a half, five years of our lives as a band. We can't write things and pull them out of thin air. We have to experience it, the places that we go, situations, scenarios, all those things are factors. But the fact of the matter also is music is very healing. And it never surprises me when a song will come on in someone's life at the exact perfect moment, and if they have kind of fallen from grace, if you will, it's an instantaneous emotion when you hear something that lifts you up. And that's the power of song."
iHeartRadio Album Release Party Set List
"DEVIL" (ATTENTION ATTENTION)
"Kill Your Conscience" (ATTENTION ATTENTION)
"Cut the Cord" (Threat To Survival)
"Second Chance" (The Sound of Madness)
"Sound of Madness" (The Sound of Madness)
"The Human Radio" (ATTENTION ATTENTION)
"State of My Head" (Threat To Survival)
"I'll Follow You" (Amaryllis)
"Simple Man" (Lynyrd Skynyrd Cover) - acoustic
"Enemies" (Amaryllis)
Watch Shinedown perform "DEVIL," "KILL YOUR CONSCIENCE," and "THE HUMAN RADIO" live at their iHeartRadio Album Release Party below.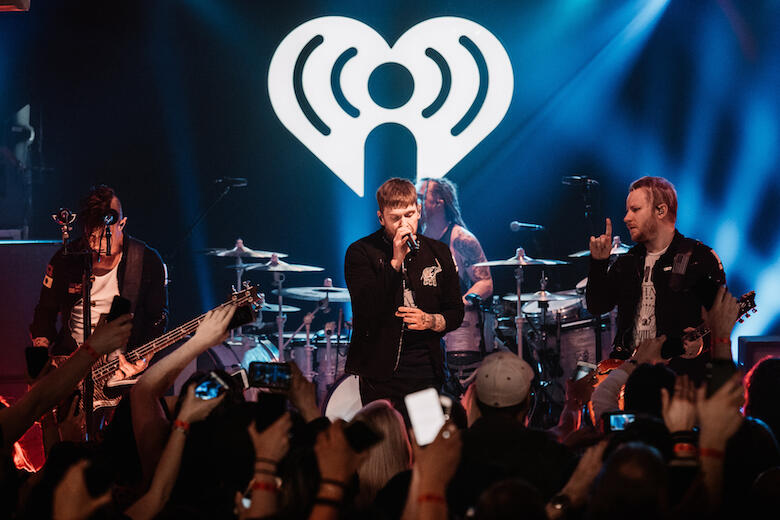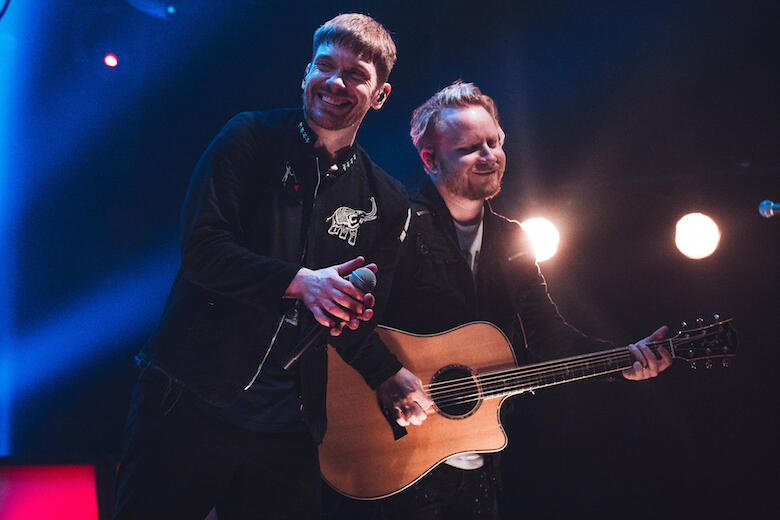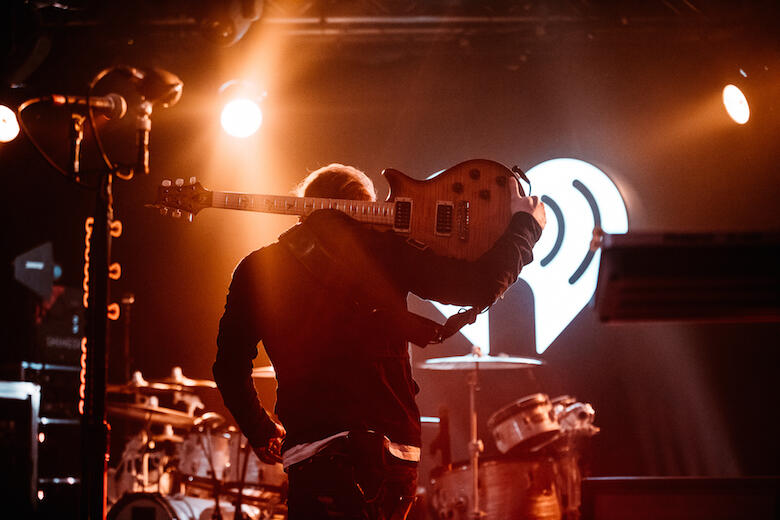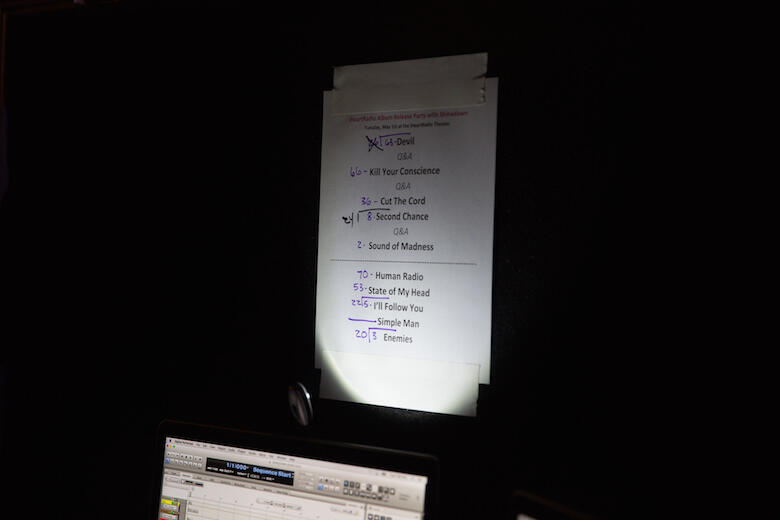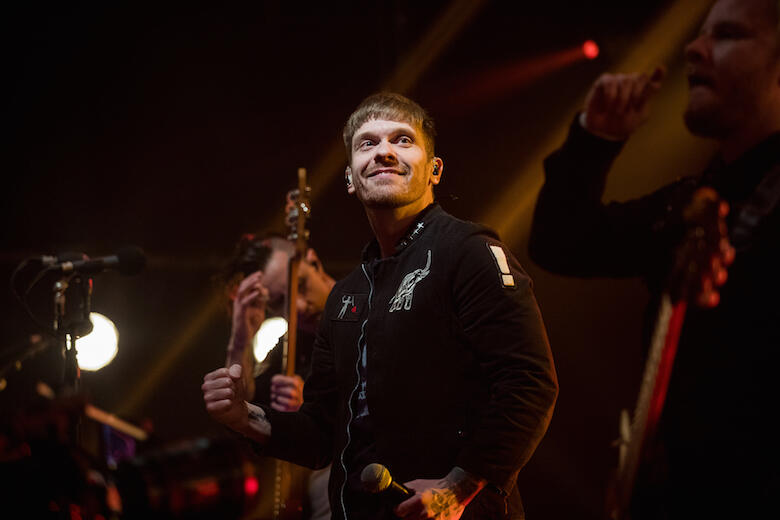 Chat About Shinedown Captures Fans' 'ATTENTION ATTENTION' During Album Release Party