Christina Aguilera & Demi Lovato To Debut Duet At Billboard Music Awards
By Hayden Brooks
May 8, 2018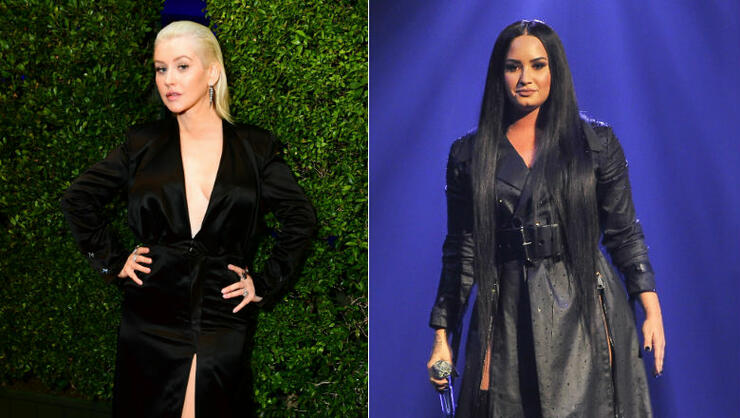 Christina Aguilera is set to make a big splash at the 2018 Billboard Music Awards as the pop veteran is scheduled to debut "Fall In Line," her new collaboration with Demi Lovato off her upcoming LP, Liberation, during the star-studded ceremony.
On Tuesday (May 8), the big announcement hit the blogosphere via the stars' social media accounts, with each of them posting a black and white shot of each other. Aguilera and Lovato join the long-running list of performers for the event, which already includes Icon Award recipient Janet Jackson, Ariana Grande, Kelly Clarkson, BTS, Camila Cabello, Dua Lipa, and Shawn Mendes. Keep your eyes peeled for more on the 2018 BBMA, which will be hosted by Clarkson live from the MGM Grand Garden Arena in Las Vegas on Sunday, May 20, at 8 PM ET / 5 PM PT on NBC.
In April, Jon Bellion replied to a tweet (that he wasn't even mentioned in) about how Lovato recently quoted a lyric from "Fall In Line." "Its not supposed. I produced it," he wrote along with the laughing emoji. Thankfully, nothing ever leaves the Internet permanently and a sneaky user on Twitter captured the message before it was gone. Bellion might not be a household name, but he's one of the many collaborators behind a couple of notable hits, including Eminem and Rihanna's "The Monster" as well as Jason Derulo's "Trumpets."
During a previous concert in March, Lovato spoke highly about Aguilera, telling the audience "Now, Christina's my girl and big things are coming." It's a line that echoes the very same quote that Aguilera said about Lovato when the pop vet was caught out and about by the paparazzi.
Chat About Christina Aguilera & Demi Lovato To Debut Duet At Billboard Music Awards