Ariana Grande Teases New 'Sweetener' Track About Her Anxiety
By James Dinh
May 29, 2018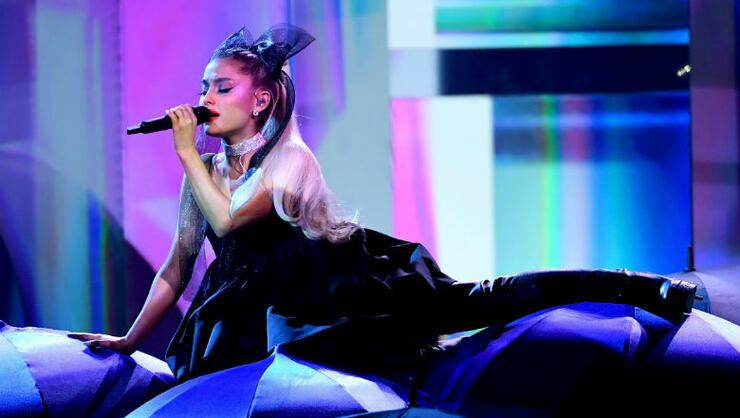 Ariana Grande had a rough 2017, to say the least, but the pop star was able to channel her trials and tribulations into her new album, Sweetener, particularly with the album cut, "Get Well Soon."
On Tuesday afternoon (May 29), the 24-year-old pop star touched base with her fans via Twitter, answering a number of questions about her well-being and the new project. At one point, the star decided to even answer an inquiry that touched on both topics. Asked about the album track, "Get Well Soon," which was teased in her interview for TIME Magazine's "Next Generation Leaders," Grande revealed that the track is about her anxiety. "isss ab my anxiety. i felt like i was floating for like 3 months last year & not in a nice way. like i outside my body? was v scary and i couldn't breathe well. so it's ab that. & lots of voices in my head singin. i hope it comforts ppl who hear it pls," she wrote alongside the cloud emoji.
When the conversation turned to talk about naming the forthcoming set Sweetener, a moniker that she alluded to on Instagram in 2016, Grande confirmed that she always knew that it would be the title. "I know some people don't understand it yet but the body of work feels like sweetener," she said, adding that it's like "warm yummy agave" and "clouds with a little bit of crying and sex on the side." Sweetener's latest update comes just after Grande announced that the collection will arrive with five more songs than expected. Among some of the titles include the previously released "No Tears Left To Cry," "R.E.M.," "The Light Is Coming," "God Is a Woman," "Get Well Soon" and the intro, "Raindrops."
You can expect Grande to perform new material when she takes to our 2018 iHeartRadio Wango Tango by AT&T, which will be hosted by Ryan Seacrest. The star-studded lineup also includes Shawn Mendes, Meghan Trainor, 5 Seconds of Summer, NF, Miguel, Janelle Monáe, Marshmello and the Backstreet Boys with a special guest performance by Logic, with more to be announced. The concert series will be the first to be held at the all-new Banc of California Stadium in Los Angeles on June 2.
The best part is, music fans from all over the US can watch it all go down via a live stream exclusively on ATT.com and Twitter. Wango Tango will also be broadcast live via iHeartMedia radio stations throughout the country across more than 150 markets. Finally, re-live the amazing summer kickoff by tuning into a 90-minute television special, exclusively on Freeform, on Sunday, June 3rd at 8 p.m. ET/PT.
isss ab my anxiety. i felt like i was floating for like 3 months last year & not in a nice way. like i outside my body? was v scary and i couldn't breathe well. so it's ab that. & lots of voices in my head singin. i hope it comforts ppl who hear it pls ☁️

— Ariana Grande (@ArianaGrande) May 29, 2018
Chat About Ariana Grande Teases New 'Sweetener' Track About Her Anxiety