Axl Rose "Fired Up" AC/DC, Says Drummer Chris Slade
By Andrew Magnotta
June 8, 2018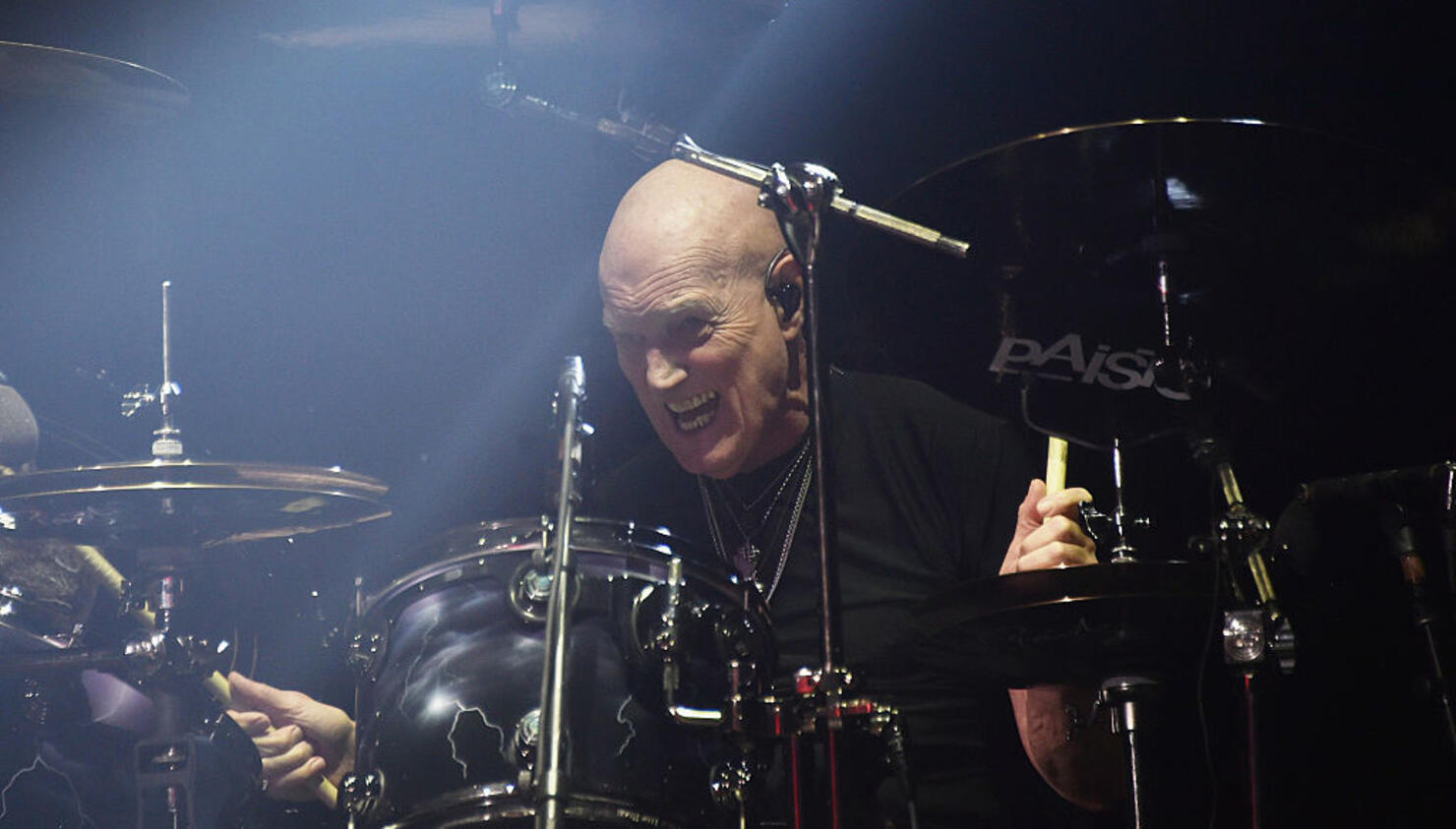 AC/DC drummer Chris Slade says what happens next with the band is out of his control, but he'd be more than happy to see it continue with Guns N' Roses frontman Axl Rose.
Slade told Chris Jericho on the Talk Is Jericho podcast that, just like many fans, he had his doubts when he heard Rose was going to audition to fill in for Brian Johnson on the band's Rock or Bust World Tour.
Slade said that the infamous rock 'n' roller Rose couldn't have been more professional or pleasant during the tour. As a life-long AC/DC fan and "revelation" of a vocalist, Rose urged the band to reach deeper into its catalog. His enthusiasm rubbed off on guitarist Angus Young and the rest of the band, Slade said.
"It fired up Angus also, especially in rehearsal," he said. "[Angus] was running around the room playing with enthusiasm. Not that he isn't enthusiastic [normally]...you know...Stand up and play. But this was like, 'Wow, this is great!' Fired up beyond [normal]."
After Johnson left AC/DC due to health issues, Slade recalled several days of auditions the band held in Atlanta, Georgia, culminating in Rose's super secret session with the group.
"We shook hands and I thought, 'Huh? This guys seems okay,'" Slade said. "'Cause I'd heard all the stories."
But when Rose began to sing, Slade's concerns morphed into amazement.
"I never knew he had that voice," Slade said. "I only knew the Guns N' Roses stuff of course — what else would I know? ...What Axl can do is staggering. Staggering. What a singer! So I thought, 'Well, this is the right guy for the gig.'"
After getting to know Rose, and performing with him for the better part of a year, Slade says he "couldn't think of anybody else" fronting the group at this point.
Since Malcolm Young's death last fall, several people close to AC/DC have claimed that Angus plans to continue the band, including to write and record a new album with Rose on vocals. Slade says he's not one of the people in the know.
"Even if I knew, I couldn't tell you. But I don't know (laughs)!"
The drummer said he completely understands backlash against the band for continuing without Johnson, Malcolm Young and following the retirement of bassist Cliff Williams. But as a long-time employee, Slade has a different perspective.
"As long as [Angus] is up front, it'll be AC/DC. To me, that's the most simplistic way of doing it."
If he gets called to do a new record or a new tour, Slade says he'll be ready.
"There's nothing as constant as change," he added. "And you try to accept things as they come. Angus knows what's going to happen, and he's the only person, to my knowledge, who knows this stuff."
Slade's first stint with AC/DC was from 1989 and 1994. He performed on the band's classic The Razors Edge album. Slade returned to the band in 2015 after legal issues prevented drummer Phil Rudd from traveling.
Photo: Getty Images