Slash Will Pay Estranged Wife $6.6 Million in Proposed Divorce Settlement
By Andrew Magnotta
June 12, 2018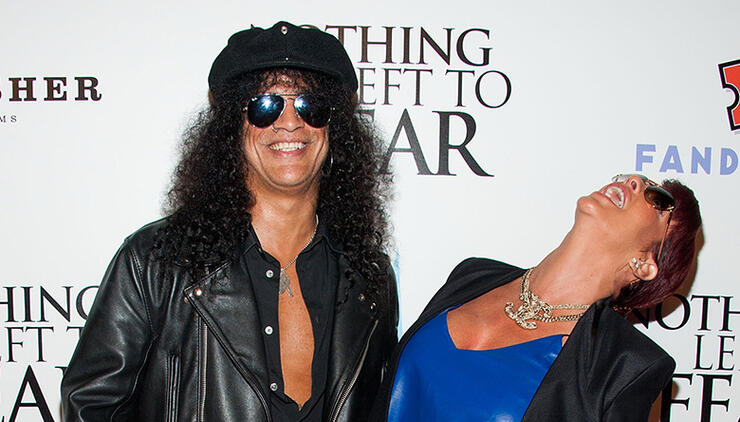 Slash and his estranged wife, Perla Ferrar, are moving towards finalizing their divorce, according to a new report.
The Guns N' Roses guitarist has reportedly agreed to pay Ferrar $100,000 per month in spousal support until she dies or remarries, with an equalization payment of $6,627,352 that he will be required to shell out within 30 days of a final judgment.
In return for the massive sum, Slash keeps his interest in his residuals, musical instruments and companies.
Ferrar also gets three cars, including a 2014 Range Rover, a 2015 Mercedes AMG and a 2015 Mercedes GL 450. Slash gets to keep his 2011 Ford F-150. He accused Ferrar of dragging out the divorce; he asked the judge for a prompt ruling.
"I want to move on with my life," he told the court in a statement.
Slash will also pay $39,000 per month in child support, though he has asked the judge to grant the couple joint custody of their two sons, London, 15, and Cash, 13. The kids also get 1.8 percent of his income until 2036.
The guitarist married Ferrar in 2001. He filed for divorce in 2014.
Anyone worried about whether Slash will be able to keep the lights on will be happy to know the guitarist is still enjoying the success of GNR's Not in This Lifetime world tour, which has reportedly grossed over half a billion dollars since kicking off in 2016.
The band was reportedly paid $6.5 million just to play Download Festival.
Guns N' Roses is on tour this summer in Europe. The band will have September and October off and then return to the road in Asia in November.
Get the tour dates here.
Photo: Getty Images
Chat About Slash Will Pay Estranged Wife $6.6 Million in Proposed Divorce Settlement