Bastille's Dan Smith Talks 'Quarter Past Midnight' & Teases New Album
By Nicole Mastrogiannis
June 18, 2018
Bastille has captured the feeling of the night with their new single "Quarter Past Midnight." The song is the first offering from the band's upcoming, yet-to-be-titled third full-length studio album, which will follow 2016's Wild World.
The band has been working on new material for the album over the last five months in a newly built London studio (which, fun fact, used to be an old porn studio). The studio is also home to Dan's record label, Best Laid Plans and this is the longest he band has stayed put in one place to work on a record since releasing their Platinum 2013 debut album Bad Blood.
This seems to be a new era for Bastille, as their new album's lead single, "Quarter Past Midnight," takes fans into '90s territory with breakbeats throughout the chorus, in which frontman Dan Smith sings, "We keep on running, running through a red light, like we're trying to burn the night away."
During an exclusive interview with iHeartRadio, Dan opened up about h is brand new single, and teases what fans can expect from Bastille's forthcoming new album. Read on below.
Tell us about "Quarter Past Midnight"? What was the inspiration and what does it mean to you?
"'Quarter Past Midnight' is the new single off our third album. It feels kinda mad to say that we've got a third album. I didn't know that we'd still be a band, or that I'd still be alive by this point, so things seem to be going better than expected. We're just trying to capture that feeling of wanting to throw yourself into the night, and that sort of hunt for escapism. I wanted it to be like a euphoric rush, and as this sort of snapshot of a city, and it's the opening chapter of our new album. It's the first song, and it's kind of all uphill and downhill from there."
What are the things that you shouldn't do at a quarter past midnight?
"Go home. If you wanna be involved in the story of this album. I don't know. I guess the whole record's sort of about the good and bad decisions that you make, and it's using the space of the night time as a setting, because everything feels kind of heightened at that time. People are in interesting versions of themselves. So, but things you shouldn't do. There's really a lot you shouldn't do. I mean I guess the right answer is probably always to go home, but that would make this album very short. It would be a one song album."
What can new fans expect from your new album?
"It's quite concise, it's quite personal. We wanted it to feel kind of slightly nostalgic for the '90s, which is an era that we were very like ... we weren't really going out then, we were babies and little kids. But, I love the music from that era, and wanted to nod towards it a little bit. A lot of the dance music from that time had, like, a roughness to it. So, it's very much a Bastille record, but it's kind of nodding towards that in some of the drums and sounds. Just wanted to make something that was almost a reaction to our last album, which was this kind of 19-song sprawling, curated mess. And I wanted to look a bit more inwards with this album. So, it feels very relevant to the last couple of years of my life, and our lives, and we loved it. We just spent four or five months in the studio, that we built in London."
It was an old porn studio?
"It was an old porn studio, yeah. It's a lot of history. So it was a porn studio for quite a long time, and then it was an office for years. The people who converted it into an office, I think they had the sort of the tougher job. So, who knows what they saw when they were clearing that place out. But we moved in, converted it into a studio. And it's a nice home for the record label that we run, and for us, as a band, just to have a space and make somewhere kinda nice to hang out and a home for our music. It's really satisfying to have made the album there because we never stopped prior to that. We made our records on the road, and in backstage rooms and stuff. So it's nice, for album three, for the first time ever, to have actually stopped to make an album."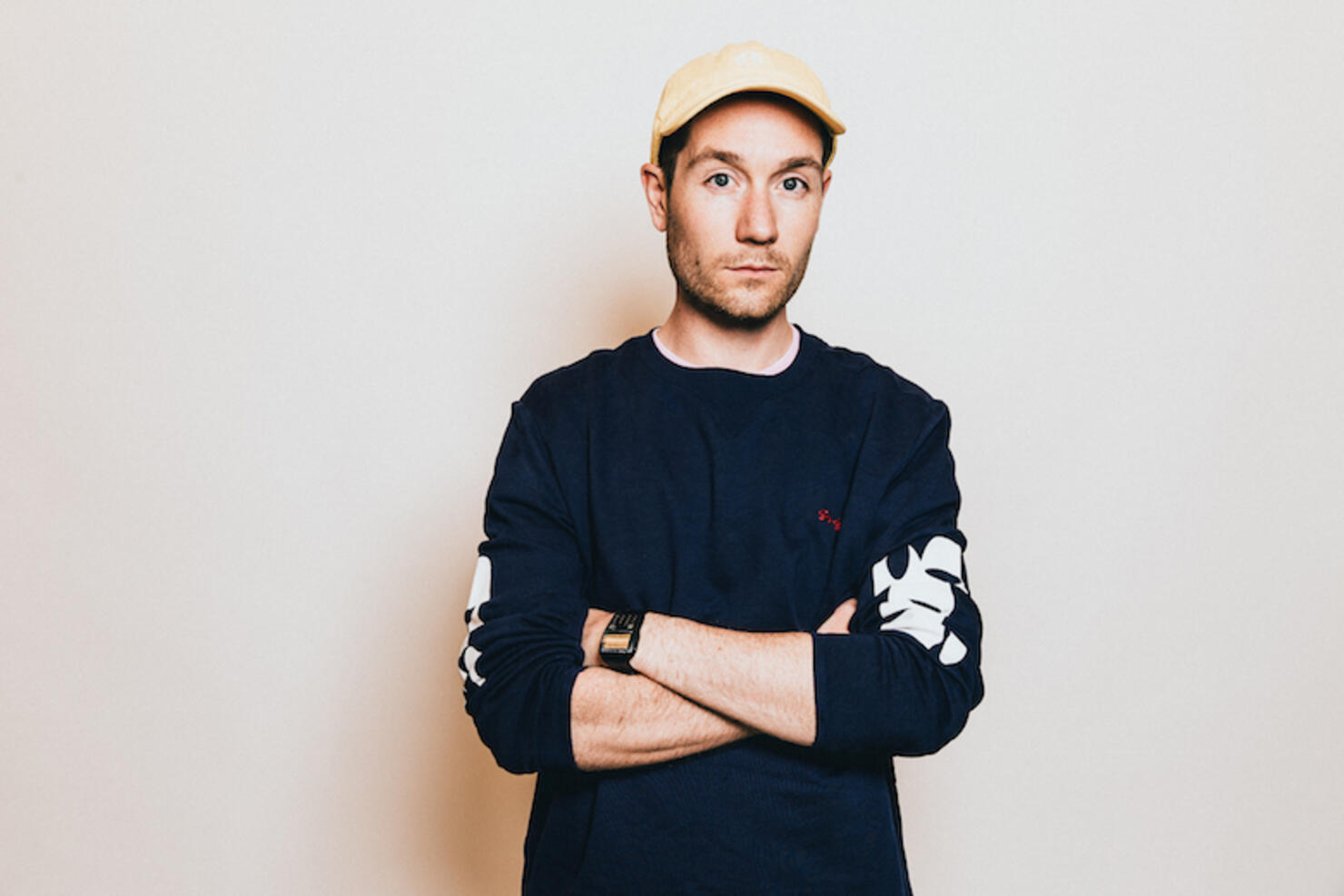 What was it like to take that time off in between touring and traveling, to just sit in the studio and focus on making the record?
"It was so nice. It was so good to be home. I love traveling, and we're very, very lucky to get to go all over the world, and stuff. But, I also love London so much, I'm kind of born and raised there, and it was really great just to be home, and go in every day and work on this album. I felt way more relaxed than I did last time. There's something about a second record where I guess there's a fair amount of pressure, and then everyone's telling you like, 'Oh, difficult second album.' You're like, 'Stop f***** reminding me.' But, this one, I guess we had a really strong idea of what we wanted it to be, how we wanted it to sound. It feels like it's this sort of self-contained story. It was just really fun to make. I had just a really good time."
Do you have a favorite memory from making the album?
"Because we run this label, we had people kind of wandering in and out. There's a few rooms at the studio, and it was just really nice having ... we wanted to make a space where people could come and hang out, and work on different stuff. If people were passing through, you'd be like, 'Do you wanna come sing backup vocals and add to the whole thing?' So, we did a tour with an orchestra and a gospel choir, and we kind of flipped all of our songs on their heads, and did it like that. And I just loved that experience so much, that I dragged quite a few of those musicians in. This sounds mental, but there's quite a lot of ... we got this guy who plays the saxophone with us, and he came in with a collection of, like, eight saxophones of different sizes. It was almost like a joke, from like comedy-sized, to taller than me. And he played some amazing stuff on the record, which people might not really expect, but I think it works."