Cardi B And Offset Secretly Married Last Year
By James Dinh
June 25, 2018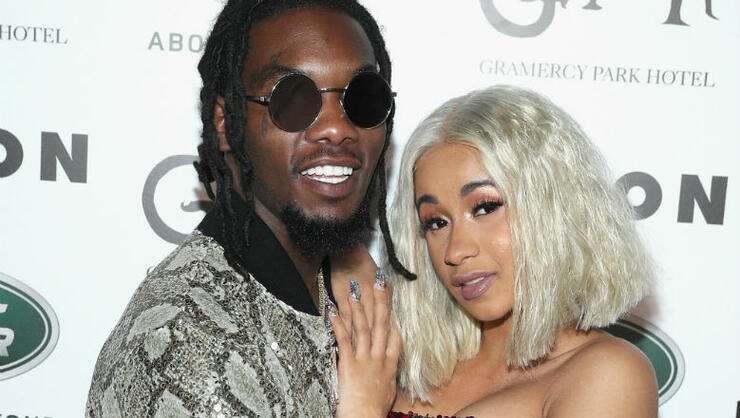 Update: After TMZ's story went viral, Cardi B took to Twitter to confirm the news, admitting that she wanted to keep the moment private. "There are so many moments that I share with the world and then there are moments that I want to keep for myself! Getting married was one of those moments! Our relationship was so new breaking up and making up and we had a lot of growing up to do but we was so in love we didn't want to lose each other, was one morning in September we woke up and decided to get married," she wrote.
Cardi B might not be looking forward to planning her wedding to Offset, but she already has one item off her to-do list: officially tying the knot.
On Monday (June 25), TMZ discovered that the hip-hop pair received a marriage certificate in Fulton County, Georgia on September 20, 2017. In case you didn't know, that document is filed with the court after a couple makes it official as proof a marriage really happened. According to the outlet, Offset woke up one morning, looked Cardi in the eye and said, "Marry me." At this point in time, the rapper wasn't even pregnant, but the pair hired an officiant to come to the house and marry them in their bedroom. The only person who was witness to the affair was Cardi's cousin.
It explains why Offset has already been referring to Bardi as his wife. During the 2018 BET Awards on Sunday, he offered the rapper a shout-out during Migos' acceptance speech for Best Group. "I thank my wife. You should thank yours," he said at the podium.
News of their marriage puts their very public engagement into perspective. You probably recall how Offset got down on one knee during Cardi's performance at Power 99's Powerhouse in Philadelphia. The big twist on the milestone is that the show happened in October — a month after they received the certificate. TMZ reported that the moment was not necessarily Offset proposing to the star, but instead keeping his promise to Cardi and getting her a ring.
Earlier this year, the Love & Hip Hop alum made it clear that she wanted to get married this year. "I really do want to get married this year," she said on the Grammys red carpet in January. "We have to figure it out because we've both dropping an album. I'm dropping an album. There's so many things that I'm planning to do, not only just a one-day thing. It has to be like a week and half, you gotta do a honeymoon."
Chat About Cardi B And Offset Secretly Married Last Year