James Iha Says Billy Corgan Did His Best to Reunite Smashing Pumpkins
By Andrew Magnotta
June 26, 2018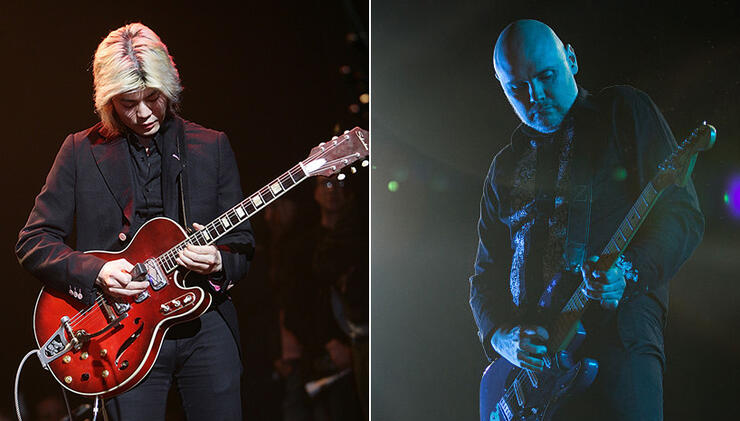 Smashing Pumpkins guitarist James Iha says frontman Billy Corgan deserves credit for his effort to reunite the band's founding lineup.
When Corgan revealed the news this winter that he was plotting a massive summer reunion tour with Iha and co-founding drummer Jimmy Chamberlain, fans were confused as to why co-founding bassist D'Arcy Wretzky was apparently excluded.
But Iha insisted in a new interview with Guitar World that the frontman "tried his best," and there was no solution to the Wretzky's apparent discontent.
"I think everybody is at different points in their lives, and whoever can work it out and get it together with the band can do it," Iha said. "It's just one of those things."
Over the winter the mercurial, reclusive bassist Wretzky expressed her fury at being excluded, attacking Corgan for allegedly lying to her and negotiating in bad faith.
Wretzky also lashed out at Chamberlain and Iha for going along with Corgan.
"I am totally disgusted with James," she said. "He should be ashamed of himself."
In the same Guitar World interview, Corgan defended himself, saying he truly wanted Wretzky back in the band, but "it just didn't work out."
The frontman told Howard Stern in a recent interview that Wretzky has made hundreds of "libelous and defamatory" statements about himself and the band.
Corgan admitted that negotiating with Wretzky was more complicated that negotiating with Iha and Chamberlain. He said he had legitimate concerns over Wretzky's ability to do a tour — whether she was prepared for the pressure or if she could still perform after 19 years in hiatus.
He said Wretzky would routinely brush off his concerns, and he was unable to get her in a room to discuss the plan.
"I know this sounds strange, but I didn't want to put her in a position where she would look bad or fail, so it was coming from a place of I want to make sure she's protected in this situation."
Corgan, Iha and Chamberlain have reportedly been recording with famed producer Rick Rubin.
The band's Shiny and Oh So Bright Tour begins July 12. Get the tour dates here.
The setlist will reportedly pull from Smashing Pumpkins' first five albums, Gish, Siamese Dream, Mellon Collie and the Infinite Sadness, Adore and Machina/The Machines of God.
Corgan said in a statement upon the tour announcement that the "show and staging will be unlike anything we've ever done, and will feature a set unlike any we've ever played. For if this is a chance at a new beginning, we plan on ushering it in with a real bang."
The band will also be moving to a three-guitar lineup with Corgan, Iha and longtime Pumpkins guitarist Jeff Shroeder. The band will be joined by Jack Bates on bass.
Photo: Getty Images
Chat About James Iha Says Billy Corgan Did His Best to Reunite Smashing Pumpkins