The Smashing Pumpkins Release Nightmarish 'Solara' Video
By Katrina Nattress
June 28, 2018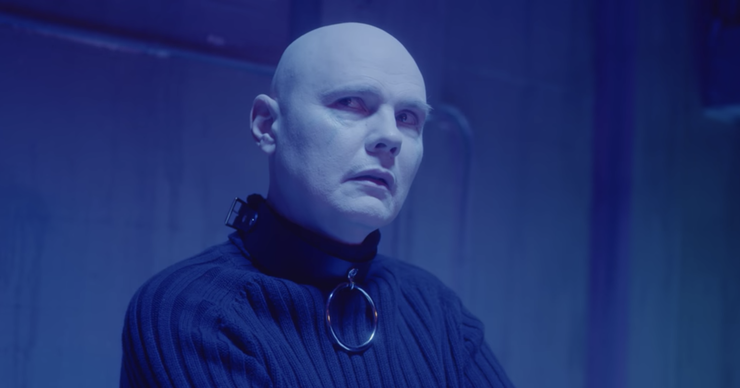 The Smashing Pumpkins are entering a new chapter that's much like the chapters of past that made the band one of the most iconic of the '90s grunge era. The reformed group sees Billy Corgan making music with original members James Iha and Jimmy Chamberlain for the first time in 18 years, and on Thursday (June 28), the band revealed some eerie visuals for the first single in this new era: "Solara."
The nightmarish video expands on the theatrics of the Smashing Pumpkins' expansive catalog. We see Corgan trapped in an asylum of sorts before a gang of ghoulish nurses lead him to a room with an IV, as they inject "trauma" into him. His bandmates make appearances as other inmates in the creepy dreamlike sequences, as the front man is subjected to watching a mime give birth to an imaginary baby and a group of young people "sunbathing" in a dark room strobing with black lights.
When he escapes the asylum, things just get weirder. Outside, fathers lead their kids on leashes, bodybuilders sunbathe, covered in ants, and goths have a somber BBQ while drinking milk. The clip ends with Corgan retreating back to the asylum, with the nurses waiting patiently, chained leash in hand.
Watch the disturbing video below
Three quarters of the Smashing Pumpkins' original lineup are gearing up to head on their Oh So Bright tour, which begins July 12. The only member not involved in the reunion is D'Arcy Wretzky. Though she claims she was unwelcome to return, Iha recently admitted Corgan did all he could to get her onboard.
Photo: YouTube
Chat About The Smashing Pumpkins Release Nightmarish 'Solara' Video