Florence + the Machine's Florence Welch Details New Album 'High As Hope'
By Nicole Mastrogiannis
June 29, 2018
High As Hope. It may describe how you feel, but if you're a Florence + the Machine fan, it's also the title of the band's new album.
Florence + the Machine has returned with the followup to 2015's How Big, How Blue, How Beautiful, Florence's fourth. High As Hope showcases ten new songs, including its lead single "Hunger," and collaborations from artists like Kamasi Washington, Sampha, Tobias Jesso Jr (who co-wrote "Hunger"), Kelsey Lu and Jamie xx. High As Hope is also the first time that Florence Welch has co-produced a Florence + the Machine album, which was recorded in her in her Peckham studio. She then finished the record in Los Angeles with her friend and co-producer Emile Haynie.
During an exclusive interview with iHeartRadio, Florence Welch opened up about her new album and detailed the making of the record, opened up about the meaning behind the album title and its lead single "Hunger," what fans can expect from the rest of the album, and more. Read on below.
Where does the album's title High As Hope come from?
"You can say 'high' as lots of things. But I was writing a poem about New York when I was here mixing the record. I was gonna call the album, 'The End of Love' because the album, for me, was about the end of an idea of love that I had, and the idea of opening up a new idea of love that was perhaps bigger and more expansive, and came from a better place. But I don't know, I thought maybe it could be perceived as negative. And I was mixing the record in New York, and I wasn't quite sure what I was gonna call the record, and I wrote a poem about being in New York because I would go into the City from Brooklyn. I would see the skyscrapers, and I wrote a poem about it. And there was a line in there that said, 'Ever reaching high as hope,' and I thought maybe that's the album title. It came at the end of making it, the title arrived."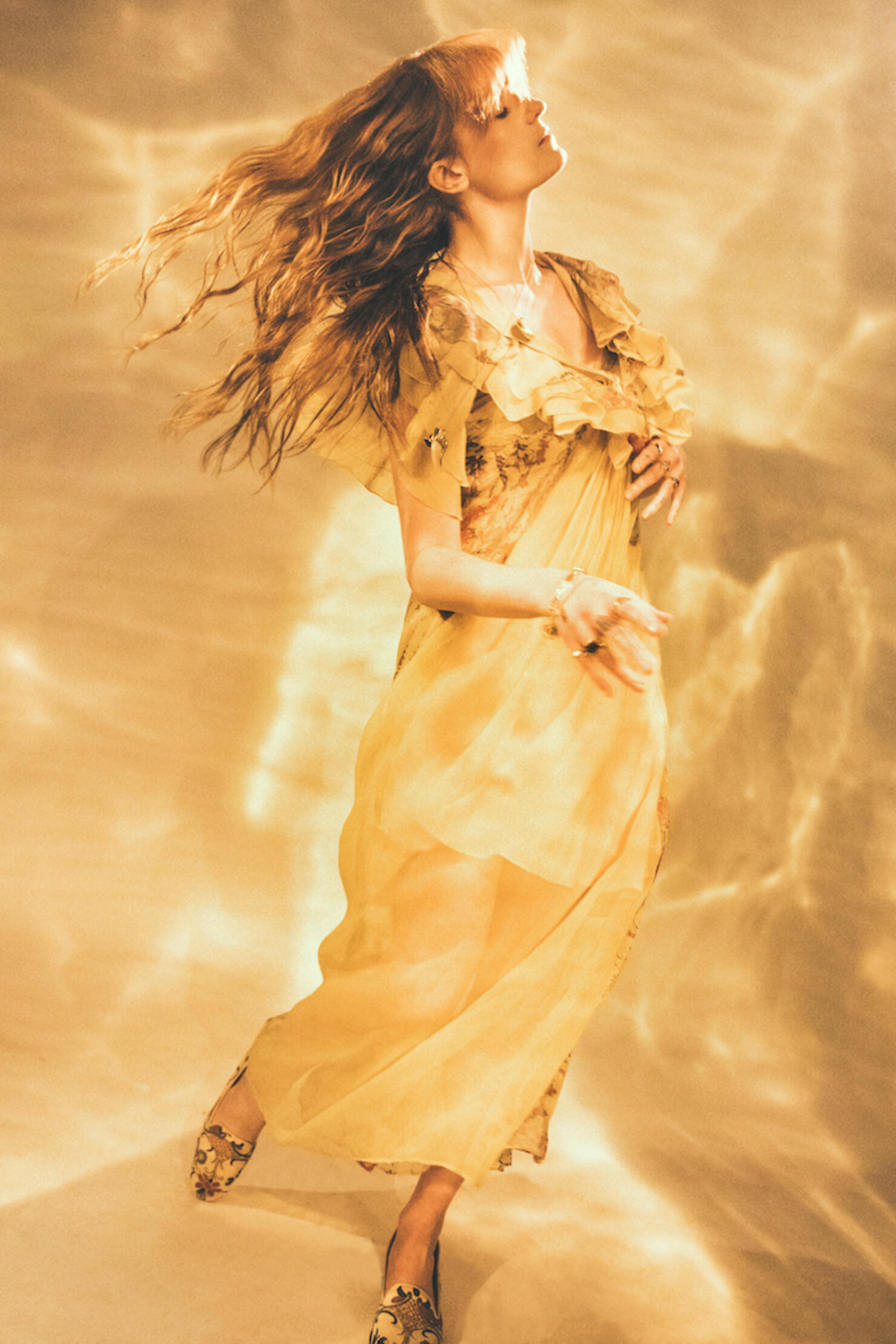 This was your first time co-producing a Florence + the Machine album. What was that experience like?
"It was great. I'm a control freak, so I loved it. And it was exhausting because being a control freak, there wasn't any single part of this record that I let go of. I mean I got really ill because I just was in it from start to finish. Sometimes when you're not fully in the co-production seat, there's a little bit that you hand over, maybe you're not as involved in the mixing, or there's something that you can kind of give to the producer, and you can have a little break. There was no breaks. This a record feels like a very distilled essence of Florence + the Machine, and depending whether you're into it, is a good thing or a bad thing."
Aside from the production side of it, what was it like making High As Hope come to life?
"It was a joy to make this record. I spent six months of it kind of demo-ing it, and writing it just with an engineer in South London where I'm from. And I cycled to this little studio every day, and kind of banged on the walls, and worked out the keys, and I just had such a feeling that there was no expectation of me. I really felt just I was making something because I love to make things. It had that feeling to it. And working with Emile Haynie, because he's a friend, we had such a good time and we had so many amazing people come, and collaborate on it like Kamasi Washington, Sampha, Jamie xx, Tobias Jesso Jr. These are my favorite artists. So I had a really good time, which I feel guilty about because I usually write ... making a record is a very painful process for me, but I really enjoyed this one."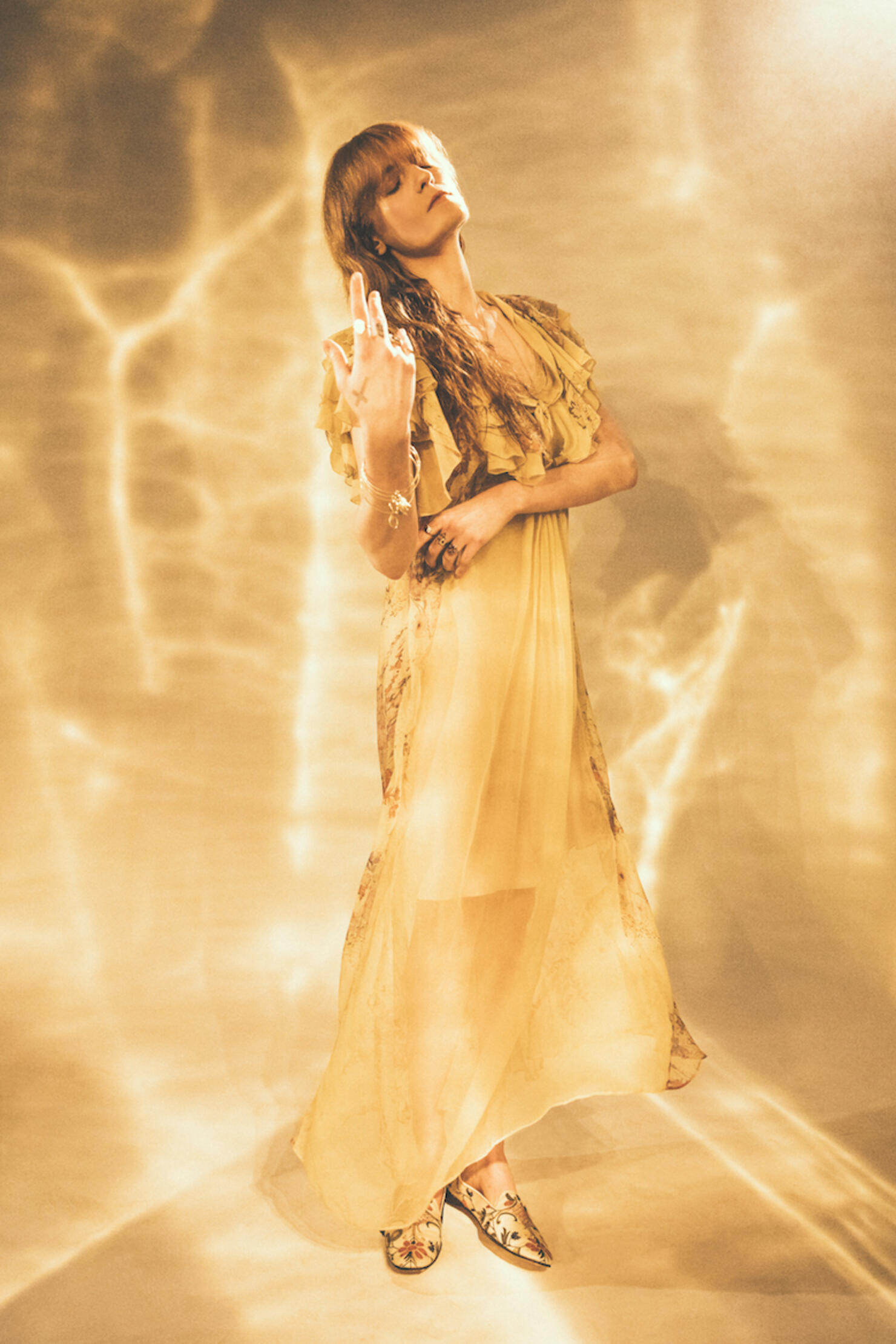 "Hunger" is High As Hope's lead single What inspired it?
"'Hunger' was never actually in my head, it was never gonna be a song. It was a poem that I wrote kind of privately. I was thinking about some of my experiences, and maybe what led me to some of those experiences, and what I was looking for. It was more like a self-analysis, kind of like a meditation on love, and on the different ways that I've perhaps looked for love in things that actually were self-destructive, or kind of unloving. But when you're young, you're just so confused, and you're looking for a way to feel comfortable. But I never imagined it would be a song, so I never thought it would be on the radio."
What made you want to turn it into a song?
"It's one of those things when you're in the studio, and you have some chords, and you're just like, I don't know what's in the notes on my phone? So I guess I'm looking for things, or poems that I've been writing, and there were these triumphant chords. Because if you put sad chords underneath this song, it would have been too sad. But we had these triumphant chords, and somehow it seemed to fit, so I kind of let it happen."
The first two songs that fans heard from High As Hope were "Sky Full of Song" and "Hunger." Why did you choose to share those two first?
"I think 'Sky Full of Song' I re-released, it has these really traditional folk chords, and it was a song that, it's such a simple song. It's called, 'Sky Full of Song' and it was as if it fell out of the sky really [and] fully formed. I don't kind of know where it came from so, I don't know I wanted to release something that was kind of soft first because usually Florence and the Machine comes back with something that sounds like a punch in the face. I guess I wanted to show a softer side, but just sounded like such a traditional folk song to me. I thought that would be nice. And I think 'Hunger' kind of makes the rest of the record make sense. It's a deeper level of vulnerability for me in songwriting, but it's kind of the core. It's at the heart of what I think the album is about. That song is the emotional center, so it's a good introduction to the rest of the record."
What can fans expect from the rest of the record?
"I think about it in terms of it seems to me like lungs, but with 10 years of experience. It kind of has the same energy as how I wrote 'Dog Days,' and 'Cosmic Love.' It's a very instinctive, and physical, and tactile record, and the vocals are still the demo vocals. A lot of it is just exactly how it was, the first thing I touched in the room is still on the record. It has that feeling to it."