Bikini Clad Sunbather Refuses To Move Out Of Couple's Wedding Pics
By Dave Basner
July 11, 2018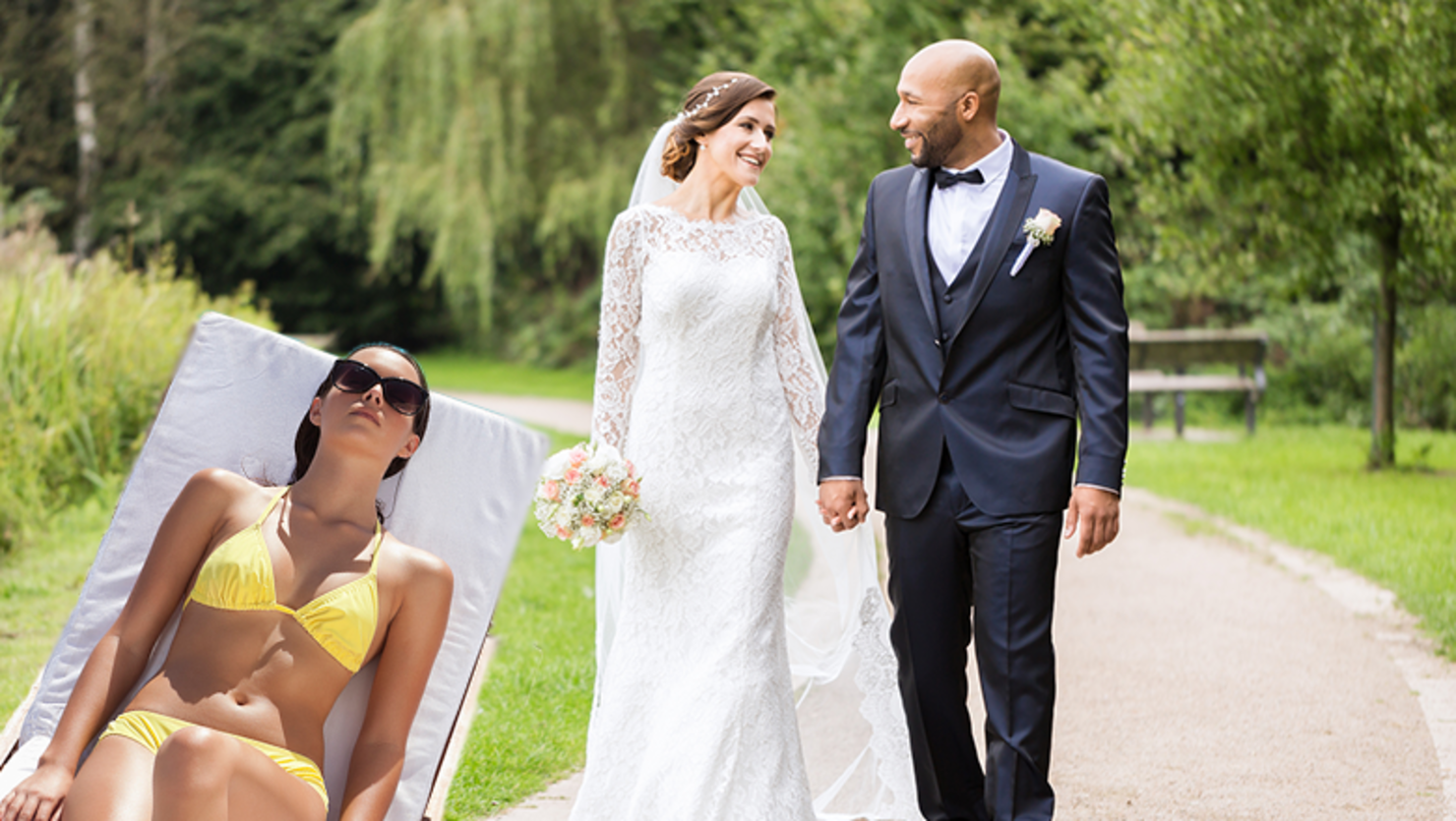 When most people see a woman in a wedding gown with a man in a suit or tuxedo, they congratulate them and make way for them, especially if there is a photographer in tow since for many people, they only get one wedding in their lifetime and even bystanders hope it's a beautiful event. However, one woman in England had something a little more pressing than some strangers' wedding - her skin tone. 
A bikini-clad sunbather soaking up rays at Devon's Tessier Gardens wound up photo-bombing some wedding shots because she refused to move out of them. After 49-year-old Mark Link and 35-year-old Mandy Cripwell got hitched at a nearby church, they headed to the lush, scenic spot, which is where many wedding parties go for pics. When they saw the tanning woman, Mark's son asked her to move but she stayed put, pretending to be asleep. 
After ten minutes, the limo driver got her attention and asked her to relocate and she did, but she left her stuff in view, ruining the shots. 
Other relatives captured the rude tanner on video:
A shameless sunbather photobombs happy couple's wedding pictures 💒👰

The family of Torquay, Devon, say they asked the scantily-clad woman to move but she refused, and the wedding party were forced to pose for pictures around her! pic.twitter.com/MlKTMNXjaD

— SWNS.com (@SWNS) July 3, 2018
Mark's family members said, "We all spotted her there and thought she would move, but she just didn't. I thought 'how rude! She was surrounded by wedding guests, the couple were behind her and the photographer kept calling different people over for pictures, so she knew what was going on."
They didn't see the woman again. 
Photo Credit: Getty