Chrissy Teigen Posts Mom-Shaming-Proof Photo On Instagram
By Dave Basner
July 3, 2018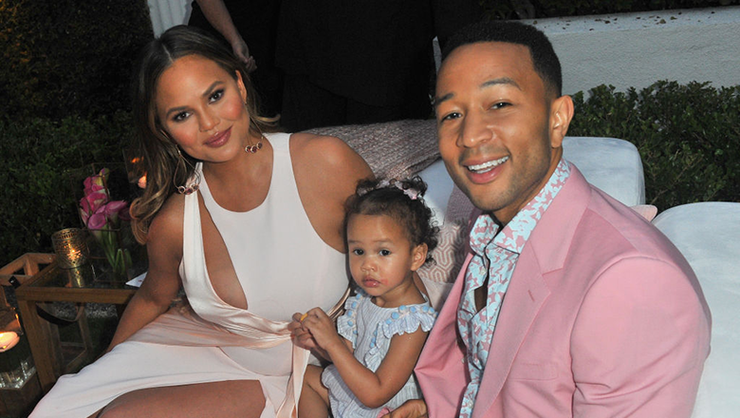 Celebrities who are also parents have to be extra careful when they post photos on Instagram. If the shot shows them without their kids, they wind up with comments questioning how they can go out and not be with their children. However, if the kids are in the pic, then celebs have to be sure there is nothing included in the photo that could be scrutinized by the trolls who love to mom and dad-shame.
After giving birth to her son Miles in May, Chrissy Teigen became a mother of two - she also has a two-year-old daughter Luna with her husband, John Legend. The model is now an expert when it comes to sharing pics of her family, but the struggle is real for her, as she just explained in the caption of a new photo with her children.
Teigen quoted her thought process when it comes to posting, writing:
"Should I post the one where his head looks unsupported but my face looks good and Luna is over it, the one where his head is supported but my face is just okay and Luna is over it, or him crying and my face looks okay and luna is over it?"
That wasn't the only exciting post from Chrissy though. She also put up a video of herself in Sephora where she pretended to shoplift a bottle of haircare product Ouai, by stuffing it in her cleavage.

While at Sephora, Teigen also checked out the display for her BECCAxCHRISSY line. While she was excited to see it, Luna didn't seem to share her enthusiasm. Chrissy posted a video of John asking their daughter who she sees in the photo on the display and the little girl could not care less.
It was a pretty eventful day for Chrissy. She also ran into Hannah from the Bravo show Below Deck, which was a highlight for both of them, and they both told their followers about it.
I just saw hannah from below deck let me tell you, I am shaking

— christine teigen (@chrissyteigen) July 2, 2018
I wish we walked in at the same time to sit so I could talk to you about the woman who hates lobster but not shellfish but hates seafood https://t.co/DVhnjIPWmu

— christine teigen (@chrissyteigen) July 2, 2018
Stay up to date on Chrissy's Instagram here. You never know what she might post about.
Photo Credit: Getty
Chat About Chrissy Teigen Posts Mom-Shaming-Proof Photo On Instagram