Iggy Azalea Says She Knew of Demi Lovato's Relapse Before "Sober" Release
By Taylor Fields
July 11, 2018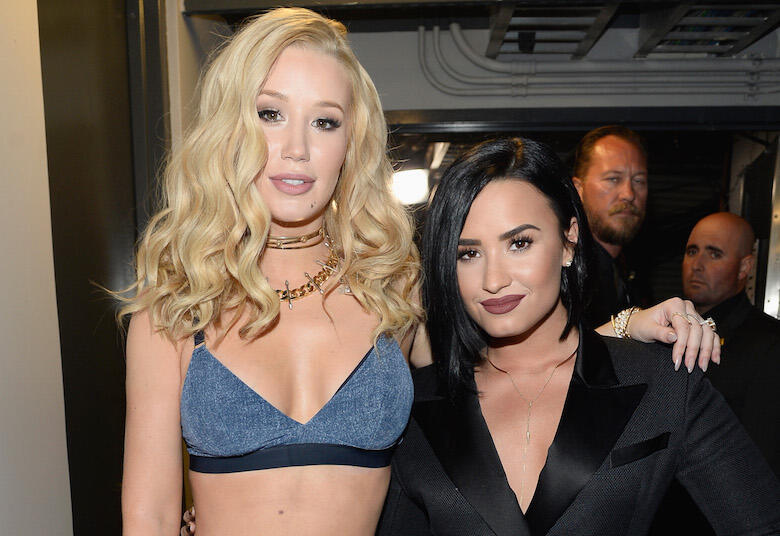 Last month, Demi Lovato revealed that she had broken her sobriety in her new heartfelt single, "Sober," and her close friend, Iggy Azalea, had known about the relapse before she shared the song.
In a new interview with "Entertainment Tonight," the Australian rapper opened up about Demi and wanting her to be the one to share the news. She explained, "I had known about it, as a close friend, so I had really wanted for her to be the one to tell people that. And I worried a lot, as her friend, that something was going to leak or somebody would somehow take that and use it negatively against her, or to make her seem like she's got a secret."
Iggy added, "It's not my business to say to my friend, 'You need to fess up,' but as a friend, you worry and you're like, 'Oh, my God, my friend, she has this thing that people can use against her and I really want her to own it.' And she did."
But despite knowing about Demi breaking her sobriety and wanting her to confess on her own, Azalea did not know that Lovato was recording a song to do just that. She said, "I didn't know that she was recording that song. She didn't tell me that. I was just really proud of her that she was honest, because it's really hard to be honest with yourself. So, to be honest with the whole world, [to share] something that you struggled with very publicly, it's something that is very admirable. I was very proud of her to see her write that song and put it out."
Demi shared her emotional single, "Sober," last month on June 20th, and in the song lyrics, the pop star revealed that she had broken her sobriety after six years, and had relapsed. In the ballad, she sings, "Momma, I'm so sorry, I'm not sober anymore/ And daddy, please forgive me for the drinks spilled on the floor/ To the ones who never left me/ We've been down this road before/ I'm so sorry, I'm not sober anymore."
Iggy and Demi are both performing later this month at the California Mid-State Fair, with the rapper opening for the pop star. Azalea recently dropped two new singles, "Kream" and "Tokyo Snow Trip" from her upcoming EP, which will be released in August.
Photo: Getty Images
Chat About Iggy Azalea Says She Knew of Demi Lovato's Relapse Before "Sober" Release