Watch Smashing Pumpkins Cover "Stairway to Heaven" in First Reunion Show
By Andrew Magnotta
July 13, 2018
If you thought the Smashing Pumpkins reunion was surprising, the legendary alt rock band tackled one of rock's more clichéd cover songs, "Stairway to Heaven."
The surprise Led Zeppelin cover was performed in-between Pumpkins hits "Tonight, Tonight" and "Cherub Rock." But for a few tweaks to the song structure, it was a faithful-to-the-original version of the tune.
While Smashing Pumpkins have worked classic rock covers into their live sets in the past, Rolling Stone reports the Thursday night show in Glendale, Arizona, was the first time Smashing Pumpkins ever performed "Stairway."
The show was also the first in the band's highly anticipated Shiny and Oh So Bright three-quarters reunion tour, featuring original members Billy Corgan, Jimmy Chamberlain and James Iha.
The setlist each night will pull from the band's classic first five albums, Gish, Siamese Dream, Mellon Collie and the Infinite Sadness, Adore and Machina/The Machines of God.
Thursday's encore included the band's new song "Solara."
Corgan said in a statement announcing the reunion that the "show and staging will be unlike anything we've ever done, and will feature a set unlike any we've ever played. For if this is a chance at a new beginning, we plan on ushering it in with a real bang."
Co-founding bassist D'Arcy Wretzky is not taking part in the reunion after being unable to reach an agreement with Corgan.
Get all the reunion tour dates here.
Photo: Getty Images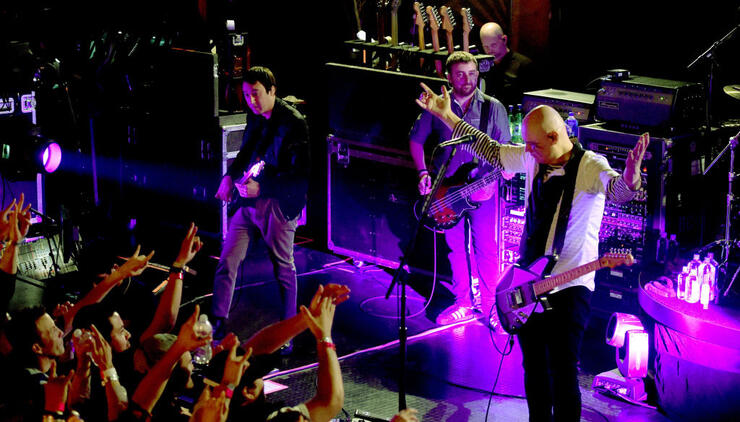 Chat About Watch Smashing Pumpkins Cover "Stairway to Heaven" in First Reunion Show