Meghan Markle's Half-Sister Slams The Duchess In Twitter Rant
By Emily Lee
July 18, 2018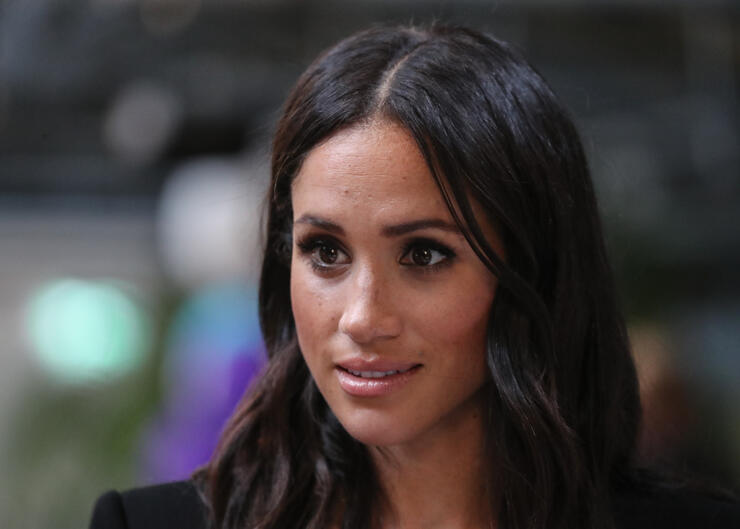 Meghan Markle's father, Thomas Markle, has reportedly been "frustrating" the royal family recently by giving on camera interviews about his daughter. Following backlash from his most recent outing with The Sun - you know, the one where he said Meghan looks terrified all the time - Thomas told TMZ that he won't stop giving interviews until his daughter speaks to him. That's a lot of messy family drama in just a few short days. Unfortunately for Meghan and Prince Harry, though, there's more.
Meghan's half-sister Samantha Grant is now throwing her two cents into the mix. Since Meghan and Samantha haven't been in contact since 2014, Samantha had to air her grievances on Twitter and not over a private phone call. In screenshots obtained by The Daily Mail, Samantha ranted about Meghan's appearance at the Nelson Mandela exhibition in London on Tuesday.
How about you pay tribute to your own father?! Enough is enough. Act like a humanitarian act like a woman! If our father dies I'm holding you responsible, Meg!
Yikes. She even tagged Kensington Royal in the tweet.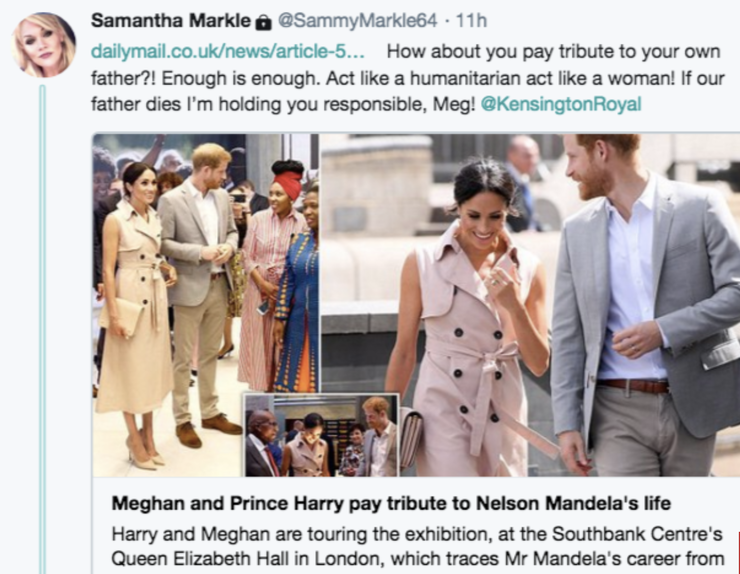 That wasn't all of it, though. Samantha continued her rant:
Glad you have so much time to gallivant around paying tribute to others while ignoring your own father! How cold can you be and look in the mirror? Harry? I guess I was right.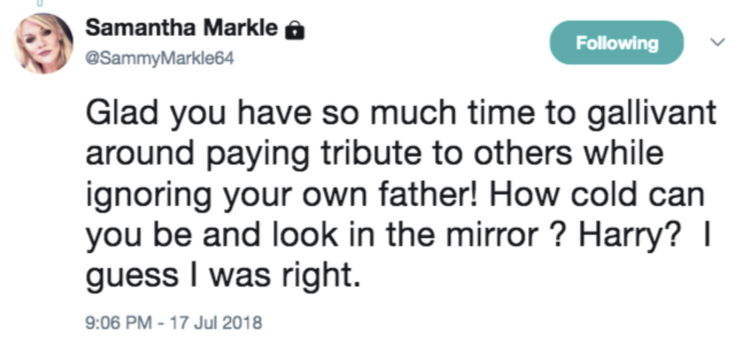 She went on to say that her father isn't an embarrassment for loving his daughter and slammed the royal family for giving him the silent treatment.

Maybe somebody should point out to Samantha that Thomas can love his daughter and *not* expressly go against her wishes by giving interviews about her? Or accepting payments for those ill advised interviews? Just a thought!
Chat About Meghan Markle's Half-Sister Slams The Duchess In Twitter Rant