The 7 Most Unique Gifts To Give Your Spouse
By Dave Basner
August 11, 2018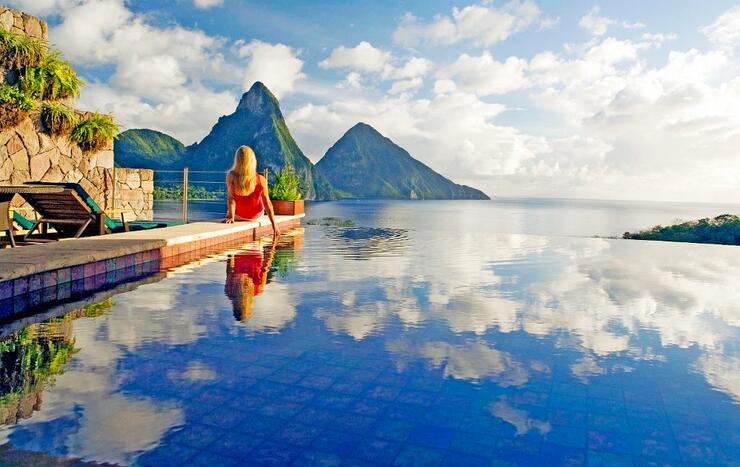 Anyone in a relationship knows that there are quite a few times each year when you have to think about a gift for your significant other, and it's never easy. Birthdays, anniversaries and holidays are just some of the occasions that require a show of your affection, and it gets pretty challenging to top whatever you did the previous year. However, you don't always need to get something that you can wrap. In fact, many times the best presents, and the most unique gifts, are the ones that can't go in a box.
You probably won't remember the shirt or bracelet you received a couple years ago, but you will always remember a unique experience. So to help you out, here's a list of seven of the most unique gifts to give to a loved one that you can't ever put in a box and wrap.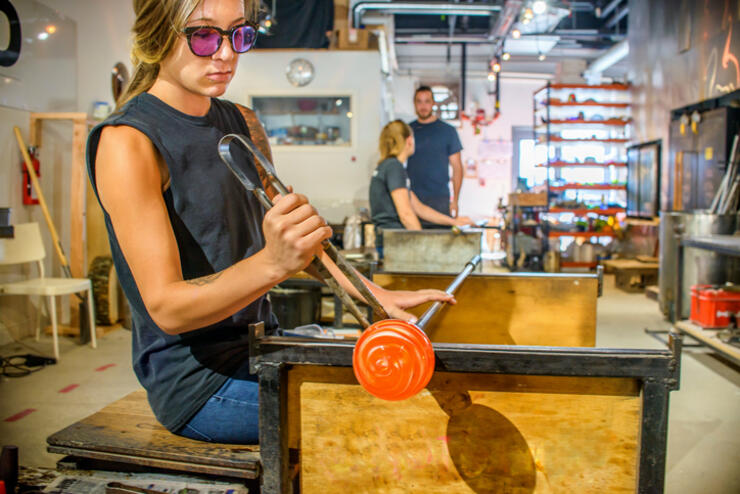 7. Glass Blowing
Most people take glass for granted and when they see it, they don't think about the process that gave it its shape, but if your husband or wife is able to see the art behind a vase, a paperweight or a bottle, glass-blowing classes are the perfect gift. It is pretty rewarding to turn a lump of molten glass into a masterpiece, and if all goes well, your spouse will be able to decorate your place with all the amazing pieces they are making.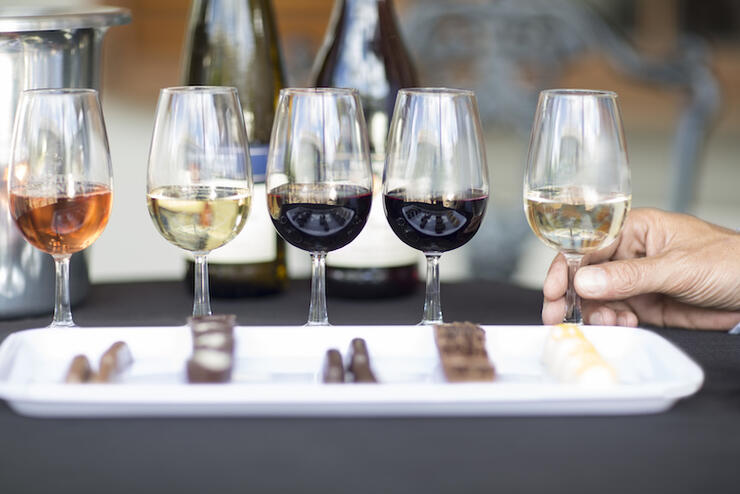 6. Wine Tasting/Chocolate Pairing
There is one gift you can give that includes bouquets, legs, body and mouth-feels all in one - a wine tasting. If your loved one is a fan of vino, give them an experience centered around it. It's an opportunity to learn all about the timeless beverage - or, if they already think of themselves as an amateur sommelier, it's a chance for them to show off their knowledge. To make the experience even sweeter, do a tasting that pairs wine with chocolate.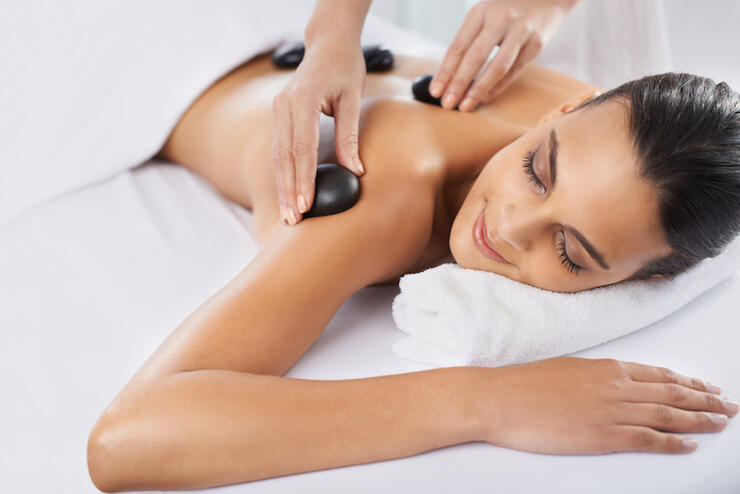 5. A Massage or A Massage Class
A massage is a pretty classic gift but there is a reason for it - nothing beats a great massage, however, there is a way to take it up a notch so that you can benefit too. Just like the saying about "teaching a man to fish," if you teach a spouse to massage, you can get a nice rubdown all of the time!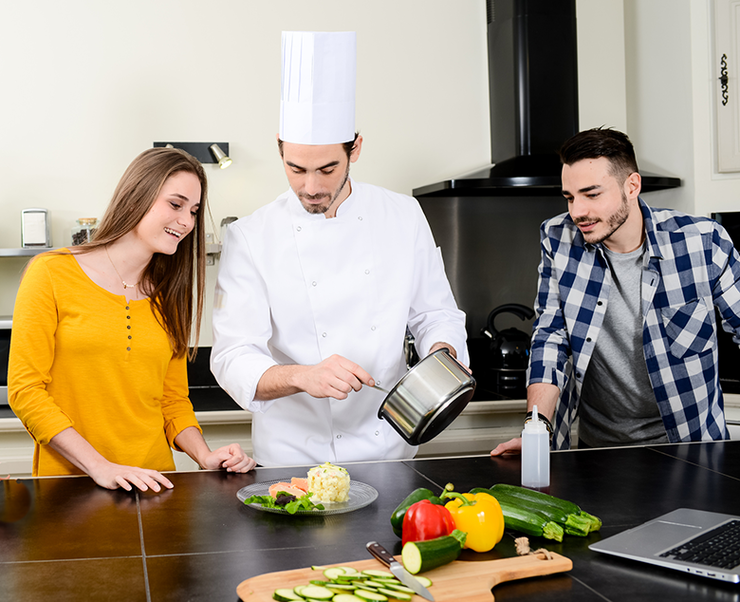 4. Cooking Lessons
They say the way to a loved one's heart is through their stomach, and while you can always go out to dinner, if you turn your partner into a gourmet cook with a present of cooking lessons, you will be eating like royalty in your own home all the time. If your husband or wife is a fan of the culinary arts, gift them with some cooking lessons so they can expand on their love of food. You'll reap the benefits with delicious meals and you can even join in on the fun and learn alongside them.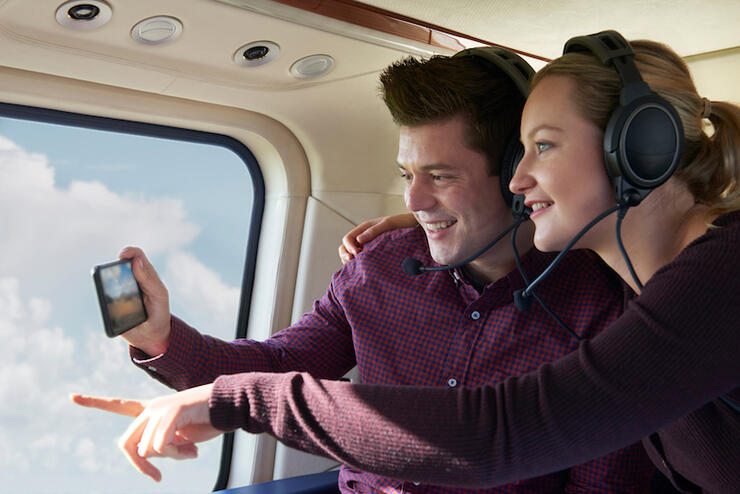 3. Helicopter Tour
If you're looking for a gift that combines romance with city lights or beautiful natural landscapes, a helicopter tour is what you need. Seeing America from 1000 feet above it can be quite a memorable experience. You can even bring along some champagne for the ride and have a picnic in the air as you look out over amazing vistas.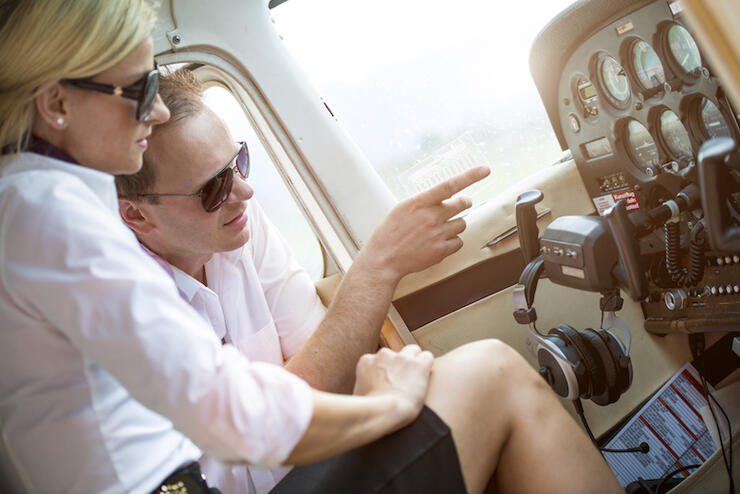 2. Flight Lessons
If a helicopter tour is too tame for your loved one, kick it up a notch and gift them with the friendly skies. Harrison Ford, Tom Cruise, John Travolta and Angelina Jolie have all gotten their pilot's licenses and after some time in the cockpit, your spouse can be flying high too. If your husband or wife loves taking wing, a gift of flight lessons will not only be well-received, but before long, you might be able to fly a few states over for dinner! Find out where you can get lessons in your area here.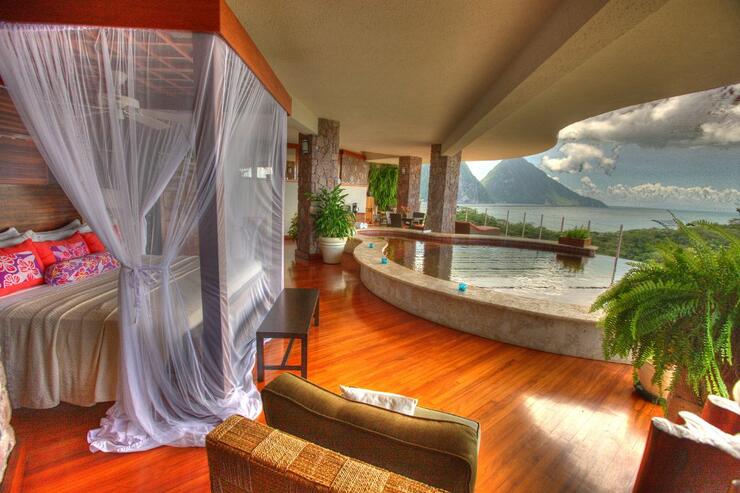 1. A Trip To Jade Mountain Resort
If you're looking for the ultimate gift for a loved one, you can't beat treating your spouse to a vacation, and few vacations can top one spent in the unparalleled beauty of Jade Mountain Resort in St. Lucia. A picture of any moment at Jade Mountain will quickly become your most-liked Instagram post. Not only is the luxurious boutique hotel unforgettable because it's remarkable architecture makes it a work of art, but the rooms, which are called "sanctuaries," are beyond any you ever have experienced.
Most of the sanctuaries feature their own infinity pools and all of them have only three walls, so nothing can get in the way of jaw-droppingly gorgeous panoramas of the lush surroundings. You can look out at the abundant jungle, the blue Caribbean and the towering Piton Mountains from every inch of your sanctuary - yes, thanks to well placed mirrors, that includes the toilet.
If that weren't enough, included in your stay at Jade Mountain is round-the-clock butler service. Plus, the food, which is created by a James Beard Award-winning chef, is delicious. You can work up an appetite with the many activities on site and nearby. The island's best snorkeling can be found at Jade Mountain's beach, where you also have access to jungle biking, hiking, paddleboarding, kayaking, yoga, sailing, and scuba. Or, simply relax with a world-class massage or sit in the sun and enjoy perfectly crafted cocktails and what many have called the best burger they've ever had.
While there is Wi-Fi, don't expect too many other electronics. The hotel has no TVs, radios or telephones, which means you and your partner can remove yourselves fully from the world, unwind, and focus on each other.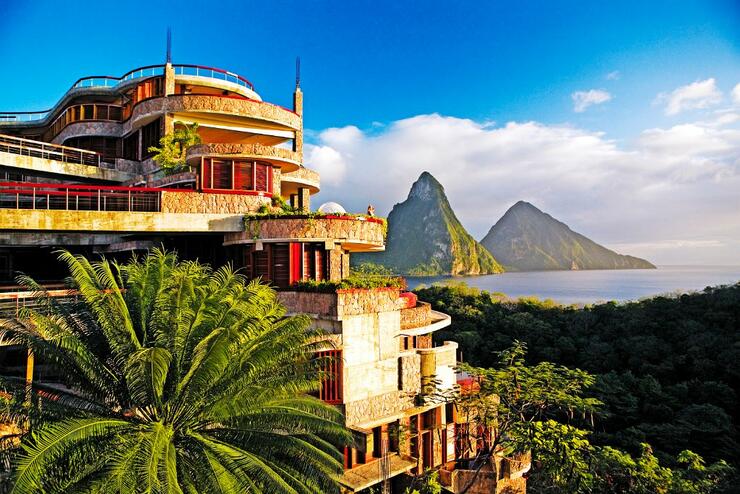 Jade Mountain tops many people's bucket lists so by taking your spouse, you can not only help them check it off theirs, but enjoy a one-of-a-kind trip at the same time. Learn more about it here.
Photo Credit: Jade Mountain, Getty