Kim Kardashian Accused Of Homophobia After Her Tyson Beckford Clapback
By Lauren Crawford
August 1, 2018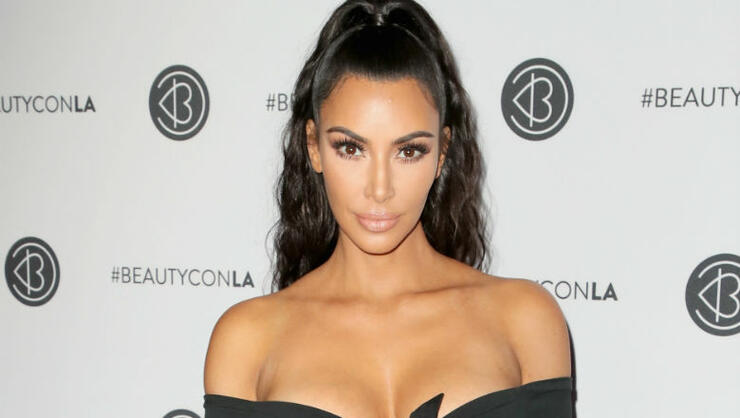 Kim Kardashian has found herself in yet another celebrity feud after Tyson Beckford body-shamed her on Instagram. While his cheap shot was called out by fans, Kim retaliated with what some are calling a homophobic jab.
It all went down on Tuesday (July 31) in The Shaderoom's Instagram comment section, after the news site shared a photo of Kim heading into her Jimmy Kimmel Live appearance.
"Sorry I don't care for it personally," the 47-year-old model commented. "She is not real, doctor f*cked up on her right hip."
The 37-year-old reality star then responded, "Sis we all know why you don't care for it," seemingly implying that Tyson is gay.
While many praised Kim for fighting back against Tyson's body-shaming comments, many called her out for what they considered was a homophobic clapback.
I hope y'all get kim kardashian together for that homophobic response to Tyson Beckford.

— Edmond Mode (@KidTiger__) July 31, 2018
Kim Kardashian called Tyson Beckford "sis" and implied that he was gay because he said that her body was fake.

They getting way too comfortable....

— MercedezUAZ (@MercedezUAZ) July 31, 2018
I didn't see Kim using Tyson possibly being gay as an insult. Sis simply said of course you wouldn't like my body and we all know why.

— . (@prizord) July 31, 2018
Meanwhile, Tyson returned to Instagram Story to double down on his previous comments.
"My opinion on women who do plastic surgery stays the same, not for me! I personally don't care for it! End of story," he wrote. "Always gonna pick a Beyoncé over anyone else."
He later added: "No surgery just gym it ladies."
Kim has yet to respond to the homophobia accusations.
As fans of the reality star know, Kim has never shied away from an Internet beef. She's previously had public feuds with Taylor Swift, Chloe Grace Moretz, Lamar Odom, and Bette Midler.
Photo: Getty Images
Chat About Kim Kardashian Accused Of Homophobia After Her Tyson Beckford Clapback