'American Horror Story: Apocalypse' Releases Disturbing Teaser Trailer
By Katrina Nattress
August 6, 2018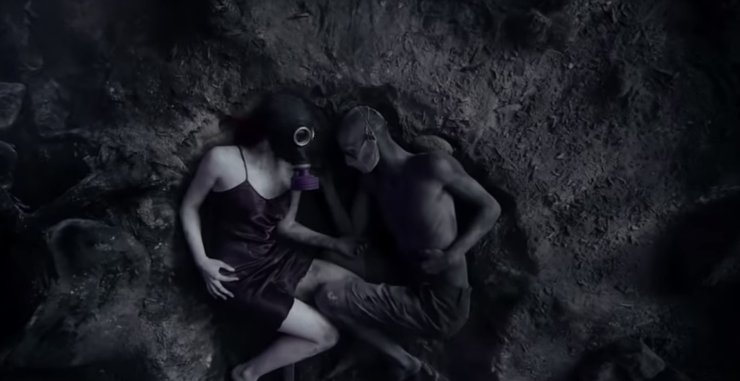 As American Horror Story: Apocalypse creeps closer, FX is feeding fans tidbits to keep us salivating for more until the eighth season premieres next month.
After letting us know that not only will the new season be a crossover of two fan favorites—Coven and Murder House—but that Jessica Lange will be returning to the show to reprise her infamous role as Constance Langdon, the show revealed its first teaser trailer on Monday (August 6). Unsurprisingly, it's disturbing. Like, really disturbing.
The minute-long video features everything from fetuses and skulls trapped in hourglasses to nuclear explosions and blood seeping from gas masks. It's pretty much everything you'd expect from an AHS teaser.
Watch the freaky clip below.
Returning alongside Lange for Apocalypse is Sarah Paulson, Evan Peters, Emma Roberts, Billy Eichner, Leslie Grossman, Adina Porter, Kathy Bates, Billie Lourd, Cheyenne Jackson and new arrival Joan Collins.
Though Peters is exceptional at playing utterly terrifying villains, he recently told GQ that he's not a fan of the dark, intense characters he usually portrays in AHS. "I'm goofy, I'm silly, I like to have fun. I don't like to yell and scream," he explained in the interview. "I actually hate it. I think it's disgusting and really awful, and it's been a challenge for me. Horror Story sort of demanded that of me."
So appreciate him in this eighth season, fans, because it could be his last.
American Horror Story: Apocalypse premieres on FX September 12.
Photo: YouTube
Chat About 'American Horror Story: Apocalypse' Releases Disturbing Teaser Trailer