Billy Corgan Says D'Arcy Wretzky Will Never Return to Smashing Pumpkins
By Andrew Magnotta
August 7, 2018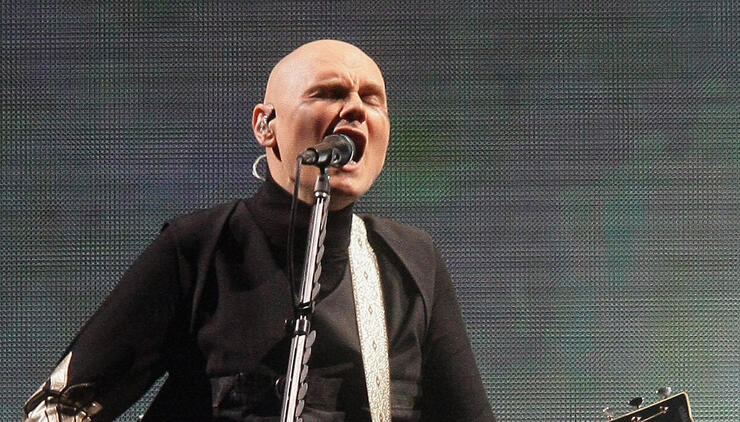 Smashing Pumpkins current lineup is as close to the band's founding lineup as it's ever going to get.
D'Arcy Wretzky will never return to Smashing Pumpkins.
Frontman Billy Corgan says he spent two years "trying to rebuild the bridge" with the bassist, but she burned it down anyway.
"We made every effort to involve her," Corgan said in a recent radio interview, "including offering her the ability that she does not even have...to be on tour. She could show up at any time, she could play as much as she wanted to play."
Questions about Wretzky's abilities after nearly two decades away from music were a recurring theme leading up to the band's Shiny and Oh So Bright reunion tour, from which the bassist is excluded.
"She insisted that even though she hasn't been on stage in 19 years, that she should play every song," Corgan continued. "And we were like, 'This is just an unrealistic thing for somebody who hasn't been on stage for 19 years years — to expect you to play a three-hour show."
Corgan insists that his reluctance to rehire Wretzky as the band's full-time bassist was primarily due to her lack of musical activity in recent years. Corgan himself, Chamberlain and Iha have performed thousands of times since Wretzky last appeared on a stage.
A successful reunion tour could re-establish and re-invigorate Smashing Pumpkins for the rest of its career, Corgan has pointed out. There's a lot riding on those bass parts, and should Wretzky take the stage unprepared, the fallout could be disastrous.
"What it came down to is that she didn't really wanna be involved," Corgan concluded. "It was like a game of chicken and, eventually, we called her bluff and we made a decision to move on."
The singer and his bandmates have had complicated relationships with the mercurial Wretzky over the years. While Wretzky repeatedly accused Corgan of lying to her and offering a contract to her and then rescinding it, Corgan has stuck to his story.
Wretzky later attacked drummer Jimmy Chamberlain and guitarist James Iha for continuing to work with Corgan.
"I am totally disgusted with James," she said this winter via Facebook. "He should be ashamed of himself."
But Iha is firmly on his frontman's side, insisting Corgan did his best to convince Wretzky to be involved.
"I think everybody is at different points in their lives, and whoever can work it out and get it together with the band can do it," Iha said. "It's just one of those things."
But if there's anything fans learned from Smashing Pumpkins' 30th anniversary concert last week in New Jersey, it's that Corgan and Smashing Pumpkins are capable of making amends.
Photo: Getty Images
Chat About Billy Corgan Says D'Arcy Wretzky Will Never Return to Smashing Pumpkins