Aerosmith Announces 50th Anniversary Residency in Las Vegas
By Andrew Magnotta
August 15, 2018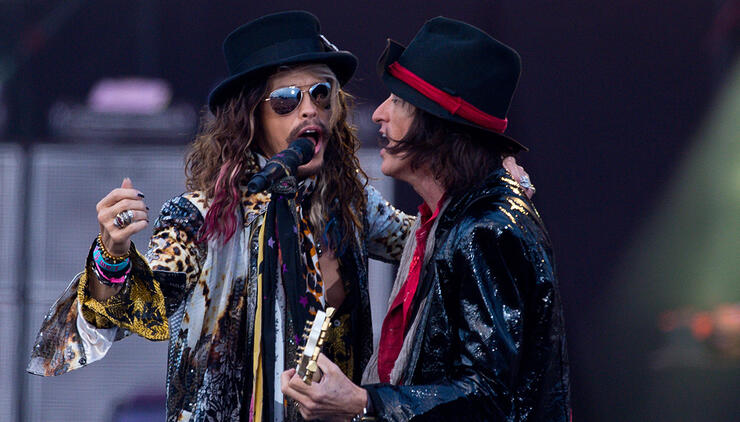 Aerosmith will celebrate 50 years as a band with a Las Vegas residency that the band says will be unlike anything they've done.
Frontman Steven Tyler announced Wednesday morning on NBC's Today show that Aerosmith's Deuces Are Wild Las Vegas Residency will begin April 6, 2019, at Park Theater at Park MGM.
Currently, the band has 18 dates booked for the residency. While it looks like the band will spend most of April, June and July in Vegas, it's still not clear if it will also take its show on the road sometime next year — or if the shift to a residency represents the band bidding goodbye to its touring career.
Whatever the case may be, the band members seem excited.
"We want to do a show that still has Aerosmith and all the guts of Aerosmith, but is something you would never see before," said guitarist Joe Perry before the band's two-song Today show set at Rockefeller Plaza.
The set consisted of "Love in an Elevator" and "Sweet Emotion."
Citi pre-sale for the Deuces Are Wild Las Vegas Residency begins Monday, August 20, at 10 AM PT. Public on-sale begins Friday, August 24, at 10 AM. For all the dates and info, go here.
We're taking Sin City by storm with our Deuces Are Wild Las Vegas Residency, opening April of 2019 at Park Theater at Park MGM! Citi presale begins Monday 8/20 at 10am PT before public on sale Friday 8/24 at 10am! For all dates, VIP info & to buy tickets: https://t.co/LVcDrPMcsh pic.twitter.com/FDlTI8B56y

— Aerosmith (@Aerosmith) August 15, 2018
Drummer Joey Kramer added that the band is going all out to celebrate its Rock and Roll Hall of Fame legacy.
"[The residency celebrates] the history behind all our 50 years of being together," Kramer said. "As soon as you walk into the Park Theater, it's going to be all Aerosmith."
The band members have all been careful to qualify their remarks on the residency plans with words like, "genuine" and "honest," as if to assure fans that they aren't jumping the shark, opting for a typical Las Vegas style over substance spectacle.
"We're gonna keep it raw, we're gonna keep it who we are," added Tyler. "...[It's] going to be beautiful and rocked out, and we're going to have special effects that we've never used before."
It certainly sounds intriguing. No one needs to see Aerosmith perform alongside showgirls — that's Mötley Crüe's thing — but the idea of an immersive Aerosmith experience (whatever that is) is enough to whet the appetite of any rocker.
Perry emphasized in an interview last week that the band has been completely hands-on when it comes to planning the show. So fans can be sure, whatever Deuces Are Wild looks like, it'll be just how Aerosmith wants it.
Photo: Getty Images