Phil Collins Says Son Nic Could Play Drums for Genesis Reunion
By Andrew Magnotta
August 15, 2018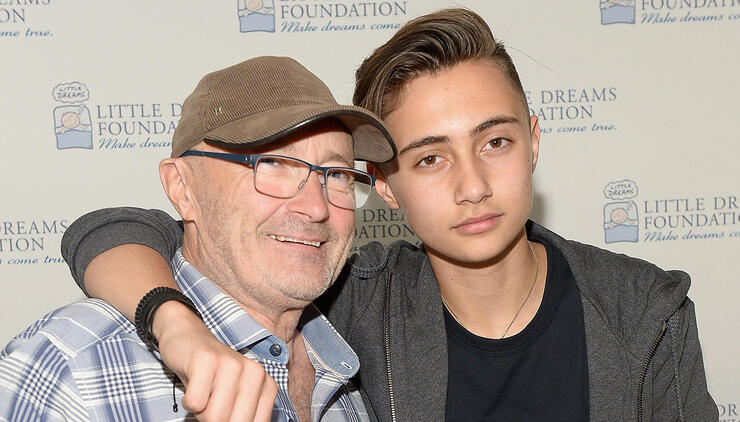 The obstacles to a Genesis reunion are few and perhaps less personal than those of your typical defunct classic band, but they are obstacles nonetheless.
While all the members of the Phil Collins-fronted era of the band are alive and supposedly on good terms, they don't actually have a drummer.
Collins' back issues have precluded him from playing drums nowadays. So on his Not Dead Yet! Live comeback tour, the legendary drummer's solution is to tap his own flesh and blood, his son Nic Collins, to provide the backbeat.
In a recent interview with Rolling Stone, Phil said Nic is Genesis' best hope to pull off another reunion. The trio of Phil, bassist Mike Rutherford and keyboardist Tony Banks — the lineup from the band's pop era — last performed as Genesis in 2007.
"I wouldn't say there isn't not a possibility," Phil said. "Me, Mike and Tony are pretty close still. I can't imagine what it would be like it I didn't play the drums, but anything is possible."
Phil says his former bandmates think highly of his progeny's percussive prowess, especially after taking in one of the Not Dead Yet! Live shows last year.
"Mike made the appropriate comment of, 'He just gets it. He just gets what is needed and what is required and why you're doing this for that song,'" Phil recalled the bassist saying. "I thought that was a wonderful thing to say. He was 16 at that point. I think that, yeah, if we did anything I think it would have to be with Nic on drums because I don't think I'm capable of it. I think their opinion of Nic is high enough for them to take him onboard as part of the band."
Phil, who often walks with a cane these days, has been performing seated on his latest solo tour due to his back problems.
Banks said last year after taking in one of his former bandmate's comeback shows in London that he was impressed at how well the show worked.
"He found a way to do it," Banks said at the time. "It involves quite a static performance, but his voice sounds great, and his music still sounds fantastic and everything."
The band's two additional members from its prog rock-era as a five-piece, Peter Gabriel and guitarist Steve Hackett, last performed with Genesis in 1999. Gabriel has expressed little interest in returning to Genesis since the conclusion of that tour.
Hackett, however, said last year that he's open to making a comeback with the Hall of Fame band.
After Gabriel left Genesis in 1975, Collins took up the lead vocals from his seat at the drums. With Phil at the fore, Genesis enjoyed its most commercially successful period.
Photo: Getty Images
Chat About Phil Collins Says Son Nic Could Play Drums for Genesis Reunion