Nicki Minaj & BTS May Have A Collaboration Coming Soon: See The Evidence
By Paris Close
August 22, 2018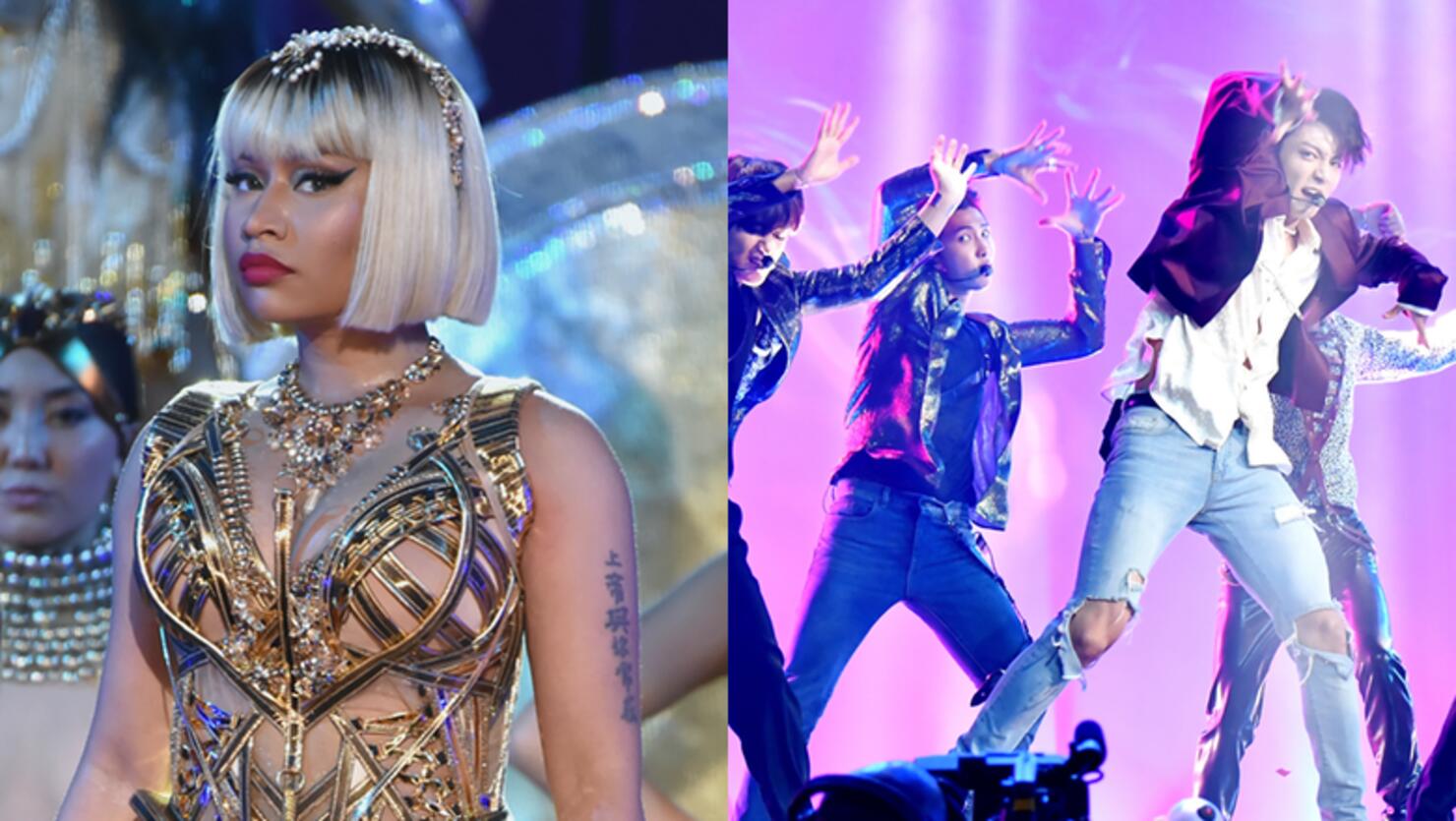 Are Nicki Minaj and BTS brewing up a surprise collaboration? This leaked proof from Shazam has fans crossing their fingers the rumors are true.
Pop Crave, an online celebrity outlet and Twitter's "go-to source for pop culture news and music coverage," made the unexpected discovery Wednesday (August 22) when the account pointed out how the media-identifying app may have inadvertently disclosed the Queen rapper's appearance on the K-Pop sensation's future single, "Idol."
The revelation came after the band's management group, BigHit Entertainment, dropped the official music video teaser for the track, which serves as the lead single off the band's new album, Love Yourself: Answer. Evidently, when a BTS fan used Shazam's audio fingerprint technology to classify the preview, the song in question pulled up with a shocking guest feature: the "Chun-Li" emcee herself.
See the evidence below:
Surprising no one, it didn't take long before the word got around, causing Barbz and ARMY stans to freak out.
"When kmusicandblackwomen login and see the nicki x bts interaction," wrote one Twitter user. While others, like this fervent follower, couldn't quite articulate their excitement… but you get the point: "Bts and nicki tweeted each others and followed each others the last two weeks,and shazam teasing us by showing idol nicki minaj feat .What if we got idol feat nicki minaj on 24 august ,this comeback is not joke yall we are going for top charts domination #IDOL."
The theory comes just days after BTS unveiled the tracklist for their new Korean-language LP. But because we can never have nice things, Shazam was fast to remove the maybe-collab from their platform. So nothing's for sure.
Still, given the septet marks Answer's release this Friday (August 24) — the same day the video for "Idol" premieres — you'd be wise to get yourself ready for a potential Nicki x BTS takeover.
Until then, enjoy the teaser clip for "Idol" below: