Aretha Franklin's Funeral Service: Remembering The Queen Of Soul
By Peyton Blakemore
August 31, 2018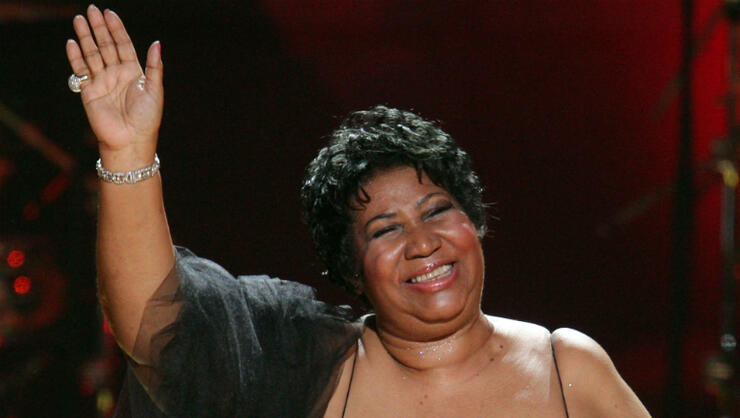 Aretha Franklin's funeral was a homegoing ceremony fit for a queen.
As hundreds of pink Cadillacs waited outside of the "RESPECT" singer's memorial service on Friday (August 31) — referencing her '80s hit "Freeway of Love"— celebrities, and friends and family of Aretha gathered inside of the Greater Grace Temple in Detroit, Michigan to honor the forever Queen of Soul.
The roughly eight-hour funeral began with a musical tribute by the "Aretha Franklin Celebration Choir." The uplifting performance was followed by a procession of Aretha's family members and members of the Detroit Police Force towards her open casket.
The funeral then transitioned into the remarks and tribute portion of the service with Faith Hill kicking things off by honoring Aretha with a powerful performance of "What a Friend We Have in Jesus." The country singer's tribute was followed by a word from the Detroit Mayor Mike Duggan, who announced that he is sending a proposal to Detroit's city council on Tuesday (September 4) to rename their waterfront park after the soul singer. "Our beautiful waterfront jewel will be Aretha Franklin Park," he said, "and when performers from generations to come from around the world come here they will be reminded they are performing at the home of the Queen of Soul."
Ariana Grande brought the congregation to its feet as she performed one of Aretha's greatest hits, "Natural Woman." Other notable moments came when Smokey Robinson sang goodbye to his "longest friend," Aretha, and when Reverend Al Sharpton read a letter from President Obama, which read:
Dear friends and family of Aretha, Michelle and I extend our heartfelt sympathies to all of those who gathered in Detroit, and we join you in remembering and celebrating the life of the queen of soul. From a young age, Aretha Franklin rocked the world of anyone who had the pleasure of hearing her voice, whether bringing people together through thrilling intersections of genres or advancing important causes through the power of song, Aretha's work reflected the very best of the American story. In all of its hope and heart, its boldness and its unmistakable beauty. In the example she set both as an artist and a citizen, Aretha embodied those most revered virtues of forgiveness and reconciliation. While the music she made captured some of our deepest human desires, namely affection and respect, and through her voice, her own voice, Aretha lifted those of millions, empowering and inspiring the vulnerable, the downtrodden, and everyone who may have just needed a little love. Aretha truly was one of a kind, and as you pay tribute, know we'll be saying a little prayer for you and we'll be thinking of all of Aretha's loved ones in the days and weeks to come.
Former President Bill Clinton and Former US Attorney General Eric Holder were among the many big names to deliver heartfelt remarks about the Queen of Soul. During the former POTUS' speech, he said before he and his wife, Hillary Clinton, were in the White House they "started out as like Aretha groupies or something." Barbara Sampson also read a touching letter from Former President George W. Bush during the service. "I am proud to have met Aretha and am grateful that her music will continue to bring joy to millions for generations to come," he wrote.
Also present for the ceremony were Tyler Perry, Big Sean, Clive Davis, Pete Davidson, Whoopi Goldberg, Isiah Thomas, Jenifer Lewis, Angie Stone, and Cicely Tyson.
The showstopping performances continued throughout the memorial service. Pastor Shirley Caesar sang "How I Got Over." Chaka Kahn, of course, brought the house down with her rendition of "Going Up Yonder." And Ron Isley brought many to tears as he sang "His Eye ... Sparrow." Next up was Fantasia Barrino Taylor, who poured her heart out (and kicked off her shoes) singing "Precious Lord," followed by Bishop Paul S. Morton & Yolanda Adams, who sang "Mary Don't You Weep." The ceremony concluded with performances by Bishop Marvin Sapp, Jennifer Hudson, Stevie Wonder, and a surprise performance by Gladys Knight.
Aretha passed away on August 16 at the age of 76 at her home in Detroit "due to advance pancreatic cancer of the neuroendocrine type."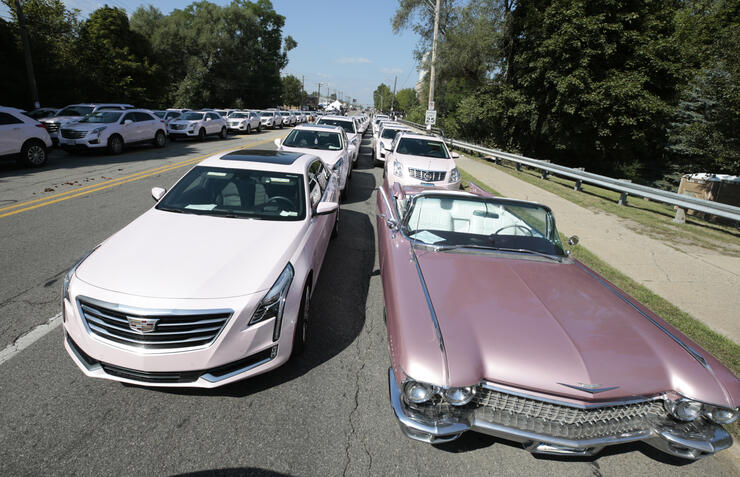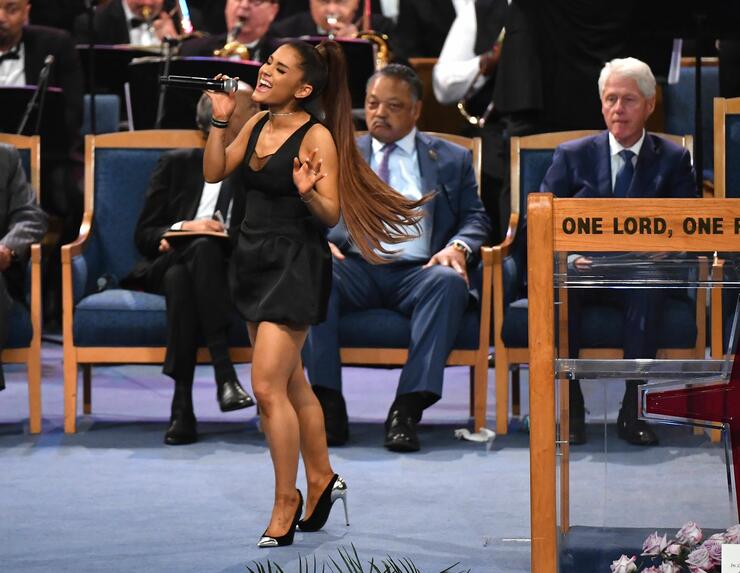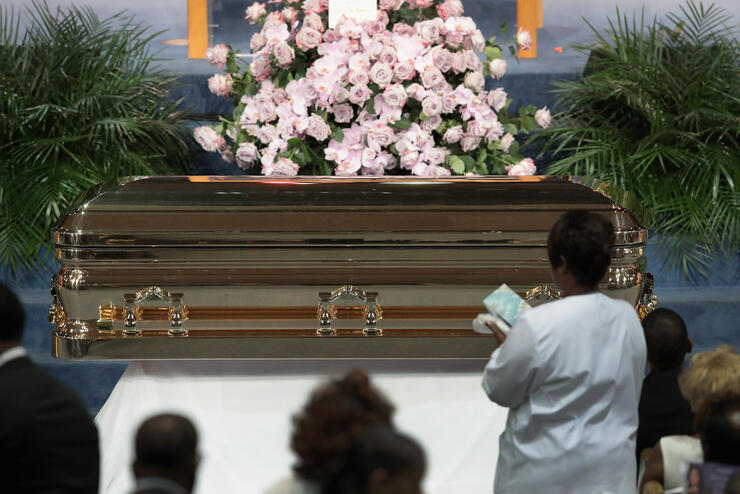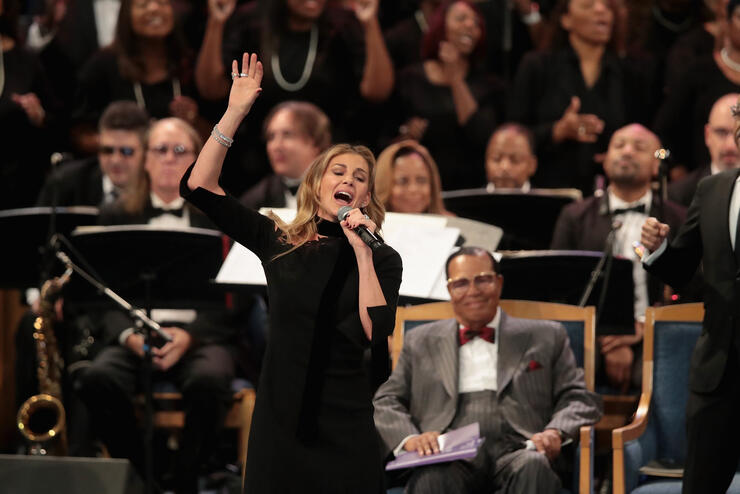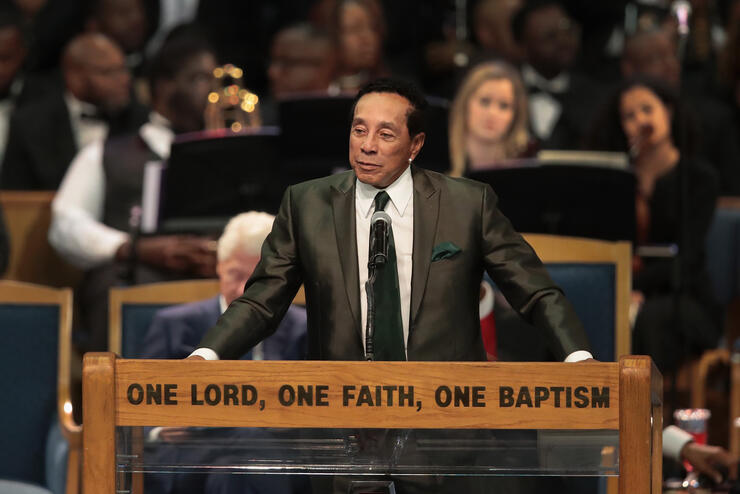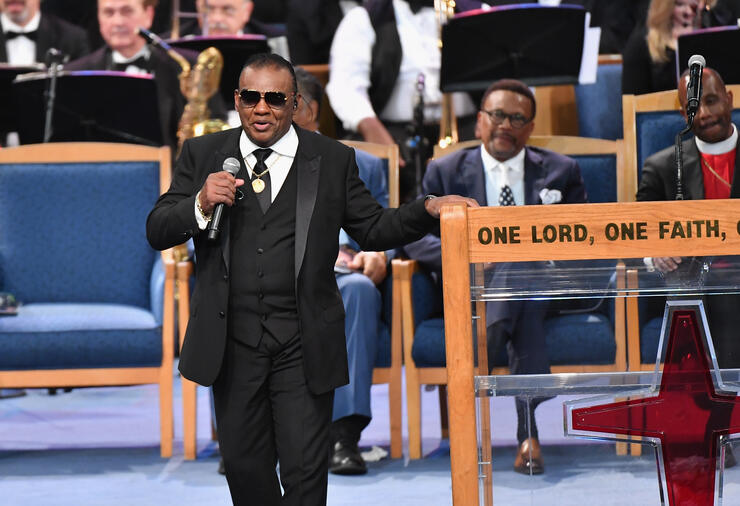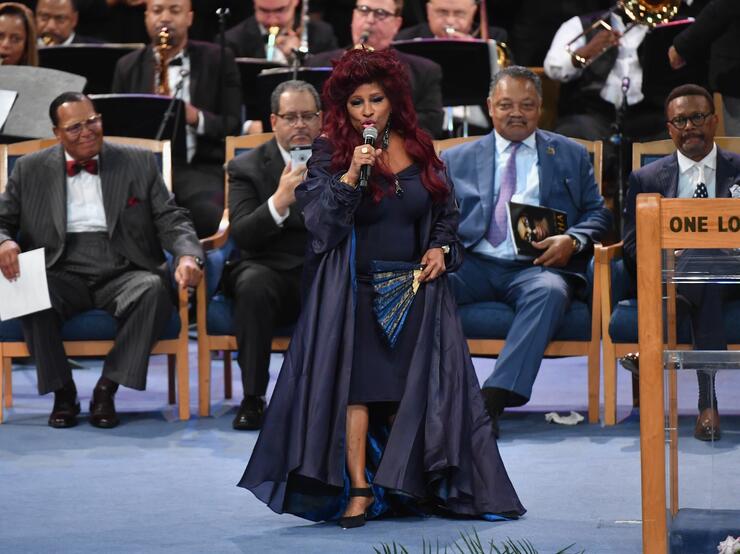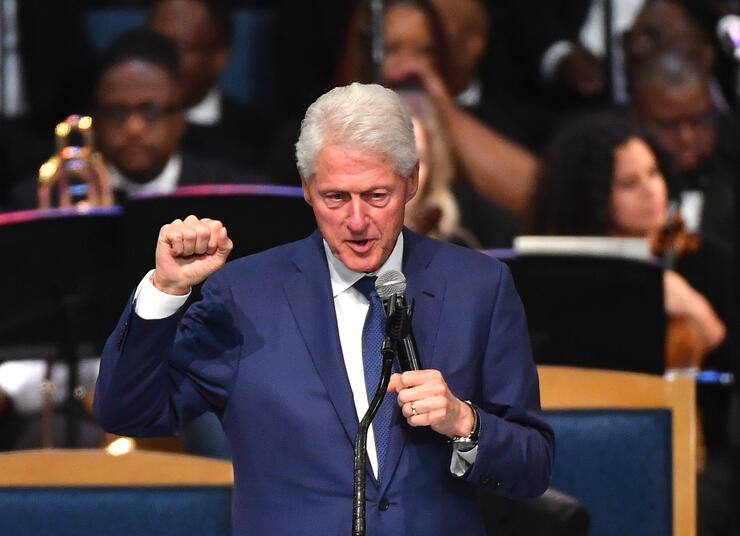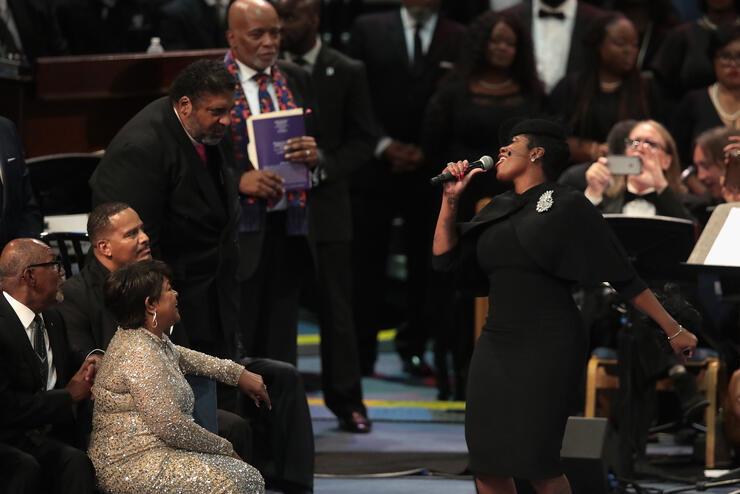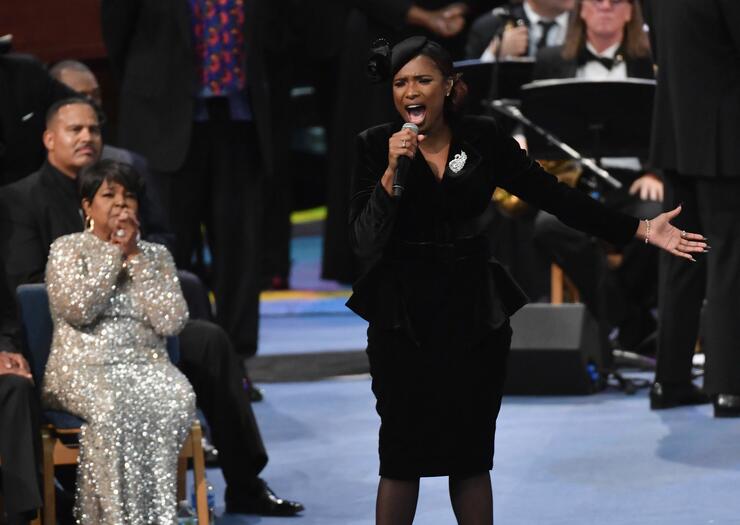 Chat About Aretha Franklin's Funeral Service: Remembering The Queen Of Soul