Kanye West Apologizes To Drake After Kim Kardashian Affair Rumor
By Peyton Blakemore
September 5, 2018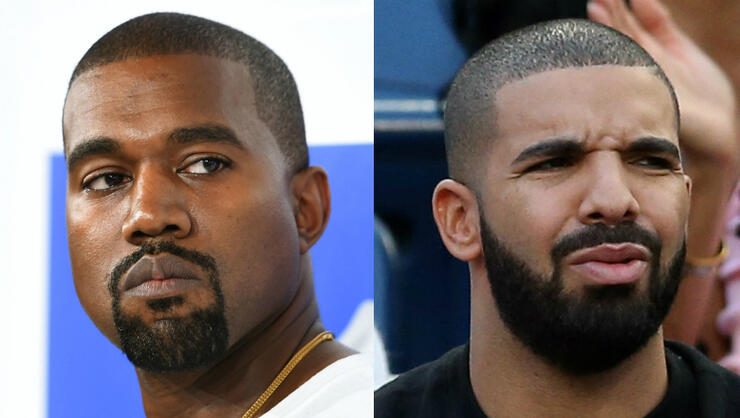 Kanye West is truly over the drama. On Wednesday (Septemeber 5), the "All Mine" rapper took to Twitter to make a public apology to Drake, just days after rumors began circulating about a possible affair between the "God's Plan" rapper and Ye's wife, Kim Kardashian.
"Sending good energy and love to Drake and family and crew," Kanye wrote alongside a screenshot of Drake's "Aubrey & the Three Migos Tour" stage. "I haven't seen the show in person but the images look incredible online I understand where the confusion started."
Kanye then began his nine tweet apology, which included him owning up to his part in Drake's feud with Pusha T. "Let me start by apologizing for stepping on your release date in the first place," he wrote. "We were building a bond and working on music together including squashing the issues with Cudi at our office."
"When I put the dates up I was a bit ramped up doing 25 tweets a day TMZ happened shortly after," Kanye continued. "Because we spoke about doing Lift Yourself together I should have given you the opportunity for us to do this together before I released it."
After addressing that portion of their beef, Kanye then apologized for the role he played in Drake's feud with Pusha. As previously reported, Pusha dropped two diss tracks in May, including, "Story of Adidon," which revealed to the world that Drake had a secret son. After its release, many speculated that Kanye was the one who told him about Drake's child.
"Since we were building as friends and brothers I should have spoken to Pusha about the Quentin Miller bar," he wrote, referencing Pusha's diss track verse that claimed Quentin was Drake's ghostwriter. "There should have been no songs with my involvement that had any negative energy towards you."
"I never listened to either diss track that followed but I did hear quotes from both songs after they were released," Kanye added, before making it clear that he did not tell Pusha about Drake's son. "I did not have any conversations about your child with Pusha. I don't play with the idea of people's children after I spoke to Wiz a few years earlier."
To end his apology, Kanye expressed his love for both Pusha and Drake, adding that he plans to go to one of Drake's concerts in "the next seven days to give love and be inspired by the art you have created."
Ye's apology follows the release of a fan's detailed theory about Kanye's wife, Kim, hooking up with Drake. The fan theory, which claimed Drake has been "telling us for months" in his lyrics that he "slept with Kim K," even alleged that Kim was "KiKI" in Drake's hit single "In My Feelings." However, the Keeping Up With the Kardashians star shut down those rumors earlier this week, by commenting on a post on The Shade Room's Instagram. "Never happened. End of story," she wrote.
Chat About Kanye West Apologizes To Drake After Kim Kardashian Affair Rumor