Don't Expect Slash to Play Guns N' Roses Music With His Solo Band
By Andrew Magnotta
September 7, 2018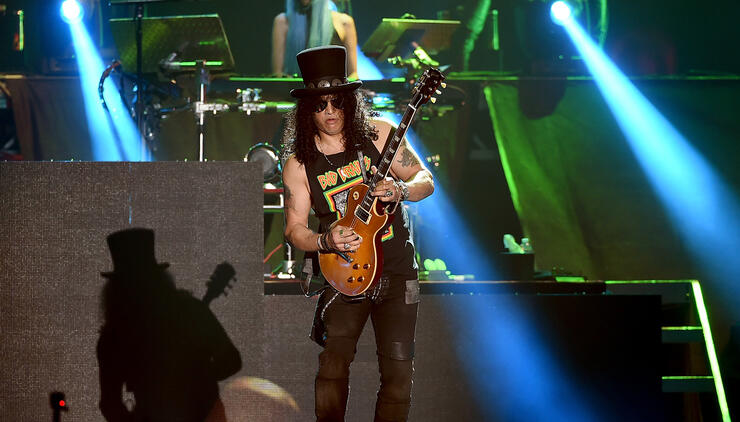 When Slash first took up the role of a band leader and began playing solo concerts, it had been a long time since he'd performed any Guns N' Roses music live.
Beyond the fact that everybody wanted to hear him play classics like "Welcome to the Jungle" and "Sweet Child O' Mine," Slash says he missed playing that stuff himself.
But now that he's spent the last two years playing three-hour Guns N' Roses shows in stadiums all over the world as a member of GNR, the nostalgic itch left him.
Plus, he's got more non-GNR material than ever.
"When we first started out in 2010, I just had the [first] solo album with all the different singers on it," he told Q104.3 New York's Out of the Box with Jonathan Clarke. "So at that point, we did songs off of that records and a lot of Guns N' Roses stuff which I hadn't played in years, and then some Velvet Revolver and some Snakepit," he says.
"Then I hook up with Guns N' Roses, so now, I've played all those songs for the last two years. So I'm sort of like, 'Okay, we don't have to do any more Guns N' Roses songs.' We have enough to do."
Slash's new tour begins September 13 in Los Angeles.
He added in an interview with LA Weekly that he's looking forward to getting back into clubs and theaters, despite the excitement of GNR's wildly successful Not in This Lifetime stadium tour.
"It's nice to change it up," he said. "Normally, I would say that I like to play smaller venues as opposed to stadiums, but this last Guns tour has proved to me that you can make a stadium into a much more personal event, if the people really f---ing dig you."
He repeated that he plans to work on new music with Guns N' Roses once the band reconvenes next year.
Photo: Getty Images